Interview With Australian Singer Elen Levon
5 Minutes With Aussie Music Star Elen Levon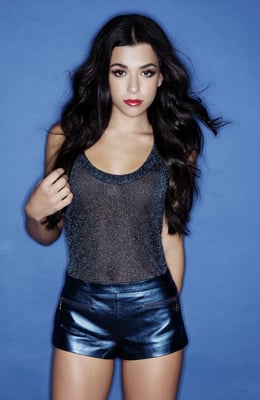 At 18, Elen Levon has been making music for a long time — she's had dance and piano training since she was just a kid, and scored her first management deal when she was 13. In May last year she signed a recording contract with Ministry of Sound Australia and has released two singles, "Naughty" and "Like a Girl in Love." Her third single from her upcoming debut album is "Dancing to the Same Song," and she's just released the Tokyo-set music video for it. We caught up with Elen to learn more about what inspires this rising music star.
What can we expect from the music video for your song "Dancing to the Same Song"?
We just filmed it in Tokyo, Japan, actually. We got back a few weeks ago. It's in the middle of Shibuya, with me just singing on my own, in front of everyone, which was interesting. And then we pretty much ran the streets of Tokyo. There's a male lead in it. It's really fun.
What was the inspiration behind the song?
It's actually about a long distance relationship. My best friend's in one, so I was very intrigued to write about it because she tells me all about it and the struggles through it. One time I was like, "Imagine how amazing it would be if you could be zapped to another place in a second [to where your partner is]." The problem is time, getting there and travelling. With music, it's inseparable, basically, so that's why I wrote this song.
More from Elen when you keep reading.
Have you been in a long distance relationship?
No, it's drawn from my best friend.
What can you tell me about your upcoming album?
I haven't started writing on it yet. I'm trying to make everything perfect because I think it's important to make the album perfection, especially because it's my first one. I'm trying to figure out producers and collaborations that I want to put on it but I'm just waiting for the right time to do that. I think it will be at the start of 2013. I'm trying to move away from my first two singles to make it more . . . It will still be pop and popular music, but trying to explore more aspects of popular music.
You're still so young but have been doing music for a while, so what's the best advice you've received along the way?
Just to have a really good team around me, which I have, and to not take it too seriously. Like, take it seriously, but not too seriously to the point where you drive yourself nuts, because that will happen.
Talent shows have changed the music landscape. What are your thoughts on them?
I think they're really interesting, but I don't think I could put my career on a show for 10 weeks, and then that's it. I feel like I'm still learning so much every day, and I feel it would be too hard to be able to perfect myself in that amount of time. But with the time I have now, there will be a point where — I don't think I'm ever going to be perfect — but I don't think I could put it out there in 10 weeks and say, "This is what I am. This is what I've got. And this is the best of what I've got." It's good publicity for the time you have on [the show].
You've also done a bit of acting — would you like to do more or are you focusing on music?
I love acting. I'm so intrigued by acting and I think it's such an interesting art. I've done a lot of acting, like theatre, in the past. I think on stage you act — you perform and you're a completely different character. It would be amazing to devote yourself to a role and completely become it.
Do you still get nervous when you perform?
Oh yeah. I think if there was a stage where I didn't get nervous at all, that's the point where you start to not love it anymore. That adrenaline rush you get on stage is why you do your job. It's the best feeling in the world.
And if you could record a duet with anyone, who would it be?
Oh my God, James Morrison. He's amazing. He's so talented.