Interview: Big Brother Australia 2012 Winner Benjamin Norris
Big Brother Winner Ben Talks After-Party Hook-Ups And Throwing Estelle's Horse Over The Fence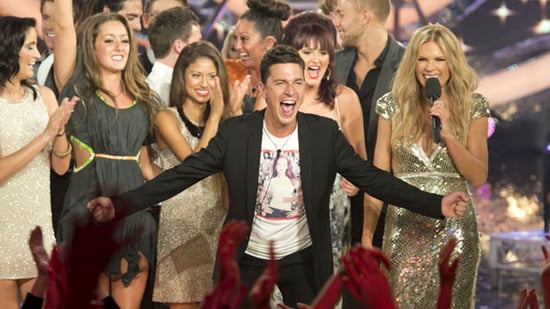 Big Brother 2012 went out with a bang last night, as nearly 1.5 million people watched 32-year-old Melbournian Benjamin Norris take the winner's crown (with $250,000 and a brand new car in tow). The finale was an emotional one, with Ben looking completely shocked when he was announced as the winner. But he had a surprise of his own, and he tugged on the nation's collective heartstrings when he proposed to his boyfriend, also named Ben, on stage. Benjamin was known throughout the series for his honesty (and self-described bitchiness), best friendship with fellow housemate Stacey and his rivalry with second runner-up Estelle. We caught up with Ben earlier today to find out what the Big Brother experience was really like.
Congratulations, Ben!
Thank you so much [pauses]. Sorry! I always seem to have a few things going on in my head at the same time, but thank you so much, that's so nice. I'm still in a lot of shock to be honest, I don't know if you watched on TV last night but it was a lot . . . I just didn't expect to win. I expected to propose to Ben, and I knew that was going to be there, but I just didn't ever expect that I was going to win Big Brother.
Click here to read more from Big Brother 2012 winner Ben!
Did you ever try and anticipate how you would react if you'd won?
I didn't even think about it – I thought Layla had it in the bag! I didn't even think for a second it would be me, and when I saw the car I thought, well that's the second prize, so I'm going to get that... then when they said the car was mine, as well as this money, and I got engaged. I've woken up today so humbled and proud of myself, which is an unusual experience in life to feel validated this way...It's so strange. Did you watch the show?
I did, I watched the whole thing!
What was your highlight? Did you want Layla to win or did you want me to win?
No offense, but I was going for Michael...
So was I!
But then the whole Estelle hook-up threw me off and I actually voted for you.
Yaaaay! Did you see when I threw [Estelle's toy] horse over the fence?
I did, but I wasn't sure what that was about...
Oh no, I threw it over the wall and said, "Take your friggin' horse that you rode in on!"
What was it about Estelle that everyone disliked? They didn't show anything that made her seem that bad.
My best friend said that last night, she said they didn't show anything. But they could tell by the look on my face that she must have been doing a certain something for me, as someone who never gives up, and who tries and tries and tries... they could tell there must've been something [annoying]. You know, she's an amazing person and I'm glad that they picked her to put in the house because she was interesting to watch. She just didn't always make for the best housemate, that's all. As in, to get along with. She just didn't really have much to say, I don't know... best to not talk about it! [Laughs]. I just really want to connect to this experience in a positive way. It's hard to focus on small things like that because at the end of the day, that's Estelle's journey, her story, and it doesn't necessarily need to affect me.
Were you worried she was going to take the title out?
I thought that she could do, I thought that the support must've been growing. She'd come into the yard after she'd film her 'save me' speeches [where nominated housemates had to tell the audience why they deserved to stay] and she'd be like "I talk to my Stella fans and tell them that they are sickest," and all sorts of stuff. I mean, I cried every time I had to make one of those videos because I didn't know how to do it. The last time I had to do it, I was sitting on the toilet, refusing to go out to do my save me video because I didn't know what to say. They [Big Brother producers] would say, "Finish this line: 'I deserve to win Big Brother because'..." and I was like, well what kind of a person can say why they deserve to win over someone else? It made no sense to me. I always went very dyslexic, like "Winning Big Brother was is fun of the sun and the moon..." They'd say, "We can't use that because that doesn't make sense!"
But you came across as very articulate!
I was if I was talking about something naturally, but to be put into the context of saying that you should win Big Brother over these other people, it didn't bode well with me – to the point where my brain was fried by it.
Well, it worked in your favour...
It did! And I think maybe, whilst I hated myself and beat myself up over it, maybe the emotion conjured up by that was empathetic, I don't know.
You tended to have your emotions written all over your face.
Yeah, well I haven't seen any of it and I must admit, I don't spend much time looking at myself in the mirror, but judging by the reactions I've gotten [since leaving the house], that must've been the magic into making me win. People felt like they were there with me.
Have you been shocked by any of the opinions people have about you?
There are a few things that are being thrown around but I'm actually quite – oh, this sounds ridiculous – but there are a few ways in which I've been titled since leaving the house. I'm excited that it's quite a collection of characteristics about me; I don't like the idea of going into Big Brother and being a one trick pony. I made mistakes, I bitched about people behind their backs and to their faces, I learnt things about myself that I do in my life that I don't need to do anymore ... I dragged in a bag of emotional crap and went through it for Australia to watch. I don't know how else to be! I can't take anything back, but I can learn from the mistakes I made and choose whether I do them again.
Is there anything you'd take back? Nothing. It's hard to watch things like throwing a glass of water in Bradley's face, it's hard to watch myself make mistakes, but I have to remind myself that at times I was sleep deprived, I was not eating correctly, my lifestyle had changed, my friends and family weren't there to support me. We had no books to read before bed at night . . . all you have is the clothes you took in. It's hard to remind yourself of who you truly were.
Were you guys bored?
[Quietly] Yes. [Loudly] No.
Talk us through what happened after the show last night.
There was a party last night but I was doing a few catch-ups and bits and pieces of interviews, but it was more about getting to the party and getting to add a bit of closure to it. All the housemates were there and it was nice to see them and the producers and everyone that worked on the show, and have a few quick chats before I went to bed.
So you slept?
Yep, but none of the other housemates did. Oats a la Layla [housemate Layla] looked like she was about to toss her oats a la Layla out the window on the way here this morning!
Is there any gossip from last night's party? Were there any hook-ups?
Everyone wants to know about it! There was a housemate hook-up but I can't confirm who it is because I didn't see it so it's not my place to say. But apparently there were a couple.
Who were your three favourite housemates?
Michael, Stacey and Zoe. Actually, Michael, Stacey and Sarah. I know Sarah wasn't popular, but she was instrumental in shaping me and my time in the house. Unfortunately, some of her characteristics overshadowed the good that she had, and while she came across as condescending and a bit full on to some people, she taught me some very important lessons about life and I took them on board. The others found it to be a bit condescending. She was the one who questioned why I'm different, why I don't get the same rights as everyone else [with regards to same-sex marriage]. When I was nominated, she made me believe that I was worthwhile and deserved to be there. Sarah's genuine spirit and the way she is, in the outside world she's not the sort of person I'd connect to – she's almost too nice – but to be in there and see it consistently showed me and Michael that she truly was a good person and deserved to be there a lot longer than she was.
Which was the best day, and which was the worst?
The best day of the whole house was finding out that there was no House 2 and we all jumped in the pool with our clothes on. The house was the most magical when it was a house united. And when the house united and jumped into the pool together, the house light up and became electrical, and was an experience like no other. The saddest moment for me was when Josh had to leave the show. He was also an instrumental part of my sanity in the house and to lose him was not only terrifying because I knew what he was going through, but also terrifying for me in that I knew I had lost a very important part of the Big Brother journey.
Last question – please sum up the entire experience in a few words of your own.
I would say... Nothing that I expected, life changing, exhilarating, roller-coaster. Amazing!
Congratulations again, and on the engagement...
Thank you! Ben's sitting right next to me so I'll let him know. Thank you very much! I hope you have a good day.