Interview With The Block 2012 Winners Lara Welham and Brad Cranfield
Lara Welham on Winning The Block, Sleep Deprivation and Being "Proud" of Brad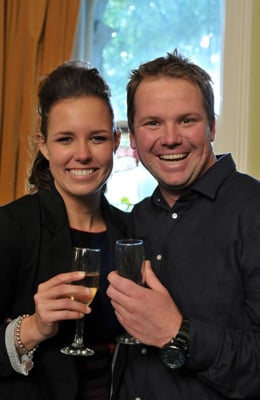 Newcastle couple Brad Cranfield and Lara Welham are $606,000 richer and own a brand new Suzuki thanks to Channel Nine's The Block, which they won last night. The spectacular result, which saw the South Melbourne house they renovated sell for $1.62 million, was just the start of an exciting night of TV and auctions where all the couples emerged with over $300,000 each. We spoke to Lara about working with a small budget, getting attached to the house and if she learnt anything surprising about Brad during the process.
Congratulations on your profit and winning The Block! It happened so fast on TV — what was going through your minds during the auction?
We didn't actually believe it was happening. It didn't seem real at all because it was happening so quickly and it was going up so fast. It was so much money as well.
Were you guys worried about the potential result given last year's disappointing finale?
No. We all knew about what happened last year and we still all auditioned for this year, so we knew there could be a possibility where we didn't sell. We were all prepared for the best and worst outcomes.
You guys had the biggest house to renovate with the smallest budget which really got to you at times — just how tough was it?
It was really tough at times. We were sometimes down by thousands and thousands of dollars, less than other couples, because we hadn't won the rooms, and the challenges we seemed to win weren't always big money challenges. It was really stressful at times.
More from Lara when you keep reading.
You were originally criticised for your styling. What changes or judges' comments did you take on board to start getting some wins under your belt?
With the styling part, I didn't necessarily take all their comments. We styled it how we wanted to style it. We never did a room to please the judges. We always did them how we liked them.
What's it like to put so much of yourselves into something only to give it up so easily, even though you knew it was going to happen?
There's a massive attachment [to the house]. Brad said a few times that you never put this much hard work, blood, sweat and tears into something and give it up so easily. Usually you can spend a bit of time in the house and enjoy it, but you've gotta give it to the buyers now!
Dan and Dani came across as super competitive and seemed like they'd do anything to win — was that hard to deal with on the show? Do you stay in touch with them now?
Yeah, we're still in touch with them and see them at all the Block things. Yeah, they're competitive and it's a game. Brad and I both played sport and you get all these kinds of competitive people so you deal with it I guess.
Who did you think would win?
Honestly, all four of us had the biggest chance of winning. There's not one house that's better than the others or anything like that. And you've got different reserves for the different size houses and all those things, so I don't think anybody had a bigger chance over somebody else.
Did you have a favourite challenge?
Probably the game show challenge, where we had the magic door and Ed Phillips as well.
What was the toughest room week for you?
Toughest room week would've been the rooftop terrace because you literally have to go up all the stairs however many times a day, getting all the things up there, like the timber, all that kind of stuff. It was absolutely torture. We had two massive challenges that week, the 24-hour challenge and Shelley's charity auction, so it was a torture week.
What was the experience of watching yourselves back on TV like?
I guess it was weird and strange, but we're pretty down-to-earth, normal people, so it was fine watching ourselves back. We watched every episode so it was all good!
Was there anything about Brad that surprised you during the process?
I think we knew each other pretty well. I knew he would be extremely hard-working, would stay up late, would do everything he possibly could to save money on the budget. I knew he'd be able to work as hard as he did. I'm very proud of him.
How did you push through the sleep deprivation?
[Laughs] I really don't know. You just do it. I think it was in master and en suite, the two days before the reveal we had one night of only two hours sleep, and the next night we had none. So for two-and-a-half to three days we only had two hours sleep. You just push yourself because you know you've gotta finish and if you don't you'll get absolutely hammered.
Are you open to returning for next year's All Stars series?
For sure. If we got voted in we'd be very happy to return to The Block. But Brad and Dale think they wanna do it together without us [laughs] — that would be hilarious.
Photo credit: The Block Facebook Page