Interview With The Block Sky High Winners Alisa And Lysandra
Flying High: Alisa on "Disgusting" Behaviour, Defying Sexism, and Winning The Block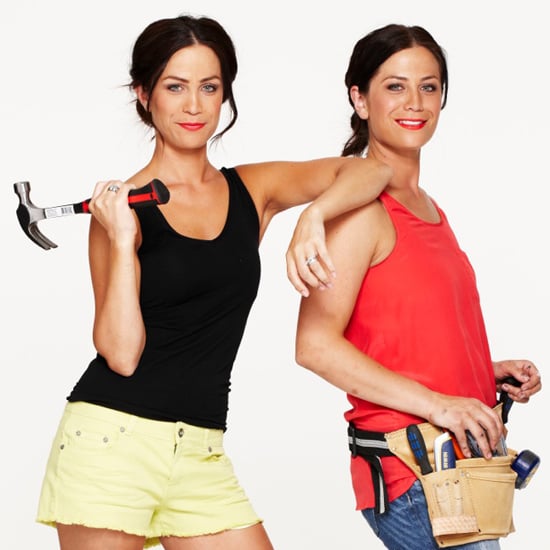 They were the beautiful and bold cops who started with a clear goal in mind and now, 11 weeks later, Alisa and Lysandra Fraser are the winners of The Block Sky High. The identical twins, 28, hail from Adelaide — both are married with kids — and are in the police force, despite always having a strong interest in interior design. Their design skills, quality finishings, sophistication and fresh ideas, coupled with no-BS attitudes and a good sense of humour quickly made them firm favourites to win the popular renovation show. The pair earned a cool $395,000 last night — and the admiration of many around the country for being the first all-female team to win. We chatted to Alisa today and she was charming, chatty, and certainly didn't hold back on the truth — and that's just the way we like it!
POPSUGAR: Congratulations on the win!
Alisa: Thank you so much!
How do you feel right now?
Oh, excited and relieved. . . and tired! (Laughs)
Were you confident you'd win? You were the favourites for the last few weeks. . .
Yeah, there was definitely a certain amount of confidence. We knew we had an amazing apartment, and we thought that it was probably the best on the block. And that sort of put my mind at ease, knowing that we were the favourites so yeah, we were confident.
Keep reading to find out who Alisa and Lysandra stay in touch with, who was a backstabber, and why females can do it all. . .
Of course, while you're building the place you have no idea how you're going to go.
No, not until it's done can you sit back and go, "Yep". We changed our style very early on, which was really good for us [the first room the girls delivered wasn't well received by the judges]. We learned early on and listened to what the judges had to say.
Which room turned out to be your favourite?
Ahh, that's so hard! I've got three favourite rooms that I really can't pick between. The master bedroom and dressing room, the outdoor terrace and the second bedroom.
And do you have a least favourite, or were you able to go back and fix up anything you didn't like?
Yeah, probably the dining and lounge are our least favourite.
Neither you nor Lysandra showed very much emotion — except when judge Shaynna Blaze said you both should be in the interior decorating business. Why were you so affected by that?
I entered the show wanting to possibly start a career in this type of thing and I didn't realise we were that good until she gave comments like that. It was just amazing to know you're getting that type of feedback from someone of her calibre.
You guys were the first all-female team to win – what does that tell you?
I know that we have been a lot of inspiration for a lot of girls out there and I know that girls will see what we've achieved and think, "Well, why can't we do something like that if we put our mind to it?". So if you work your butt off and aim for the stars, you can do it. Just because you're a female doesn't mean you're not tough enough to do it.
There's been a lot of talk about you being pushy or nasty… How do you respond to it?
We're just being driven and focused. Just because it's two females doing it, society always thinks you're pushy and aggressive. And it's just like, you know what, it's funny how a man can do it and he doesn't get labelled at all, but as soon as two girls do it, we're bitches or we're this or that.
Looking back on the episodes, you girls were never nasty – just very honest and up front.
Yeah! I totally agree. Totally. And you know what? People who think that we're nasty aren't my type of people anyway, so. . . I think we've just got so much support out there about how honest we are and people actually appreciate that. The people that don't appreciate it are full of shit anyway [laughs].
Are you still in touch with any other contestants?
Matt and Kim. They're the only other people we'd stay in touch with.

Who was the nicest on the show?
Kim and Matt.
Most annoying?
Mmmm. . . The top three levels [laughs]. No, probably Trixie. Yeah, it was bad.
Funniest?
Matt, without a doubt.
Least favourite couple?
It's really hard for me to choose out of the couples on the top three levels [Bec & George, Madi & Jarrod and Trixie & Johnno]. They all just backstabbed each other and it was pretty disgusting, actually. They pretended to be friends but they would stab each other in the back every time they got the chance. They all did, it was ridiculous. They can't call each other friends! Madi and Bec pretend they're friends.
Bec came across as a really nice person.
Mmm. She got edited — she was protected very well in the show. Not my favourite person. I just found them all really fake.
I've gotta ask — does Scott Cam have a dark side?
[Laughs] Nooo. What you see is what you get!
If you guys didn't win, who would've deserved it?
Matt and Kim. Totally different taste to us but I can appreciate it and they worked their arses off. Matt did not stop. The hardest-working person on the block!
What's your best memory from the show?
Winning! [laughs] And probably when Shaynna said that about us going into interior design.
Would you do it again?
After a solid three months of sleep, I would [laughs]. I don't know how we kept going during filming, but you just have to.
Is there anything you'd change?
Nup! I can't change how we were perceived. That doesn't lie with us, it's with the editors, and there are certain parts I'm not happy with but there are a lot of parts that I am. I think that the public have a really good idea of who we are now and that's all we should really hope for.
You have a large fan base now, whereas at the beginning people were a bit iffy. . .
Yeah for sure, people didn't know how to take us — it always take a bit of time for people to go, "Oh, hang on". But we've got so much support out there; it's crazy. It's really nice that you can be yourself and it'll be that way.
So what's next for each of you?
We'll start an interior design business. We've got a lot of learning to do, but we're keen to learn and eager and hungry for it so who knows where it may lead. Lysandra's swayed now — she's got design in her blood and we're going to do it as a team.