Interview with The Collective on New Single Another Life
Catching Up With The Collective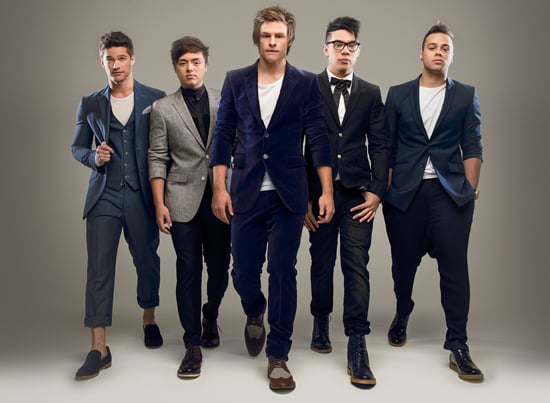 Thanks to the success of bands like One Direction and Little Mix, talent show The X Factor has been at the forefront of turning solo stars into powerhouse groups. Last year the Australian version put five guys together — Trent Bell, Julian De Vizio, Zach Russell, Jayden Sierra and Will Singe — to create The Collective, who finished in third place under the mentorship of Ronan Keating. One year down the track, they're signed to Sony Music and have their first album on the way. Their latest single "Another Life" is out now — they returned to the show that made them stars last week to perform it — and we recently caught up with Julian, Jayden and Will to talk about how their lives have changed and the challenges of making music that represents five guys instead of one.
What have you guys been up to the past few months?
Julian: We've been working really hard in the recording studio trying to find the right song — we obviously found it because "Another Life" has come out. We're really happy with the song and feel it's really strong. As soon as we finished recording it in the studio we knew it was the one. Other than that we've been doing lots of gigs around Australia and fine-tuning all of our skills, and just getting ready for the rest of the year, which is going to be really fun and packed with a lot of things.
How did you know "Another Life" was the next song? I saw on your CollecTV channel that it's your favourite original song you've recorded.
Will: It's probably my favourite because it's got more substance than a lot of pop songs. Lyrically, I really like it, it touches on emotions and all that girly stuff [laughs], but then it's contradicted by a really urban kind of beat. I really like how the sadness of the lyrics is contradicted by an up-tempo, feel-good kind of thing.
Has it been hard to choose or agree on original songs for your album?
Jaden: It has taken a long time, obviously — "Surrender" came out months and months ago. We were in the process of finding a song. But we didn't want to rush it. We didn't want to release something we didn't feel was going to be a hit, so that's why we've taken so long. Looking for that right song, as you said, there are five of us, so we need to make sure everyone's happy. We have our own individual music tastes but I think we all see where we want to be as a group, so it's easy to agree on stuff. Having said that there are times when we don't agree, but it's a decision about what's going to be best for our fans and be the most successful — then it's clear.
More from Julian, Jayden and Will when you keep reading.
Do you all have to agree or is it majority rules?
Jaden: For something as big as a song decision, I think we've got to all agree so everyone's happy. But there are times when we say, "Three against two, we'll just go this way." But song decision is pretty big.
Will: Because it's a representation of us, so if someone doesn't think it shows the best of us, then we're not going to want to put it out.
What is a typical day like for you guys now?
Jaden: Because of this profession it's always changing, but typical would be just to come to Sony — we'll maybe do some filming, the CollecTV stuff, meetings about our social media or schedules. In this time, because we've just released a single, we've got to do a lot of promo, so a typical day would be getting up early, going to do radio . . .
Will: So early.
How early is early?
Will: Like, 9:30? [Laughs] Nah, we had to be out of our hotel from Cairns after finishing a gig at about 12:30 at night, and we had to be out of the hotel at 4 a.m. to go somewhere else. Straight to Perth from Cairns. The thing is, when I'm sitting in those seats on the plane, my legs are too long! There's nothing I can do with them. I can't sleep sideways.
Who are your musical influences right now, or who are you listening to?
Will: At the moment I'm listening to a lot of dirty hip-hop, R&B — A$AP Rocky, 2 Chainz, Drake. I'm keen for Drake's next album. Can't wait.
Jaden: I like Ed Sheeran, The Script. I like Daft Punk's new album that came out.
Julian: Justin Bieber. I'm really looking forward to Chris Brown's album that's coming out soon — I hope he goes back to his old stuff, like "Fine China," I really love that song. Daft Punk. Fall Out Boy. I've just got a mix of stuff. I really like what Will's listening to as well, he's gotten me into that stuff. Fall Out Boy is probably as rock-y as I'd get.
What's been the biggest or hardest thing you guys have had to adjust to since The X Factor?
Will: I reckon the hardest thing about it is you finally see who's really sticking by you, and who isn't, who treats you differently now, and who doesn't. There are even girls who would never give me the time of day two years ago, they all message me on Facebook: "Oh my god! How are you going? I saw you on TV." [Laughs]
Everyone knows you entered The X Factor as soloists — a year down the track, why do you prefer being in a group?
Julian: On the show, during the top 12, I learned that being in a group is — well it's not much easier — but being a solo artist going through this seems like it would be really daunting. Even with learning a song, we got different parts. And you've got four other boys right by your side to lean on if something goes wrong. Or if something's wrong with your family or friends while you're on tour, these four guys will sit down with you and talk about it. It's not like, 'Oh, we're men, we can't express our feelings,' we can just talk about anything we want.
Will: I think even the music part, it changes — I draw in a hip-hop, R&B type of crowd, but someone like Trent will bring in a rockier crowd. That brings in a bigger market for us, and that's really good. More business [laughs].
Do you have any secret talents?
Will: I can gabber really well. It's what all the lads do, to hard-style music.
Jaden: I have a sixth sense for playing video games. I'm a beast.
Will: I'm really good at Taxi Driver on Facebook, where you jump over the cars and stuff.
Have you thought about merchandising opportunities?
Will: Of course. We've all had pretty cool ideas about merchandise, like we all bring our two cents to the table. I look at people like P. Diddy — he's got CÎROC vodka, Sean John [fragrance], he's a rapper — and he's killing it!
Who is the messiest?
Will and Julian: Jaden.
Julian: We'll come home from being away, and he'll leave his suitcase outside his door and won't touch it.
Will: But I walked into Trent's room the other day and there was like four-week-old pizza lying on the ground. I think my mum was pretty upset.
Who's the cleanest?
Will: Zac and Julian.
The noisiest?
All: Zac.
Who loves junk food the most?
Will and Jaden: Julian.
Will: He could just live off Coca-Cola.
Julian: I'm on a very strict diet from management where I can only have one Coke a day.
Who's the most romantic?
Will: We all have our moments.
Jaden: We're musicians.
Who takes the longest to get ready?
Will: Julian. He spends like an hour on his hair, just. Or I take a little while to get ready, depending on whether things just aren't working for me that morning. You just have those days.
Who's the funniest?
Will: We all have our comedic days.
Jaden: But we all laugh at Trent.
Will: Trent has these crazy outbursts of immaturity. It brightens my day.
Julian: If you're down, Trent will just pull something out and you can't not laugh.
Jaden: But if he's having an off day, everyone is.
Will: If Trent's having a bad day there's something wrong. He's Mr. Positive.
Who spends the most time on social media?
Will: Julian.
Julian: Yeah, I creep a lot though.
Jaden: I reckon I'm close. I follow heaps of people.
Julian: I spend a lot of time on Twitter, but I just look and that's it.
Who's the biggest prankster?
Julian: Zac likes pulling pranks, but we do group pranks.
Jaden: But it doesn't mean they're good.
Will: We like doing group pranks on other people. But then we've done one to Jaden that was probably the worst one.
Jaden: They defaced my hotel room.
Who has made the biggest splurge since The X Factor?
Will: We all do it. I bought a car.
Who's the worst at keeping secrets?
Jaden: Probably Julian, because he always spoils movies! He always tells the ending.