Interview With Graham Phillips From The Good Wife on Season Three
The Good Wife's Graham Phillips Gives Us Season Three Scoop!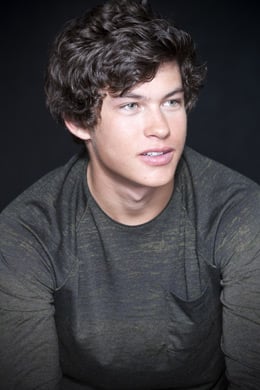 One of my favourite US dramas is The Good Wife, so I was excited to chat with Graham Phillips, who plays Alicia Florrick's son Zach, when he was in Australia recently. He was here for a holiday with his dad and brother and to check out the Australian Open, and he was keen to get a tan before heading to Sundance to promote his new movie, Goats. The third season of The Good Wife premieres on Network Ten at 8:30 p.m. with a double episode, so we talked to Graham about what we can expect from the award-winning show.
In what ways are you similar to your character Zach?
I'm a total computer dork. It's been interesting because I'm two years older than my character, so Zach's going through a lot of the same things I was going through two years ago. But I'd say that we're different in that he's a little bit vulnerable and . . . I feel at times that he's a little bit immature, and that he can get played by a certain situation. But at the same time he can do the total opposite. There's an episode coming up where he plays his mother against his grandmother, because they hate each other, to basically get what he wants. His mum and grandma are saying, 'You should be hanging out less with your girlfriend, Nisa,' the girl from season two, and he's basically tells Alicia that Jackie's been saying the same thing, but she's saying it because we're too different — Nisa's black. So Alicia, basically being the politically-correct woman she is, says, 'Yeah, okay, she can come over.' So that's how I get what I want in that situation. I'd say we're similar in a lot of ways and that we're different in a lot as well.
My friend and I were wondering what had happened to Nisa!
You know what? That's so weird, because I had no idea for almost an entire year — she just kinda dropped off the map! And then I got the script, about halfway through season three. And not only is she back, but apparently they've been dating the whole time! So it's interesting how even the actor playing the character has no idea what the character is doing.
More from Graham when you keep reading.
You get to work with some amazing actors — were you familiar with your co-stars before you started working with them?
Yeah, I was. I was a really big fan of Alan Cumming, actually, and it's been really fun to work with him because I'm a really big Broadway fanatic, and he won the Tony for Cabaret, so he's definitely one of the people that I look up to. Julianna [Margulies], obviously I'm familiar with her, but I didn't realise how nice she was. She's definitely one of the more down-to-earth people I've ever met in Hollywood. She's very cool and she acts like a mother to me a lot of times, you know, with advice, and I've learnt a lot from her. Chris Noth is a really funny guy. And it's also cool because we get a lot of great guest stars — Michael J. Fox is back this season.
Can you describe what a day on the set of The Good Wife is like for you?
[Laughs] Well, because I live in Laguna Beach and we film in New York, it normally begins with a very, very early morning flight. After that, I'll go on set and go through hair and makeup, which for me doesn't take too long. The days can be very long; they're very good about putting all of my scenes in the same day. I can work for 14 hours sometimes, and then I'll go to my apartment, and then the next day I'll fly back home! It's definitely a lot of travel, but I love it.
Are you still at school?
I'm homeschooled — I'm a senior in high school and I'm going to college next year.
What's it like for you and Makenzie Vega to be the youngest people on set?
It's funny because we just went through the whole college application process together — we're the same age, so we're going through a lot of the same stuff. We have a lot of fun. It's definitely nice to have someone else the same age as you on set, otherwise you can kind of lose your mind in a sea of adults. I love talking with adults and I'm very comfortable with them, but at a certain point you'll be driven crazy if you're not with someone your own age.
Do you personally have much interest in law and politics, and all the things that are explored on the show?
I do, actually. My father was a federal judge for a few years — he was the youngest federal judge in the United States, and now he's a lawyer. And my mother was a lawyer until she had me. There's definitely history in my family, so there's a lot of interest in that. Our family friends raise funds for the Democratic Party, so I've definitely grown up with influences from law and politics. It's also amazing how current the show is, the turnaround — there will be a current event that happens, whether it be a bombing or something on the Internet like a funny, stupid YouTube video, and in almost two weeks it'll be on television and [the characters] will be talking about it or addressing that issue. It's amazing how current the show is. It's extremely impressive . . . I practically don't have to watch the news or read the papers, I just have to watch the show — it definitely keeps you in the loop. And you can learn a lot. It's interesting watching it with my parents because they'll tell me if something is unrealistic. But for the most part they've said that the show is a lot more accurate than any other law-related show.
It definitely makes it seem like being a lawyer is fun . . .
Watching it with my dad, because he's a lawyer, it's funny because they totally glorify the life of a lawyer and make it seem so fun, whereas in reality my dad's working 400 hours a month. At the same time, that's how it has to be in order for it to make it onto television. You can't have a boring show. They do a good job of straddling the truth.
How do you feel about the Alicia/Peter/Will love triangle?
At first I didn't know whether my character was even suspicious of Alicia and Will, but then there's a scene a little bit later on in season three with Zach working on Alicia's computer at work, and Will walks in and introduces himself. It's a very, very awkward scene — I actually love Josh Charles, he's a really cool guy and we've gotten to become pretty good friends — but the scene is him being very awkward because he's trying to buddy up to me, he's introducing himself, and it's just not working out in his favour. He's basically making a total fool of himself. I gave the editors two ways to play it. One: why is this guy being so awkward? And the other version: I'm suspicious of him being with my mum, giving him cold stares. And they ended up going with that one, so that's how I knew Zach was suspicious.
The one thing that Zach would like more than anything else is for his parents to get back together. Just from being friends with people whose parents have gone through divorce, it's really hard for them to understand why, and it seems like this is the first season that he starts to understand his parents' split. He talks to his father, who opens up to him a bit. He used to idolise his father, but after that conversation, his father is knocked off that pedestal. Then Zach stops trying to be just like his father
Going back to you, you've done theatre, film and TV — do you have a favourite of the three?
No, I hope to be able to do all three for the rest of my life, and I hope to add another two: music and directing. I'd love to direct at some point in my life. That'll be a fun adventure for me when I get started on that.
What are some of your favourite TV shows?
I love The Office, Entourage, I love Rome and The Tudors. How to Make It in America. 30 Rock. And there are some others that I'm sure I'm forgetting. A lot of comedies.
The Good Wife is always nominated during awards season. Do you get to go to all those events?
Yeah, I went to the Emmys these past few years, and it's been fun because I hadn't really been to those before 'cos I hadn't been a series regular on a TV show. That's really where you can meet any celebrity that you want. You go to the Governors Ball after the Emmys and there's a seating chart, and you literally just look at this list of 400 celebrities, and you can go meet whichever one you want. It's really cool and great for networking.
Do you get star struck?
I do, but not with the normal people that you'd think. I went to the Emmys last year with my friend Ariana [Grande], and she really wanted a photo with Kim Kardashian, so I took a photo of her with Kim, and it's funny because I could not have been less star struck. But then I saw the guy who plays Marc Anthony in Rome and I could barely speak. Larry David I was also star struck by.
What do you like to do in your down time?
I golf a lot. I play tennis. I do a lot of photography. I go to Africa every year for wildlife photography, which is fun for me. Those are my main things.
Photo credit: Kristina Wilson