Interview With Hayden Quinn on MasterChef All Stars
MasterChef All Stars Scoop From Hayden Quinn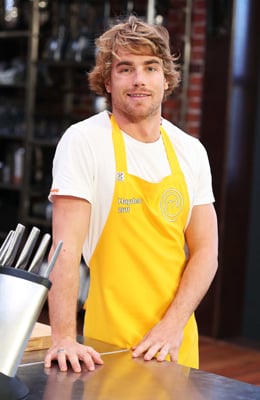 Usually when we come to the grand finale of a popular TV series, we hit that point of realising it's not going to be screening for another year. Not in the case of this year's MasterChef! The 2012 grand finale is being held tomorrow night but MasterChef All Stars kicks off a day later, on July 26, bringing back some familiar faces during the Olympics — 12 popular contestants from the first three series (2009-2011) will cook off for their respective charities. One of the returning cooks is Hayden Quinn, who came sixth in the 2011 series. He's gone on to release eBooks, win Cleo Bachelor of the Year, and most importantly is still a down-to-earth guy! We caught up with Hayden before his trip to New York for some scoop on MasterChef All Stars.
Can you tell me about the casting process? Did they approach you guys individually or open it to everyone?
For me, all I know is I got a call from my management saying, "Hey Hayden, we've got this, this is really out there, it's gonna happen really quickly, but MasterChef wanna do another series, an All Stars one . . ." It went from not knowing it was really there, and then bang, it all started to happen. Things moved very, very quickly. They had quite a selection of people, I'm sure, some were available for it and others weren't, so I'm kind of lucky that I didn't have stuff that I couldn't shuffle around.
More from Hayden when you keep reading.
What was it like shooting the Mexican standoff promo?
[Laughs] That was good fun. We just did that in a studio. When you shoot those commercials they're always done on a really big camera, and there's a director, special lighting — it's actually quite involved, the way it all comes together. To do it, it was literally, "Hayden, stand up on this thing. Give us some funny looks. Do this, do that. We had a few little group things and had some weird props on. I had my Mexican gun belt on and my Mexican chillies everywhere. It was really cool. I actually had the gun belt on two hours before the shoot just walking around the studio in it because I felt really cool. [Laughs] I love shooting commercials because you don't have to be yourself as much. You can put on a bit of an act, which is good fun, pretending to be in character. Everyone looks so cool in it, even though it's corny. I think that's what they were going for because the whole series now is going to be light-hearted and fun, just chilled out. It fits with the whole theme of what we're doing.
How different is it this time around from last year? Is it any less competitive because not so much is at stake?
Obviously people have already proved themselves. We've all been there and done it before. The whole of Australia knows how we cook, why we love cooking, they know our strengths and weaknesses. So this time around the competitiveness is definitely still there, but it's there because we want to raise money for our charities, or we want our year group to do well. It's more than fun, having a laugh, "We're better than you" sort of thing. It's not serious. No one's going to crying, no one's going to be sad. It's all about fun and good times, and supporting those charities that do such amazing work in our community.
How does the show work?
It's basically like a normal series where we start off with some team stuff, then there's some individual stuff, and more team stuff, so I suppose the 2011 Yellow Team, the Blue Team and the Red Team, are just a way of identifying different year groups. There are challenges where we're in teams, working as individuals, working in twos, all that stuff. It's just a mix-up. For me, I love the team stuff. It's the most fun because you don't have to worry about yourself too much. You can be a bit more creative with more creative minds.
Do you think you and your 2011 team have an advantage because the experience is fresher for you guys?
We actually joked about that. You look at Julie, Poh, Justine and Chris — it was nearly four years ago for them, and that's a long time being out of his competitive television environment. This time last year, we were still a part of it — it hasn't even been a year since I was last on the television. So it's still super fresh, we're used to it. Once you get in there and those memories start flooding back I'm sure they felt just as home as we did when we were in the kitchen.
Who were you most excited to see cook out of the past contestants?
For me it was Marion. She was someone I really liked watching. I never really watched a huge amount of MasterChef before because I travelled overseas a lot, so I only saw the very start or the finish. Marion was someone who really stood out to me as an awesome chick — she did food that I loved, Asian food, and she was a real favourite. For me, I wanted to see what she was all about and learn — actually, for all of us it was a chance to learn about each other's techniques and what we love about food. And also Callum, because Callum to me is like a dessert master. I really don't know much about desserts at all but he's a gun, so I wanted to learn a few things off him as well.
Any funny stories you can share?
I'm so bad at remembering funny stories! There are always funny stories . . . I suppose — I don't really have any funny stories — I think the best thing for us coming back in a second time around was that everything was so much more relaxed. The crew was more relaxed, you know all the cameramen, you know the judges. You could muck up a bit and take the piss a little bit out of the judges and cameramen. We tried to organise a flash mob but that never really happened. There's behind-the-scenes stuff that they might put in this time because it's a little more of a laugh.
How did you like the MasterChef Dining experience? What was it like to have fans tasting your food?
For me, and I think for all of us, it was a great opportunity to meet those people who have supported us, who have been interested in the show, who may one day buy your cook book or visit your restaurant, or be a part of a cooking demo you could be doing, so it was more about letting them meet you and get to know you a bit better. And like you said, tasting our food — that's a pretty big thing. It's sort of scary putting yourself out there, to have the general public finally getting to try the MasterChef speciality. It was a great experience and all-round a pretty positive result for all of us.
Have you been watching this season of MasterChef?
Um, no. That's probably the most common question at MasterChef Dining. "Who do you think is going to win, Hayden?" and I have to say, "Unfortunately I haven't really been watching." Because we've been filming, and because I've got a bazillion other things going on, I sort of shy away from the television. If I'm not working I'm trying to do some sort of exercise. [Laughs]
Have you heard that people think Andy is going to take your Cleo Bachelor crown next year? And there's also talk that Andy and Ben's bromance is better than yours and Michael's.
Really? They're probably taller than me and probably better-looking than me and Michael as well. I think they've got a good head start. They're both good-looking lads and I'm looking forward to meeting them, because obviously you hear a lot about the show and I have seen them cook on TV, so I'm looking forward to meeting them and finding out more about them. You never know where their future lies. I certainly didn't know where my future lied this time last year! Fingers crossed it's an exciting one for them.
Normally I'd ask someone what they've been up to in the past year, but in your case it's more like what haven't you been up to . . .
[Laughs] Yeah . . . And you've covered most of it! I've been super busy. The book's all finished now so that's with the publisher. It's just a matter of editing, checking my spelling mistakes, testing the food, doing the layouts and designs, taking a few more photos, and it should be out by next year, hopefully.
What are you doing in New York?
New York is just a good chance for me to sample some food. We're gonna do a bit of filming over there — a mate of mine has a production company that he runs and owns over in New York. So we'll do some filming to have some nice little clips to put together. I also want to catch up with some friends because I lived in the US for a while. And then I'm off to India!
What are you doing in India?
I'm doing a corporate cooking gig. Dani Venn and myself, we're off to India to do some cooking.
MasterChef All Stars premieres on Thursday, July 16, at 7 p.m. on Network Ten.
Photo courtesy of Network Ten