Interview With I Will Survive Host Hugh Sheridan on Recreating Priscilla Queen of the Desert
Hugh Sheridan Talks I Will Survive, Life on the Priscilla Bus and Being a Triple Threat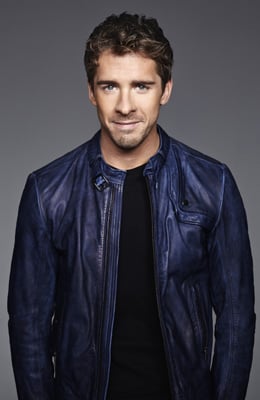 There's no shortage of singing talent shows in Australia (and around the world), so when you hear about a show that takes 12 triple threats on a road trip around the country, inspired by the iconic Aussie film The Adventures of Priscilla, Queen of the Desert, it gets your attention. I Will Survive, which premieres tonight at 7:30 p.m. on Network Ten, gives 12 males the opportunity to prove their singing, dancing and acting skills as they travel to regional towns and perform for local crowds under the watchful eyes of judges Stephan Elliott (who wrote and directed Priscilla) and Jason Donovan. Joining them and acting as our guide is popular Packed to the Rafters star Hugh Sheridan, who couldn't resist the chance to host such a unique and colourful series. We got in touch with Hugh to get the scoop on how the show works, the female guest judges, and whether he has Broadway aspirations of his own.
What was it about I Will Survive that made you want to get involved?
I've been asked to host before and it's not been something that has really appealed as acting is my passion and what I know. But this is such a unique show that it made me want to get involved. It's part-talent show, hilarious good entertainment, but also we travel across Australia to these small towns, meeting all the locals, and this brings a travel show element to it. I've had a ball on this program. It's been so hard and exhausting at times, it's so different to acting, and I think I've had more monologues to learn as presenter than in some acting roles, but I've actually really enjoyed the challenge and being on the road with the cast and crew.
How do you rate the talent?
We've got a fantastic mix of talent in the program. Many of these guys sing or dance professionally, and this is the first time that most of them would ever have auditioned for a talent show before, and the reason is that for them this could take them to the top of the ladder in theatre, and eventually Broadway — it's a great opportunity. We're looking for a triple threat in this show, someone who can sing, dance and act, and through this journey the contestants get a chance to be mentored by the best in the business, and really get to that point.
More from Hugh when you keep reading.
Do you think people who haven't seen Priscilla — in either its film or musical form — will be able to get into the show?
For sure. In fact I hadn't seen the movie or the musical until I became involved in the show. I was in New York when I signed onto the show, and I went to see the musical on Broadway, and loved it. It's a great combination of Aussie humour, over-the-top awesome costumes, and a real feel good story. Priscilla is the back-drop for this year's show, but whether you've seen the original or not, you can still relate to the contestants and their goal, and we've got some funny surprises to show you along the way.
Aside from recreating the journey in Priscilla, what purpose do the outback locations have?
Each week the contestants take a bus tour around each town — meeting some of the locals there, trying out activities — which is a great opportunity to showcase each place that we go to. The people in each town have been so welcoming and they really play a part in the whole production as generally they are part of the audience for the big group number that the contestants perform there at the end of each week. The response in each town has been amazing, and I've had people coming up to me saying that we're going to put them back on the map again, and they can't wait for that. There was a bit of worry about this huge crew on the Priscilla bus bowling into these quiet country towns each week, and what the response would be, but everywhere we've been, it's actually in a way inspiring.
Can you tell me about the challenges and how contestants get eliminated?
Each week follows the same format. When we arrive in each town, the contestants do a flash mob, which is just hilarious — very strange TV I admit. They jump off the bus, in full costume, and dance down the main street, and that's the big announcement that the I Will Survive circus have arrived! In terms of challenges, each week the contestants sing a solo number, and take workshops with the judges, which determines who goes into the bottom three. The bottom three contestants are then the main focus of the big group performance each week, and from how they do here, one contestant will leave. The bus literally stops in that town for the eliminated contestant, while the rest of us drive onto the next place.
What has it been like to work with Jason Donovan and Stephan Elliott? What have you learnt from them?
Stephan and Jason are both brilliant to work with, and they are hilarious each in their own way. Stephan is an absolute character — he is the real heart of this show, and he's completely passionate about finding the right person for this role. Jason is very funny, too, he takes the show so seriously. He's obsessed with the boys doing their best and the boys really appreciate his help.
What do the female guest judges bring to the show?
The talent of the female judges that we have on this show is just incredible: from Magda Szubanski, Toni Collette, Asher Keddie, Rachael Taylor to name just a few. They are all at the top of their game, and they have all embraced this show and they all walk away saying how amazing it was. They have each given some brilliant advice to the contestants, and I've learnt a lot from having them on set as well. They have such integrity, talent, and a real sense of humour that each of them brings to this production.
You're a triple threat — do you think you would've auditioned for I Will Survive?
I think the contestants are doing an awesome job on the show and they are all working so hard to really become triple threats, but I think I'm happier as host for this one.
Do you have Broadway aspirations?
Broadway is the ultimate destination for theatre, and I love being on the stage. At the minute spending time between Australia and New York is perfect, but if a great opportunity came up to act on Broadway, then I would take it no question.
I Will Survive premieres tonight at 7:30 p.m. on Network Ten.
Photo courtesy of Network Ten