Interview with the Inglorious Basterds cast from the 2010 Screen Actors Guild Awards Press Room
The Inglourious Basterds Winners Keep Brad in the Loop
The cast of Inglourious Basterds took home the Best Ensemble Cast at yesterday's SAGs, and they were soon off for a pit stop in the press room. Diane Kruger, Christoph Waltz, BJ Novak, Omar Doom, Jacky Ido and Eli Roth were there to talk about their latest honour, though their costar Brad Pitt skipped out on the event. They did, apparently, make sure to keep him in the loop. They said: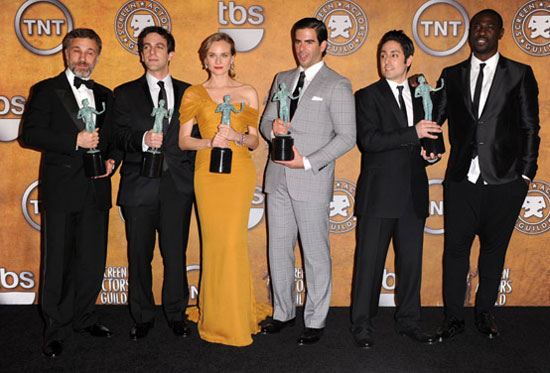 Christoph on if they told Brad Pitt about the win: "We all did!"
BJ on what Brad responded: "LOL, he said."
Eli on how they'll celebrate tonight: "We were celebrating while we were shooting, celebrating at the table, and the celebration will continue tonight!"
Diane on working with so many guys: "The best part about my role is that I really kick ass. I'm tougher than most guys really—well maybe not Christoph!"
Eli on working with Quentin Tarantino: "You just clear your schedule and make yourself available. . . any of us would be honoured to work with him again."
Diane on her dress: "It's Jason Wu—we created it together."