Interview: Jessica Alba Talks About Honor And Haven, Narciso Rodrigues And Organic Chips
Jessica Alba on Life With Honor and Haven: "I Learn So Much From Them!"
Jessica Alba hit the red carpet in Valentino on Wednesday night at Self magazine's Women Doing Good Awards. In addition to covering the publication's current issue, Jess picked up an honour thanks to her work with her eco-friendly Honest Company. We caught a few minutes with Jessica on the red carpet, and she spoke about her new calling in life as a businesswoman. Jess also chatted about her two children, Honor and Haven, and how she's raising them to have a consciousness about health and the world. Here are highlights from our chat with Jessica: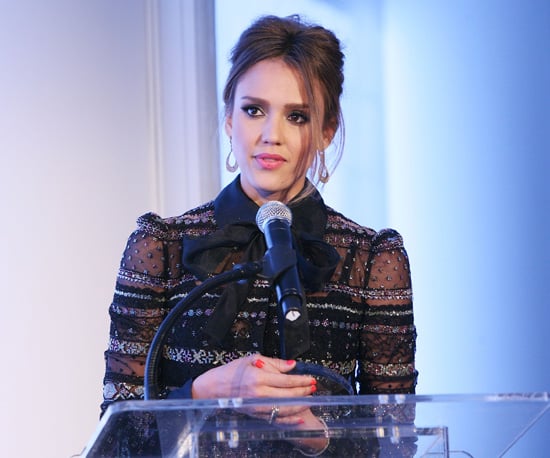 On the best parts of being a mother: "Every single day, I mean every moment, that I get to love them and cuddle them and be with them. To be able to watch them grow; I learn so much from them and just being a mum."
What she's learned from motherhood:"Patience and love. I never even thought I had the capacity to love like that before, and experience that much joy and how to have fun and not take myself so seriously."
On what milestones her girls have reached: "The baby is trying to walk around with her walker. She can't do it without that yet and so that's sweet. I think she is going to start walking soon. Every day she is saying a new word. Honor is just running her mouth on her observations of the world and her desire to be a mermaid doctor or a doctor mermaid."
On how she teaches her kids to do good: "Well certainly with Honor, I talk to her about not wasting and recycling, but I also talk to her about having so many things. There are children out there who don't have what she has, so when she's done playing with something or outgrown something, it goes to a baby that doesn't have that."
On her family's support for the President Obama's re-election campaign: "I think it's important for our girls to see Cash and I participate in democracy and to really stand up for what we believe in, and if they grow up with that and know that their whole life, they will just be more thoughtful and better-informed citizens."
To read more about Jessica's style and thoughts on fitness and feeding her kids, just read more.
On what she feeds her kids: "They eat everything that we eat. We eat potato chips; we just eat organic potato chips. And we just try to eat the least amount of packaged and processed food as possible, and the most organic food as possible."
On getting into shape for Sin City: A Dame to Kill For "Its not really that organised . . . different trainers — it's not terribly organized yet. . . . I could live without all [the trainers]!"
On what she's wanting to shop: "I am obsessed with Narciso [Rodriguez]'s new accessories. They are so awesome — and shoes."
On tips for shopping at the mall: "They mass-produce clothes, so take the time to get [them] tailored because it makes any piece look awesome."