Interview With Lincoln Lewis And Cariba Heine About Bait 3D, Tom Hardy And Natalie Portman
Bait 3D Stars Lincoln Lewis And Cariba Heine Talk Bromances, Romances And... Tetanus Shots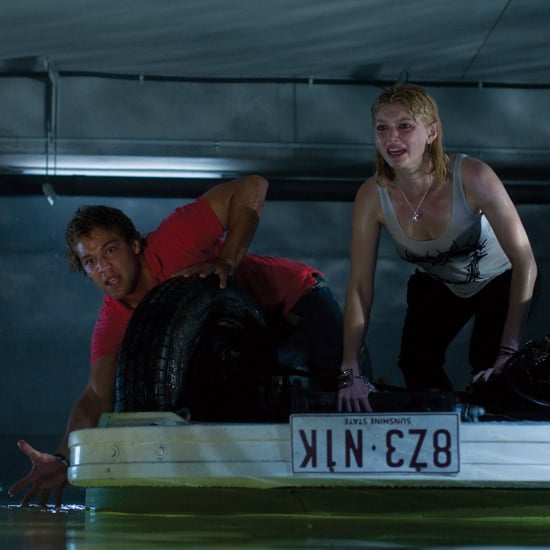 There's been a lot of hype surrounding Bait 3D (in cinema today) and two of its main stars Lincoln Lewis and Cariba Heine. If you've missed it all, here's the trailer. And an exclusive sneak-peek. And a round-up of the rest of the crazy-good Aussie stars and plotline. But back to Lincoln and Cariba: In this robbery-meets-earthquake-meets-tsunami-meets-shark attack movie (bad day, anyone?), they star as Kyle and Heather, a couple who get stuck in their submerged car in an underground carpark after the tsunami hits. Throw in some excellent comedic timing, an angry shark and some-edge-of-your-seat action and you've got one heck of a plotline for these hot Aussie actors. We sat down with the pair to discuss the film and to say that they were charming and funny is an understatement. Bouncing off each other as if they'd been friends forever, the interview was more like a chat amongst mates as we found out what it was like filming in water for days on end, if the big cast really got along and who their dream co-stars are. 
Tell us your own words what Bait 3D is about.
Lincoln: The movie is set in a coastal town, similar to the Gold Coast, and during the time of the annual shark migration, an earthquake offshore happens and it causes a tsunami to completely smash this coastal town. While the tsunami hits, a robbery's taking place inside this supermarket — now, wait for it — something else gets washed into the supermarket… And that would be great white sharks. What more could you want, hey?!
Read on for more from Lincoln and Cariba
So what made you want to take part in the film?
Cariba: It's Australia's first 3D film, which is very exciting. It was really amazing to be able to work in 3D, and also the cast… it was a really great cast! We were just saying before it was a big cast, like usually you'd expect one or two, like, "ehhh" people, but everyone was really just super lovely. And it was a fun shoot as well, which really helps.
So you all got along? It looked like a pretty intense set…
Cariba: It was! We [motions to Lincoln] probably had the closest quarters out of everyone — we were stuck in a car for most of it. No, but even the other set, they had to sit on shelves the whole time —
Lincoln: At least we had some luxurious cushioned seats in the car! We were able to sort of just sit there… We couldn't recline obviously, but we were just chillin'! The others were sort of sitting on these steel things and were like, "Owww". So we were having it pretty good, we were living a luxury life underwater! Those hotels in Dubai have got nothing on what we had [both laugh].
When you were in the car, were you actually completely surrounded by water?
Lincoln: Yep, we were just sort of sitting there... Like, underwater it's super quiet. The only noise was coming from the sunroof, and the waterline was just underneath the top of the roof, so that's how we got in and out of the car. They'd put us on a boat — a little rubber-ducky — push us out to onto the car, then we'd climb in through the sunroof. So we'd be sitting there, and it'd be super quiet and we'd tell jokes and stuff, but then when you'd see the [animatronic] shark just chilling there, you're like, "Oh, that's right…" and then I'd get so excited! I'd just think, "This is so cool, we're underwater, in a car, there's a shark there…!" [Laughs].
What was the hardest day on set?
Lincoln: [Looks to Cariba] I don't think there was one? The whole thing was super fun, but I'd have to say, in terms of being physically taxing… There was a crazy day where Alex Russell's character had to climb along a pipe against the roof to try to get to where we are — on top of his upside down Kombi — and I had to pull him onto the car and my character falls into the water. Before that, sorry, we had to jump out of the BMW we were in, and make our way over to the Kombi, and doing that time after time all day for about ten hours… you get a little tired at the end, don't you?
Cariba: Yeah! And you guys had it a lot worse than I did, but everyone ended up getting tetanus shots because we were running and crawling across —
Lincoln: Like all this rusty metal, and we were swimming in this water that was filled with fake blood and body parts and —
Cariba: It was hygienic! To say the least [both laugh].
Lincoln: Yeah! So glamorous, hey? [Adopts smarmy voice] This is the industry!
Off topic now — who are your dream co-stars, male and female?
Lincoln: You go!
Cariba: Ok, um… Natalie Portman. And I have a feeling I might steal your male one Lincoln, so I'm going to change mine. I'm going to go Colin Firth.
Lincoln: No, no, no, say it! Who were you going to say?
Cariba: I was going to say Tom Hardy.
Lincoln: Ahhhhh! No! Tom Hardy's my main man, I would love, absolutely love to work with Tom Hardy.
Man crush?
Lincoln: Yep, there could be some bromance going on! You've seen Warrior…
Cariba: Yep, he's the one you want to romance!
Lincoln: You know what it's about [laughs]. Definitely Tom Hardy. Female actresses… You really hit it on the head when you said Natalie Portman.
Cariba: She's pretty hard to beat.
Lincoln: Yeah. She's pretty freakin' awesome. Especially after seeing No Strings Attached, she's…
Cariba: She's got it all!
Lincoln: Imagine them two in a movie! Hey? It's like Paul Walker and Jessica Alba in Into The Blue, you're just like, "Right! Okay. We got a film!" [both laugh].
So what's next for each of you?
Lincoln: Well, I just got back from the States and since I got back I've been in talks for a couple of projects — hopefully they work out!
Cariba: I'm doing Dance Academy. So I'm getting back into being a ballerina and twirling around and being mean to little children [laughs].
Lincoln: She is such a good dancer!
Cariba: Oh no, we'll see about that!
Since you're about to hit the big time, we'd all love to know what your relationship statuses are…
Lincoln: [Both laugh] Sweet, um…
Cariba: I'm attached!
Lincoln: [mock indignation] Yeah, well.
Cariba: Haha yeah, Lincoln was my boyfy in the movie…
Lincoln: She was a little bit attached to the shark…
Cariba: But it was never going to work out, sadly.
Lincoln: [Laughs, motions to Cariba] No, how long have you and your boy been together?
Cariba: It's been a couple of years.
Are you excited for him to see the movie?
Cariba: Yeah! I think he'll love it. Hopefully everyone I know goes to see it — my family has to go and see it!
Lincoln: Actually, Cariba went with her mum to South Africa to see those sharks over there, so I reckon her mum will be sitting there going, "Nah, we've seen bigger!"
If you had to sum up the entire Bait 3D experience in five words, what would you say?
Lincoln: Yep. [Laughs] Bloody awesome. Cariba Heine.
Cariba: I don't think I can top that! But… you're welcome, Lincoln Lewis.
Lincoln: This guy! This is the guy I was telling you about [both laugh]. This is the guy!