Interview With MKTO Tony Oller and Malcolm Kelley
Get to Know Tony and Malcolm From MKTO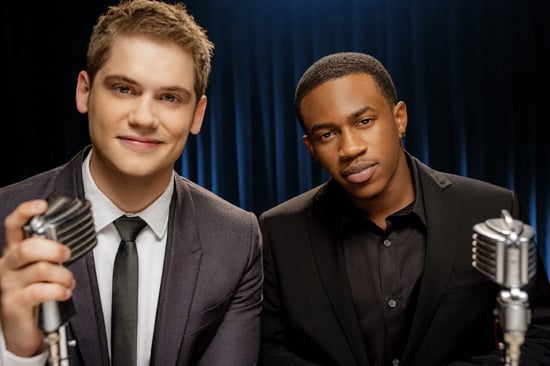 MKTO have burst onto the music scene this year with two fun, catchy tracks getting plenty of airtime: "Thank You" and their latest single "Classic." So who are MKTO? Malcolm Kelley and Tony Oller are friends from California who met on the 2010 TV series Gigantic, in which they were cast as best friends. Reel life soon translated to real life, as the guys discovered a mutual love of music and the desire to break into the music industry. Three years later, they've already gone platinum in Australia, which is why they're back in the country for the second time this year. On Monday they performed on The X Factor with the Top 11 acts, and on Friday they'll head to Hamilton Island with the Sunrise team for another exciting performance.
We caught up with Malcolm, 21, and Tony, 22 — their initials make up their band name — earlier this week to get the scoop on their upcoming album, the actor-to-musician transition, and to get the low-down on how much they know about each other.
This is your second time in Australia this year — what did you get up to the first time?
Tony: We got to see the Opera House.
Malcolm: It was really cool performing on Sunrise. That was the first time and we're doing that again this trip. What else did we do? We got to see some koalas and wombats, like in a studio!
Tony: We actually got presented our first plaque, which was cool, for "Thank You" — it went platinum, so that's now hanging up on the walls back home.
Malcolm: And a skateboard!
Your first two singles are really catchy — what's the secret to writing or producing a catchy song?
Tony: Simple.
Malcolm: And good vibes.
Tony: Simplistic melodies that you come up with are the best. Melody and lyrics; lyrics are just as important as melody.
More from MKTO when you keep reading.
What can you tell me about your upcoming album?
Malcolm: We can't wait to get it out there.
Tony: Ne-Yo's on it, on one of the dance tracks, which is really cool.
Malcolm: Max Martin and his team produced a record for us. Our great producers, Eman [Emanuel Kiriakou] and Evan Bogart, put together a great album.
Tony: We have a great family and a great team; Sony Music treats us so well.
What's the sound of the album like?
Tony: It's very versatile in my opinion.
Malcolm: It has ballads, club songs.
Tony: We each have a solo we go on the record, which is cool. He pops off and sings some great melodies, which is dope. Hopefully it's coming really soon.
Do you feel added pressure because it's your first album, or do you feel like you can test the waters?
Malcolm: I think it's more about testing the waters. Then again, coming from being actors and now jumping into the music, I don't know how people are going to take it.
Tony: We're pretty much done with the album, we literally just went back and re-did a couple of things, but we pretty much had the album done when we put "Thank You" and "Classic" out. I think there might have been pressure because we weren't expecting the exposure and responses we got, even though we thought they were great songs. So there might have been a bit more pressure, but since we're done with the record we're starting on the next one.
How does acting fit in with music these days?
Tony: It's taken a bit of a backseat.
Malcolm: We're trying to give a lot of focus to the music right now. It takes up a little bit of time. But if we can work in both, it will definitely happen. We're taking it a step at a time.
Did you guys experience the reaction that people usually get when they make the transition from acting to singing?
Tony: We were originally put in the category with everyone else, which is, 'Oh, you're an actor trying to be a singer,' but we always wanted to do music, it was just a matter of right time, right setting, and it all happening organically. So I feel like we had a lot to prove when the first song came out, and we still have a lot to prove. I feel you are always going to be placed in that category if you are an actor going into music, but it's about how you create the record and go about it.
Do you still get nervous performing?
Tony: Yeah, we get the jitters before the show.
Malcolm: At least three minutes before you go on the stage, you're like, 'Oop, you feel it, you feel it!'
Tony: But right when we walk up on stage, it's gone.
Do you have any pre-show rituals?
Malcolm: We do a huddle.
Tony: And we do hands in. If we don't do it . . .
Malcolm: We're like, "We didn't do the hands in! Where's everybody! OK, it's just us two."
Who's the person you have been most excited to meet?
Tony: I've always wanted to meet Ed Sheeran.
Malcolm: We played a radio show with him but we left too early to meet him. Emblem3 are pretty cool, they're pretty crazy guys.
What's the best advice you've received and who was it from?
Tony: It's gonna be a cliché, but probably my mum and my dad, telling me to keep a good head on my shoulders.
And now, because you spend a lot of time together, can you answer the following questions about each other?
What is his most annoying habit?
Malcolm: Fingers.
Tony: I bite my nails a lot. When we get asked this question I really don't know how to respond!
Malcolm: Well I wake up late in the morning. He doesn't like people waking up late. But nobody does; my mum hated it too, so I understand.
What is he like as a wingman?
Malcolm: We're both single and we're both pretty good wingmen! We're pros.
Tony: Yeah, we're really good!
What's his favourite food?
Malcolm: He loves macaroni and cheese.
Tony: He likes to his this spot called Carolyn's, which is not too far from my house, which has some good soul food.
How long does he take getting ready?
Tony: It depends.
Malcolm: It might take me a long time to wake up, but not really get ready.
Tony: If we've got to go at 7 in the morning, we'll set our alarm for 6:55 but have everything ready to go.
What makes him a great friend?
Malcolm: He keeps me laughing.
Tony: Aww. He's my brother. I can't say much more.