Interview With MasterChef 2012 Contestant Amina Elshafei on Immunity Challenges and Working With Debra
MasterChef's Amina Talks Immunity Challenges, Working With Debra and Being Fan Favourite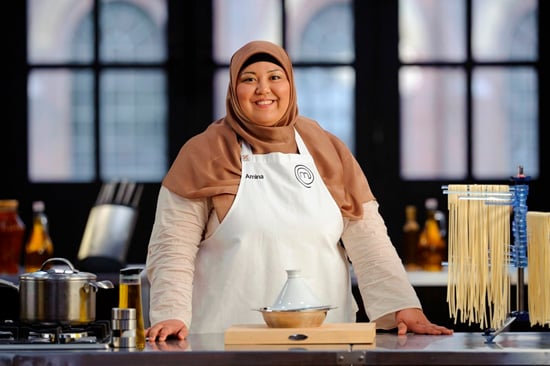 Amina Elshafei was eliminated from MasterChef last night in a double elimination that saw Jules Pike also leave the competition. The popular contestant just missed out on a coveted spot in the top 10 (and consequently this year's overseas trip to Italy) but has fond memories of her time on the show. She's also positive about how she can make the most of the experience to set up her food future. We spoke with Amina to get her thoughts on cooking in front of Marco Pierre White, the immunity challenges and her MasterChef highlight.
You've been in quite a few elimination challenges — what was different about last night's one for you?
I think the odds were higher. It was a lot tighter. It was one in three going home. And also having Marco there, the standard of food had to be really, really good. There were a lot of expectations. And generally, with or without Marco there, the judges have commented that the food standards have been increasing dramatically. They can't believe how good the food is now!
More from Amina when you keep reading.
What was it like cooking with Marco breathing down your neck, holding a knife and looking very intimidating?
[Laughs] He's OK. He initially started off as quite intimidating. When he's in the kitchen with you, yes he was breathing down our necks, but he only wanted us to really push ourselves to the best we could. He wanted to see us shine, basically.
Do you get confused by the comments and advice from guest judges? You've got people like Heston Blumenthal, who does such creative things with food, and you've got people like Marco who are all about keeping it simple. Does it get overwhelming?
Yes, it gets very overwhelming. And it's really interesting you say that because everyone's palette is so different. And everyone's style of food is different as well. I'm a home cook who loves bold flavours, and I love the simple dishes because that's what I grew up on. But then you get chefs like Heston who go for the gastronomy stuff, which is just out of my field.
How did you feel about the judges' comments last night about your tagine not being as flavoursome as they wanted, which was probably a consequence of having a bit too much chilli in your entree?
Yeah . . . Look, it obviously hurts a little [laughs], but you take it in stride and you take it in as advice for future reference. People comment on your food for reasons, and that is because their expectations are different to your expectations — which is fine. Sometimes you do need to tweak it a little.
How did you feel about this year's immunity challenges? They've been criticised a lot in past series, and this year it seemed like there was a new system in place — you helped Mindy win her immunity pin, you cooked a lot of the winning dishes, and then when you competed in your own you didn't have any assistants.
The immunity system was interesting. You know, people might see it as ways of increasing any competition within ourselves, but as much as people can think that, for me, yes I helped them, but I pushed myself to the point where I wanted to do it not only to help these guys, but as a personal challenge, to see whether my dish was good enough to be better than a chef's dish. It worked both ways.
But is there a part of you that thinks you cooked so many of the winning dishes and never got immunity for yourself?
It would've helped if I had immunity [laughs] — it would've helped last night, wouldn't it! It would've been good if I could've gotten my own immunity but you look back at previous seasons — for example, Julie Goodwin went through nine or 10 eliminations, something ridiculous, and she didn't win an immunity pin. So that was my motto as well. You can get through to the top without a pin.
Working with Debra on team challenges — was it as hard and as stressful as it appeared on TV?
She's got conflicting ideas and I've got conflicting ideas as to how we wanted the pop-up restaurant to be. Deb's had a career in interior design and whatnot, so I thought, 'OK, I'll just leave it to her and let her do what she wants to do.' But I love furnishing and decorating, so when we were shopping I saw things that I thought would be really good in our restaurant, whether she liked it or not, I took it! [Laughs]
But even when she had her meltdown with the desserts, and when she said she was going through menopause — it may have explained some of her mood swings but some people think it's not really an excuse as everyone has something they have to deal with on the show.
Yep. Everyone has to deal with something during the show, whether it's being away from your family and friends, or whatever. Besides that, Deb said she was going through that part of a woman's life, and that's menopause! I felt empathetic towards her because I have no idea what it's like. It's hard to say. But the thing is, you're in a team challenge, and if one person falls it's a domino effect.
How do you feel about being the fan favourite? How does it affect you that it's not just your cooking, but it's who you are that has really impressed people?
I'm so, so, so appreciative to people for their support. I didn't expect this much support from people at all. I thought, if anything, people might be a bit apprehensive of supporting me. But I can't believe how the Australian audience has embraced me. I'm loving it!
What surprised you about the show?
I think what surprised me the most was how each and every one of us has grown from home cooks into something so much more. For me, I was experimenting and trying flavours that I've never tried before. If anything, it's just opened up avenues for all of us.
What is your highlight?
There are two things: first of all it's that I got to live with and meet and make lifelong friends with 23 people. The other one is the whole experience of it all, the fact that you went through an amazing adventure. And the immunity challenges — I loved those.
How do you rate the top 10?
I think everyone is a really good cook. Everyone has their own niche and everyone has their own disadvantages, so if they can carry themselves through their niches, or even expand on their disadvantages and learn more about them, I think they should be fine.
I think I know who you want to win.
Take a guess. [Laughs]
Audra. Do you think she'll win?
I always knew that she would have every chance to win. She's got calibre, and she loves to cook. You should see her when she's in the kitchen. Away from the cameras she's just an amazing cook.
What's next for you?
In September I'm hosting some Middle Eastern cooking classes. I still want to achieve that long-term goal of opening a mezze tea room with my sister, so that's still on the cards.
Photo courtesy of Network Ten