Interview With MasterChef 2012 Runner-Up Julia Taylor on Confidence, TV Portrayal and Dessert Pop-Up Bar
MasterChef Runner-Up Julia on Cooking Confidence and a Possible Pop-Up Dessert Bar With Kylie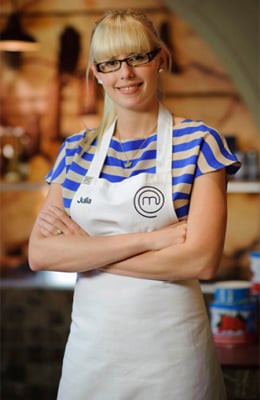 Julia Taylor had a feeling she wasn't going to win MasterChef after a case of undercooked lamb in the grand finale's second challenge. But despite losing to 2012 champion Andy Allen, she won in other ways, receiving a surprise $15,000 from American Express and a paid internship offer from Adriano Zumbo. After a full morning of interviews, Julia had almost lost her voice by the time we spoke with her, but she powered through to give us the scoop on dealing with advice while cooking, how she was portrayed on TV, and what lies ahead in her sweet food future.
I noticed on the morning shows that you've lost your voice!
I'm not hungover! I've just been talking too much.
Congratulations on getting runner-up. I heard you went straight home after the finale but did you do anything to celebrate with your husband and family?
We were in lockdown all day on set. We filmed the reveal in the morning and it went to air at night. So we all got to hang out during the day, which was lovely, and I've got a party planned for Saturday night with all my family and friends. I haven't seen quite a few of them for a few months so it will be fantastic.
At what point did you realise Andy had won?
I knew Andy had won after the second dish when my lamb was undercooked. Unless there was a very, very unlikely event that he would stuff up the dessert, and he's too capable for that, I just said to myself, "He's got it, it's fine, he deserves it."
More from Julia when you keep reading.
Did you feel more pressure with the Christine Mansfield dessert because you're the dessert queen?
Absolutely. [Laughs]
Does the extra pressure help you or is it a distraction?
It's a bit of both. It's that really fine line. With the mousse in mine, I didn't do it properly the first time, so I did it again because I wanted everything to be amazing. The flipside is that it cost me the time that I needed at the end to make the tuiles properly. When you compare that, I went into the dessert thinking, "Don't panic, just go in, you know you can do it," compared the entree, when everyone thought I wasn't going to do it, and I was like, "Right, I'll show you!"
As I was watching the finale and you guys were allowed to pick two contestants as assistants for the entree, I thought it would be funny if you or Audra picked Ben . . .
[Laughs] Oh, look. When it was down to Ben or myself going home and I stayed, I felt bad enough about breaking up their little "Bendy," so there's no way I could've poached Ben. I got to pick first and got exactly who I wanted: Mindy and Kylie.
How do you decide what advice you're going to take on board when judges and contestants make suggestions?
That's the hardest thing to manage as you're cooking because the judges always have well-meaning advice, but if it doesn't make sense to you, you can't take it and you shouldn't do it. So I was filtering through all that, and with the contestants up above, it can be quite distracting. But it's also really helpful. And also, the judges will say stuff halfway through the cook and I sit there and think, "Why couldn't you have told me that at the beginning?"
You were in lots of eliminations — did your confidence falter throughout the competition, or do you think you gained more?
The eliminations are hard to deal but I said to myself, "Julie [Goodwin] did nine, and I ended up doing 11." The more you do, the stronger you get, but it is tough sometimes. There are some days where you sit there and go, "Really? I have to go into another team elimination."
Some viewers found it hard to warm to you because of the way you were portrayed on TV, but Alice mentioned how a whole other side of you was never shown. How do you feel about the way you came across?
For me, going into the competition, I was always going to be focused. If they were only showing us in the kitchen, then I knew that that was probably how I would come across. It's a shame, but they also showed other moments, like when I would have fun with Alice, or when my sister came along last night, so I hope people got to see another side of me. It is difficult to think of how they see you, what you're cooking, what the challenge is, and then trying to remember a recipe at the same time.
Is there anything you'd like your critics to know about you?
No, not really. I think it's very easy to judge people on TV — that's always going to happen. But if they ever sat down and had a chat with me, I hope I could change their opinion.
You were involved in what seemed like the two most stressful challenges of the series: the pizza/pasta lunch service in Italy and lunch service at Bennelong. Which was crazier?
Italy. The service in Italy was harder but it was also more fun. The best part about that day, and I don't know if they showed it, was the banter that we all had with George [Calombaris], even though he was just losing the plot in the kitchen with stress. It was just so much fun. I love that they showed him cutting his thumb on the grater.
How will Adriano Zumbo's paid internship offer affect you, your husband and your home life? Are you moving to Sydney?
I'd love to bribe Justin to move down here. All the work experience I'd planned on was unpaid, so for Adriano to offer me a paid apprenticeship is amazing. I'd love to take him up on it.
When do you think that will start?
I'm going to ask him if I can do a trial just to make sure we're a good fit together, especially because I'll be ransacking his brain for absolutely everything! He might not want that. What he does and the way he merchandises himself is fantastic. There's so much I could learn from him.
There was also talk of some of the contestants doing a few pop-up restaurants. Do you know if you'll be involved with those?
I'd love to. It just depends. Everyone's so busy now and flying in and out because we don't live in the same city. But what I'm going to propose to Kylie is that we do a dessert pop-up somewhere, especially because I'm going to do some work experience in Melbourne. It was always our dream to do a team challenge together, and we didn't get it very often, so if we could do that now, out of the competition, and just go dessert-mad, it would be amazing.
What are your plans for the $15,000?
Oh my God, I was so surprised to get it. It's so exciting. I'll use it to live off, make sure I'm contributing to our mortgage while I'm doing work experience. It'll make life so much easier and less stressful so I can go and do that stuff, and not feel awful for Justin because he's pretty much supported our mortgage and everything for the past six months.
What's in the immediate future for you? A holiday? Straight into more cooking?
I'll take a day or two to get my voice back, and then straight into work experience. I really want to go to Burch & Purchese with Darren Purchese, and that's where Kylie is at the moment, so I want to see if I can do that for a few weeks. And then it's just about sorting everything out: finding a pastry kitchen in Brisbane that I can work in while I'm at home, and maybe plan to move.
Photo courtesy of Network Ten