Interview With MasterChef 2012 Winner Andy Allen on Improvement, Attention From Girls and Food Future
MasterChef Winner Andy Allen Talks Growth, Female Attention and What Lies Ahead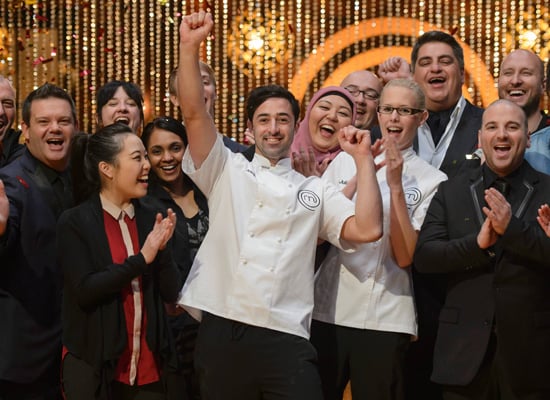 Andy Allen is the MasterChef champion for 2012! The former electrician's improvement throughout the cooking series saw him take out the title over dessert queen Julia Taylor in a challenge-packed grand finale on Wednesday night that culminated with, funnily enough, a dessert: Christine Mansfield's 'Gaytime Goes Nuts.' Andy, 24, stayed under the radar for the first half of the show but came out of his shell towards the end — personality and cooking-wise — and quickly became a favourite of fans and the judges. His close friendship will finals week contestant Ben Milbourne was also one of the series' highlights. We caught up with Andy yesterday afternoon to talk about the key to his success, how much he's grown, and what he'd cook to impress a girl.
Congratulations on winning MasterChef! How did you celebrate last night? I know you didn't have a crazy one.
I probably celebrated during the day, to be honest. We filmed the reveal early in the morning — that was done by about 11. Then we were all in for lockdown at the studio so we had a few drinks and a BBQ, stuff like that. All my family was there, and everyone from the show was there. I ended up going out for about two beers with my mates and called it quits because I knew today was going to be pretty full on.
What do you think was the key to your MasterChef success?
It sounds really weird but my inexperience, I think. I went in there pretty raw. With the judges, the other contestants, and the guest chefs who came in, I would just soak up as much I could from what they would show and demonstrate. That definitely helped me in the end.
More from Andy when you keep reading.
How confident were you in the grand finale?
Look, I'm not a confident person, especially in the kitchen. I don't rate myself. I'm pretty modest when I go about my cooking. I never would've said I would've won at any stage during the competition. I wanted to win, there's no doubt about that, I'm super competitive, but I would never put my hand up and say, "I'm going to take this thing out."
With the way you cooked before the competition, I know you've said your parents don't really cook, so was it more just to make sure you were fed or had you always had that passion?
I definitely had that passion, but definitely not to the extent that I needed to be in the competition. Even in the top 100, I'd heard people talking about stuff that I'd never heard of before. From then on I realised that I was going to have to work pretty hard to stay in the competition.
As you did improve so much, which cookbooks did you learn the most from? Which were the most helpful?
I read a lot of Pier — it's a restaurant in Sydney and I read their book a fair bit. I read Bentley [Bentley: Contemporary Cuisine], which is a restaurant in Surry Hills. And then all I did was basically read books like Surfing the Menu, books that aren't fine dining, but then I tried to take their recipes and put a spin on them, and recreate them into something that can be considered fine dining.
I asked Ben how your food future together would be affected if you won, and now that it's a reality, how do you think it will affect it?
I don't think it will at all, to be honest. Ben and I know that whatever we do, we're definitely going to try and do it together. We just work so much better and have so much more fun when we're doing it together. Just because I've won, it doesn't really change anything.
What do you think would've happened if you were up against Ben in the grand finale?
Yeah, we said that the other day! I don't think they would've got the emotion-packed drama that they got in the finale. I think we just wouldn't been pretty stoked to be there. I think no matter what, we would've been happy for whoever won. I don't think it would've been full of emotion like it was.
You've jumped on board this Mexican food dream with Ben, but how passionate were you about the cuisine?
I didn't know much about it! It was a very new thing. Newcastle has no Mexican at all. I love it now. I'm super keen to get out after the show to study and hopefully get a trip to Mexico to explore, just further educate myself on it.
I was really surprised by your sense of humour that came out towards the end of the series. I thought, 'Andy's actually really funny.'
I tried to keep it in. Like I thought, I didn't know if people would get me. I tried to pull the wool over a fair few people's eyes, and sort of take a few steps back, but in the end I realised people wanna see me for who I am, so I sort of came out of my shell in the last month, which was good.
Have you been single this time during MasterChef?
Yep, I've been single the whole time. [Laughs]
How are you coping with all this extra attention from female admirers?
Um, look I'm overwhelmed, I'm flattered. It's a little embarrassing at times, but all in all it's a pretty cool thing, I suppose.
What would you have cooked to impress a girl before the show, and what would you cook now that the expectations are a lot higher?
Um . . . Yeah that's a good question. That's a big question. [Laughs] That's a tough one. Righto, I'll have to have a think about this one. What did I cook before? I think I can remember cooking a scallop dish for a girl. That didn't go too well. [Laughs] These days I think I'd definitely focus on something that looked amazing on the plate. Girls are pretty . . . what's the word? They like things that look good, I suppose, so if I can make it look good on the plate then hopefully they're gonna taste it.
And you do have good plating skills, as everyone now knows.
Yeah, it's something I've improved on! I was getting pretty ridiculed at the start. I was getting torn apart by all three judges about how my food looked. They said I could definitely get flavour into food but it didn't look very appealing on the plate. So I went away and looked at those fine dining books and realised how I could make my food look good on the plate.
These days a lot of people want food they can Instagram.
[Laughs] Yeah. My Instagram has gone absolutely ballistic over the last two days. I had about 500 followers two days ago and now I think I've got about 3,500.
Did you know there's a parody Twitter account of yours?
I think it's quite funny to be honest. I mean there are some things that they take a bit too far, but it's actually quite humorous.
Are you going to make your own Twitter account?
Yeah, but honestly I've had no time. You're not allowed to have any Twitter or Facebook whilst in the house. I'll definitely do it but I haven't had time today at all.
Are you still living at home with your parents or are you going to move to Sydney?
I'm still at home now but hopefully I'm going to get a few offers out of the show. I'm just gonna weigh up whether I need to move to Sydney. I don't mind moving to Sydney — I think it's a great city, but I don't know what I'm going to do, to be honest. I have to wait and see what comes my way.
What did you miss most when you were inside the house, apart from family and friends?
My freedom. When you say you're locked in the house, you're literally locked in the house. There's no going for a run, no going for a walk, no going for a coffee, no going to catch up with your mates. It's pretty intense in there. My freedom, and definitely my family and friends.
I noticed your mum calls you Andrew — are you normally an 'Andrew' and just changed to 'Andy' because there was another Andrew on the show?
I'm Andy to everybody else but my mum. You know when you're in trouble and you get called your full name? She says I'm always in trouble so she's reverted to calling me Andrew the whole time.
We have some readers who want to know if there was anything romantic between you and Kylie in the house, or if you foresee anything romantic in your future.
No, not at all! Kylie and I are like brother and sister! That'd be a bit weird. I literally wrote on Kylie's apron last night, "I now have three sisters," so that would be pretty weird if anything happened.
Also there's talk you'll probably be up for Cleo Bachelor next year. Are you prepared for that?
The rumours have been starting. [Laughs] I can't see myself entering. I think I'll probably steer clear of it.
What would you want your last meal to be?
My last meal would probably be a revised version of my modern seafood basket.
Photo courtesy of Network Ten