Interview With Matthew Le Nevez, Dr. Patrick From Offspring
Matthew Le Nevez on Fan Reactions and How He'll Watch the Offspring Finale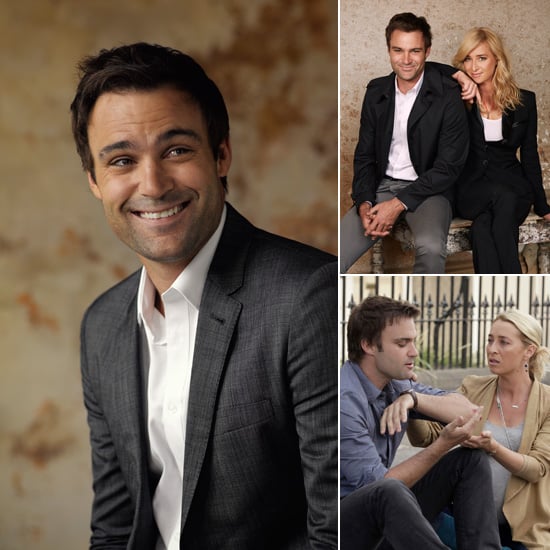 Offspring fans went into mourning last week when Dr. Patrick Reid, the partner of Nina Proudman (Asher Keddie) and the father of her unborn child, tragically died at the end of the episode. The fan reaction after the season four penultimate episode was strong, with viewers even saying they'd stop watching the show, but Matthew Le Nevez, the actor who brought Patrick to life, doesn't believe that for a second. While he was initially shocked when he learned how his beloved character would go, he trusted Offspring's writers and saw how it would give "new life" to the show, despite taking away Patrick's.
Tonight's emotional finale will see Patrick's funeral and the birth of Nina's baby, as well as a much-anticipated reunion between Nina and her sister, Billie (Kat Stewart). Matt will be watching it with the rest of Australia and told us how he'll celebrate the season finale, how he feels about the passionate fan response, his thoughts on Twitter, and where we can see him next. By the end of this interview you'll see just how much love Matt has for the show.
How did you feel about the strong reaction to Patrick's death, with people even saying they'd boycott the show if you were killed off?
I'm overwhelmed. It's lovely to know I've been involved in a storyline and a character that people feel so close with. In saying that, I don't think anyone's going to boycott the show. They're really involved in the storyline of Nina and Patrick, it's not necessarily the character of Patrick. It's the fact that there's this beautiful love story. And I think what's great for the show is we've now shaken it up. We're going from series four into five, and we've had the biggest reaction almost of our entire four series this last week, which is fantastic for the show and great for the next season.
You can't just continue to give up the same storylines going into a fifth year. You've got to really challenge the audience and understand that our audience is a smart audience. We wanted to give them a new life in the show, and I think they'll love it. I've already heard whispers of some of the storylines for next year, and I think it might be one of the best seasons we've ever had.
More from Matt, including why he feels clucky, when you keep reading.
I've just been reading Debra's [Osward, co-creator and head writer] opinion piece on why Patrick was killed off. It's interesting that the producers and creators have had to justify the death so much because fans were so involved with the characters.
Yeah, and I think we would've had the same reaction if poor old Billie would have gone. Offspring is about a family, it's about love, it's about hope, and tonight's episode is one of the most hopeful I've ever seen. But in saying that it's also about these two sisters — they really drive the A and B storylines, and they come back together now, so we get to see Asher and Kat, who are two incredible actors, do some of the finest work. I'm so proud of them.
I heard you're only watching the funeral and finale tonight like the rest of Australia — is that still the case?
Yeah I haven't seen them. After we wrapped in April I went straight to Los Angeles, and I came back and have been working on the Gold Coast until last Friday, so I haven't seen last week's ep or tonight's ep. I'll be watching it with fresh eyes.
What are your plans for watching it? Who are you watching it with?
I'll probably watch it with Lachy [Hulme] actually, who plays Martin Clegg. I think we're gonna have a BBQ and a couple of beers. Because it's sad! I'm so close to the Offspring family. I've never done a television series before, and it's got to be one of the best things I've ever done in my entire life. I'm so proud of it and they're all such dear friends of mine. So some of us might get together and maybe open a bottle of champagne and celebrate the finale of the fourth season.
Producers said last week that they weren't thrilled with how the episode was promoted because they wanted the death to be more of a surprise — what are your thoughts on the promo?
It's a tricky one. I can understand both sides of the fence. The producers come from a creative point of view where they might have wanted to keep the storyline a bit more of a shock so we could really see that play out in real time on Asher's and Kate's faces. But in saying that we had our biggest audience last week, and hopefully have as big this week, if not bigger. The fact that we had an extra 400,000 people watch Asher and Kate do some amazing work, it's hard to argue against that. But honestly, that argument's above me — I try to just do my job and do it well, and turn up and not bump into the furniture. It's hard to promo a show; they're not an easy thing to do. Other people can organise how to do that better than I can.
Have you ever been so attached to a character (it doesn't have to be one you've played) that you've been upset about something that happened to them?
Now and then when you're watching something and you get a shock, it can really hurt and hit you in the guts. I quite like the fact that people were shocked. I think it's amazing that you can still do that in Australian television — it's hard to. I'm just trying to think whenever I've been gutted . . . there was a film where a guy died, but I can't quite remember! Sorry.
Social media has changed the TV landscape. I know you don't tweet that much, but Offspring was the top trending topic last Wednesday night. What are your thoughts on the second screen experience? People were reacting to it right away, but it's almost a bit of a distraction.
It's a funny thing. I know people were watching with a bit of a dialogue or commentary on Twitter at the same time. One of the great things about television is the sense of community; it's a sense of community in your living room. And that's why people feel close to the Proudmans. So Twitter is just another community that people are sharing on, and whether it's shared grief or shared joy, Twitter can be a really positive experience for people. Unfortunately now and then it can also be a negative experience with the trolling and stuff. That's why I try and be very careful with it, because I'm more than aware that everything's out there.
But in saying that, it's also nice to know that there is a community of people who can get together, and can grieve, or can share, or can comment, and I know the writers are aware of what people write on Twitter. I had a couple of people approach me through Twitter to talk about how they lost a child in stillbirth, and when something like that happens I think it's a really positive thing, because it's allowed people to share their own experiences in life, and that can only be good. That's why I try and use it for the right reasons. I don't know think anyone's interested in knowing whether I'm having a coffee — I think that's completely narcissistic — but if I can say, "Check out this charity," or, "How about this great piece of Australian television," or cheer on a football team, then that's a sense of community I want to be a part of. I want to share, I want to try and help, and have a positive influence. But no one cares if I'm off sipping a latte. That's a bit silly, really.
As an actor, it's about storytelling — we're very lucky and fortunate that we're telling a story and someone's relating to it. I'm more than aware that I'm even lucky to have a career or a job, and then to have strangers reach out to me like that, it's incredibly moving. People feel very close to the Proudmans and Offspring, and it's something I'm very proud of and lucky to be part of. The show is a combination of many incredibly creative people coming together, from the writing team to the producers to the actors to all the crew. To be one small cog in that very big wheel, we all share this. And the wheel got even bigger. Once we went from a second to a third to a fourth series, that wheel involves our fans and audience. It's really special and I'll never forget it — it's been one of the most incredible experiences of my life.
What is pilot season in LA like? What are the big differences between working in the US and Australia?
Pilot season is chaos, it's crazy. You have to learn 20 pages by 2 o'clock tomorrow, and then you have to learn 30 pages by 10 o'clock! It's crazy and out of control. There's more money so there's more pressure, whether that's pressure you put on yourself or pressure from outside influences. The working environment is different; it's just a different culture there, as I'm sure if I were to shoot a film in Indonesia or in New Zealand — they've all got subtle differences. I'm not giving up on Australia to go work there — I'd been knocking on the door there for a few years and Offspring brought me back. So I'm hoping to go back and spend a bit more time there. Hopefully some opportunities arise. But in saying that, I'll never say no to good work in Australia. I love it here and I love the fact that I'm in a really fortunate position as a working actor in Australia. So if that can continue, I'll always say yes to work.
Where will we see you next?
I just finished a job for the ABC called Parer's War. It's about the WW2 cameraman Damien Parer who was the first Australian to win an Academy Award. He's an Australian hero from the war and unfortunately he didn't survive, he was killed. He also had a wife, and she was pregnant. It's a beautiful love story between Damien and Marie, who was played by Adelaide Clemens — she's fantastic in this film so I can't wait for it to come out. It won't be out until next year, it could be around April. I'm really excited about that one, as I am Offspring — tonight's episode as well as what they've got the cast doing next season is really fantastic.
Describe your ideal day?
I don't sleep in; I'm not a very good sleeper-inner. So an ideal day would be a beautiful breakfast with the papers and my partner, and then going to the farmer's market and picking up some stuff for the house. Coming home and finishing off the papers. Maybe a movie, a nice lazy Sunday with a movie. And then . . . it depends where I am. If I'm in LA then I might go up into the hills and watch the sunset with a nice bottle of wine. If I'm in Melbourne, it's going to the footy and watching Aussie Rules, or playing with my nephew, like at the moment — that's a fun day, because I don't get to see him enough. If I'm in Sydney, it's catching up with old friends. I try to see as many friends that I've known for so many years as often as I can. If I can go and watch one of their kids play football or stuff like that. I'm starting to get a bit older, so it's all about my friends' kids at the moment.
Does it make you clucky?
I've been clucky since I was young, it's just it hasn't happened. My younger brother has a baby and he's pretty adorable, so it's pretty hard to not get clucky around him.
The Offspring season finale airs tonight at 8:30 p.m. on Network Ten.