Interview With Mitch Dean, Lead Surfie Star of The Shire, Network Ten Dramality Show
5 Minutes With Mitch Dean, Star of Network Ten's The Shire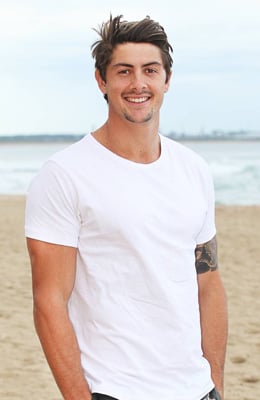 Mitch Dean's life is about to change. In the space of a few months he's gone from Shire-based stonemason to star of Network Ten's new "dramality" show The Shire, which premieres tonight. Despite being the face (and voice) of the promos and having much of the show revolving around his life, the 23-year-old was never interested in auditioning in the first place. We caught up with Mitch late last week to discuss how he got involved, his history with on-off girlfriend Gabrielle, and if he's ready for what's to come out of the show.
Can you tell me about the audition or casting process?
I originally didn't even want to audition. What happened was my friend Josh called me up and told me he wanted to audition for The Shire. I'd heard of it, but I wasn't really fussed. I said, "No worries mate, I'll come down." Pretty much he just wanted me there with him to talk and converse with each other so they'd see how he would look on camera. So it was all about him. I went down there and I met the casting producer. Josh was running about 15 minutes late and I walked in and knocked on the door, and she's like, "Josh, thanks for coming," and I'm like, "My name's Mitch. I'm just here to help him out." It was a little bit awkward for a second and I was more or less making small talk, asking a bit about the show — I didn't really have any interest.
To cut a long story short, he was running late and she was like, "Mitch, while you're here, can I just audition you? See how you look on camera?" She had a camera there, started asking questions, like, "What are your hobbies? Tell me a little bit about yourself. What's your story? What do you do for a job?" From there I got a few call backs saying, "We're interested, we just want to know a few things." They were constantly asking questions about myself. That was the audition process. It went for about a month with lots of questionnaires, security checks, police checks and all that kind of stuff. Then at the end of the day I get a call saying, "You're in! You're on the show." Poor Josh didn't get a call back from the first audition. He was absolutely gutted. He was like, "Why did I ask you to come down with me?"
More from Mitch when you keep reading.
And now you're like the lead guy.
Yeah. [Laughs] I don't know how that happened.
So going from someone who wasn't really interested to being the lead guy, what made you say yes?
I was like everyone else. My first question was, "Is it like Jersey Shore?" My first thought was, "We're getting put in a house and there's gonna be cameras," so I was asking, "Where's the house gonna be? Where are we all moving into?" And they were like it's nothing like that. I didn't want to be a part of something like that. The way they explained it to me was, "You just live your normal life and we're just going to fit in with you and follow your story." The Shire is obviously a beautiful backdrop with nice beaches and that kind of thing. What sold it to me was when they said it was the first ever [show like this] to be done in Australia. Similar things have been done overseas — I know they've taken things from The Only Way Is Essex, like they've taken inspiration from that. It's really exciting and putting the Shire on the map, so I was like, "Perfect, sounds good."
How long did it take to adjust to the cameras following you everywhere?
Funnily enough I got used to it pretty quickly. The first couple of goes I personally felt really robotic, and I was asking them, "How does it look on camera? Because I feel really robotic." They were like, "Nah, you're really natural, it looks good. You'll get used to it." Because I was with Simon and Andy, my two best mates, once you're there and start blabbering on, you honestly get sucked into your conversation that you don't even think about the cameras. You just start acting as yourself. It was quite easy to adapt to it.
Do you feel like you censor yourself at all when they're around?
I'm a pretty open person. I'm very honest and I guess what you see is what you get. I never really hold back in real life. I just say and do what I want. In saying that it is sort of consciously in the back of your head, like there are a few things you don't want to say. In no way, shape or form does it stop me being myself — I'm still being a larrikin and doing my thing — but I guess you are being a bit careful in what you say.
What's the story with you and Gabrielle?
She's pretty much my first love. I started going out with her when I was about 20, three-and-a-half years ago. She went to my school, she was about two years under me, and ever since she came to my school I honestly had the biggest crush on her. It sounds cheesy and corny, you know how everyone says "love at first sight," but out of all the girls in my school, when she walked down the stairs, instantly I was like, "Oh my God, who is that girl?" I always had a thing for her. I met her one night and we started hanging out. We were friends for about six months and then we started going out. We've got this really strong connection, this great friendship, and she was my girlfriend for three-and-a-half years but we came to a stage where it was a bit stale and repetitive. I wanted to hang out with my mates. We both came to a mutual agreement that we wanted to part ways, get everything out of our system — travel, party and do what you want — so that's why we broke up before the show, for about six months.
How does it feel to know a lot of relationship and personal issues will be broadcast to everyone?
It's funny when you say it like that because you don't really think about it until now. It's like, crap, everyone is going to be watching this. But like I said before, it doesn't worry me, because I feel like everyone has hardship and relationship problems. Everyone can relate. I don't see that as intruding on my life. I'm just more or less sharing a soppy little love story. There's another big story that happens in the show — I can't really say anything about it — but it's a massive deal for me, a very personal thing. But it doesn't bother me that everyone will be watching.
What's your relationship with the rest of the cast? Do you know everyone, like Vernesa and Sophie, everyone we've seen in the promos?
I don't. I've never met [Vernesa and Sophie] at all, actually. The other crew, like Tegan, Kerry, all that crew, we met them through the show and we became good friends because they're an awesome bunch and really cool people. At the very start no one knew each other from a bar of soap and throughout the show everyone got introduced. I know pretty much everyone — I've met Rif Raf, I've met Megan and Beckaa, but I haven't met the two new girls.
Are you prepared for what could potentially come out of this, like getting recognised, your life changing, possibly not having that much privacy?
Yeah, it's a massive deal when you really think about it. I have obviously thought about it, but the way I look at it is that life's about creating opportunities and getting experiences. I know there are pros and cons with doing this, being noticed and that kind of thing. I don't know how to answer it because I don't really know how I'm going to react to it. It hasn't come out yet so I don't know what the reaction will be. I know there's a negative vibe and that people are umming and arring and not liking it, but that's gonna come with anything you do. I didn't want to not do this show out of fear or wondering what other people will think. This opportunity came up and I figured it's a once-in-a-lifetime experience. It's new and a bit of fun. I'm not gonna not do anything because I care what other people think.
Will you watch it?
I will watch it. I will admit it's so weird and bizarre watching yourself. I think I'll watch the first couple and see how it is because you always hate watching yourself. We'll get all the boys together to watch the first one and have a laugh.
The Shire premieres tonight at 8 p.m. on Network Ten.
Photo courtesy of Network Ten