Interview With The Mortal Instruments Author Cassandra Clare
The Mortal Instruments Author Cassandra Clare Is a Fan of the Movie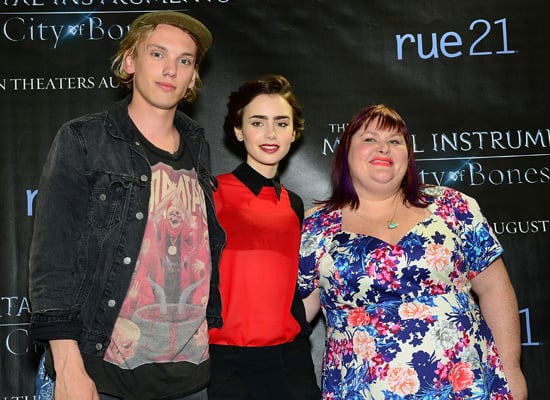 Cassandra Clare is the woman responsible for the creation of the characters and world in the popular young adult fantasy series The Mortal Instruments. She's published five of the books, with the sixth due out in March next year, and this week the movie adaptation of the first novel, City of Bones, will be released, with Lily Collins and Jamie Campbell Bower cast as lead characters Clary Fray and Jace Wayland respectively.
If you're unfamiliar with the series, it follows 15-year-old Clary, who discovers she's linked to a supernatural world that includes demons, vampires, werewolves and Shadowhunters, half-human half-angel beings that hunt, fight and kill demons. Her life is turned upside-down as she comes to realise how deeply entwined in this other world she is, as she's pulled into battles left, right and centre with creatures she had only imagined. And like all good young adult series, there's a love triangle.
Ahead of the release of The Mortal Instruments: City of Bones, we spoke to Cassandra to get her thoughts on what it was like to see her literary world realised in real life, how much power she had with the casting, and what her favourite YA book-to-movie adaptation is.
What was your first thought when you were approached about having The Mortal Instruments made into a movie?
Obviously I was excited by the idea of having the books turned into a film, but I was also very nervous, because I know a lot of times the studio can take a book and really change it, or change things about it that are important to you, or the core values. A lot of different people had approached us about the rights, and we wound up going with a particular company [Unique Features] because they're the people who had made the Lord of the Rings movies. I felt like I could trust them with fantasy — they were two of the big producers on The Lord of the Rings, and I felt like they clearly knew what fantasy books were about.
More from Cassandra when you keep reading.
Have you seen the finished product?
I've seen an almost-finished product. You probably saw a more-finished product than I did. I've seen a rough cut.
Do you think it strikes a good balance between satisfying fans and pleasing or entertaining people who haven't read the books?
I hope so! I do think it's an entertaining movie and a fun movie. I do think it will entertain people who have not read the books. It's also so hard to predict what fans are going to like and what they're not going to like, but I think they love the actors and will love a lot of the character interaction. I do think they will enjoy it.
How much were you on set during the shoot?
I was on set about three weeks of the shoot. It was a two-and-a-bit month shoot, so it was a long time, but I was on set about three weeks total. That was really interesting, being present on the set for the process.
What was it like to see the world you'd created come to life? I know they built a lot of the sets.
One of the things that is interesting about [director] Harald [Zwart] and the way he approaches fantasy is he really wanted to use practical effects, which means no face replacement, no wirework, all the stunts were the actors' own stunts and they were doing them themselves, the props are built and not added with CGI . . . So coming onto the set was really amazing because everything was built down to the last detail. It was like being in a museum that has a really incredible replica of a house from the past, or something like that. You walk into it and everything is perfect. The props have weight — you can use them, you can pick them up. The knives are sharp, the books are hand-illustrated, the paintings are real.
The level of detail that's present is very impressive. The library set where Clary meets Hodge, and there's the statue of the angel, those books have been individually selected. Books are open and everything's been hand-illustrated, and you think, 'Are people even going to be able to see it?' because it goes by so quickly, but it creates a sense of depth to the world.
What was it about Lily and Jamie that made them perfect for Clary and Jace, in your opinion?
Lily just has this amazing combination of strength and vulnerability. She's very confident and very strong, like her personality, but she can be very convincingly vulnerable or lost. You believe she can become a heroine and fight back, so you believe her when she seems human and you believe her when she seems more than human.
Jamie is fantastic like Jace, he's great at pulling off the sarcastic one-liners and making those work, and he also has an ethereal quality — the Shadowhunters are supposed to be part-angel — so he has these very unusual, ethereal looks that really work for Jace.
Are you a read the book or see the movie first kind of person?
[Laughs] It depends on if the book or book series is finished. If it's finished, then I'll read the books first and then see the movie, but if it's not finished then I'll watch the movie first. Like for instance, Game of Thrones the book series isn't finished, so I'm watching the TV show, but not reading the books.
So maybe I should watch all The Mortal Instruments movies before reading the books!
Well, The Mortal Instruments is going to be done next year in the Spring [March 2014] so then you won't have any excuse not to read them.
What was it like writing the last book while the movie version of the first book was being made at the same time?
It was really interesting because I was writing the last book on set, and meanwhile they were making the story of the first book. It was a constant and kind of interesting reminder of where all the characters had begun and started out. I was writing the last adventures of Clary and Jace and Simon and Alec, and I was being reminded of where they were when we first met them — how angry Jace was, and how confused Alec was, and how unready for things Clary was. And now they've come so far.
Do you ever envision actors playing your characters as you write?
No, I never do that [laughs]. I always have a pretty clear idea of what they look like in my head. To have them be cast is a strange experience, like, 'OK, now I have to adjust my thinking a little bit,' and, 'Could this person embody this character and bring them to life?' For me it's a lot about seeing in the actor, when they do an audition, a spark that speaks about that character to me.
I heard you had quite a bit of input with the casting — did you say a clear no to anyone and they took that on?
Yeah, I did, actually. There were a couple of people where I said, "No, absolutely not." And they took it on. They would accept it as a no. But if I said, "I really want so-and-so," that doesn't mean so-and-so would get cast. All it meant was they would discuss it. So I had some of the veto vote, but I couldn't get somebody cast.
Are you happy with the supporting cast as well?
Oh yeah, I love them. I wasn't involved in all of their casting, and if I didn't like any of them I would have used my veto! I was happy with all of them. I think Lena [Headey] makes a fantastic Jocelyn, Clary's mother — she's so tough. Aidan Turner is incredible as Luke — he's like the ideal sort of stepfather, if your stepfather was a werewolf. And Jonathan [Rhys Meyers] is so incredibly intense and makes a great Valentine. I really do love the whole cast.
There have been so many YA books turned into movies in the past few years. Which adaptations have you liked?
My absolute favourite is probably The Perks of Being a Wallflower. I don't know how wide of a release it got, but it's a beautiful story, and it was one of my favourite books, so it was lovely to see it come onto the screen with Logan Lerman, Emma Watson and Ezra Miller. They're just all incredible.
The Mortal Instruments: City of Bones is out in Australia on Aug. 22.