Interview With My Kitchen Rules 2012 Contestant Sam Bui After Sudden Death Cook Off Elimination
My Kitchen Rules' Sam Talks Bonding With Jillian, Pressure, and Being Friends With Peter and Gary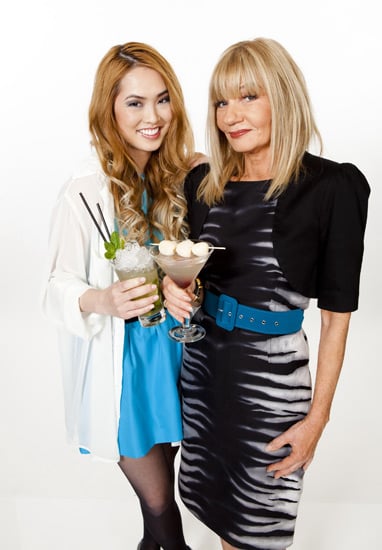 Potential in-laws Sam and Jillian from NSW were the second team eliminated from My Kitchen Rules after the first sudden death cook-off aired last night. They faced off against Thomas and Carla from Victoria, and plated up a three-course menu of scallops, spiced lamb racks with onion sauce, and chocolate martinis to Pete Evans, Manu Feildel and the guest judges (including Guy Grossi, a favourite of Sam's). Unfortunately things didn't go their way on the day, so we had a chat with Sam, who told us what went wrong, how her relationship with Jillian has changed, and why she considers Peter and Gary to be good friends.
Why do you think the show has been so popular?
The show is rating so well. It must be all the bitchiness this year. Before I even went on the show, I had this whole idea of it being a family show, relaxed . . . And when I realised the casting of villains and stuff like that, it was quite a shock to me. But it's been good — that's what people like.
More from Sam on cooking with Jillian and who she became friends with when you keep reading.
What was going through your mind during the sudden death cook-off?
Being in the first sudden death cook-off was actually quite hard. I think it was hardest for me out of everybody, because one, I'm the youngest, and not only that, but I had chosen a partner I hadn't known for a really long time. There was a huge risk there, because everybody else, you look at them and they've known each other for years. A lot of people came up to me and asked me, "Don't you think it was a strange choice?" I was like, "Oh yeah, that was a strange choice." I didn't know at the time. But we ended up cooking together really well. In my heart I really didn't want to go. I knew that this could be our time to actually get through and show the public that we could cook, but we just cracked under the pressure. It wasn't a normal environment. We've also got the whole of Australia and New Zealand watching you, you've got camera crew around you, you don't really think normal . . . The night before we didn't really sleep, but what's done is done.
Had you cooked your menu before? Was there anything that turned out differently in the MKR Kitchen than what you're used to?
Definitely. With the [onion] sauce, there was a bit of a debacle. I've cooked that sauce a couple of times before and it's worked, and it actually brings the whole dish together. What happened was, I was under stress and I didn't cook enough sauce, and then I was like, "What should I do, what should I do?" I didn't want to water it down with more stock, so I put a huge knob of butter, which was the worst thing I could've done. There were a lot of things that we could've done differently.
How did MKR affect your relationship with Jillian?
I think the one thing I'm happy about is that Jillian doesn't hate me. I could've gone home, seriously, with no money, no friends, no boyfriend — I'm just lucky she still loves me! Even going around Australia, and pretty much living together — I haven't really lived with her because even though I live at her house, I'm always with Grant, my boyfriend. Now, all of a sudden, I was getting to know her as a person. We were trying to find our cooking style together. I was a good thing, because I don't think we would've gotten close if we didn't do the show. And we also made so many friends — we're all friends, but I'm not really friends with Leigh and Jennifer, or Angela and Justine.
How did Grant find watching the two of you on TV?
He thinks it's hilarious. I think he feels a bit left out — we're always cooking together, sometimes we gang up on him, like I'm always taking Jillian's side with his debacles with her. I'm like, "Look Grant, we're in the kitchen, just get out!" And he knows.
He must've been pretty lonely when you were filming the show . . .
I know! During the show he went to China to work for a bit. It was a good thing, but I was feeling a bit lonely — even though I was with Jillian for MKR, I didn't feel like I had a lot of support because he wasn't here. Jill wasn't actually sure that she wanted to go on the show because it meant she had to quit her business, but Grant was the one who encouraged her, like, "You should do it, or do it for Sam at least!" She ended up liking it a lot more than I did! [Laughs]
What's with the Peter and Gary rivalry? It seemed to come more from them than you guys.
I know. The thing is, I absolutely love Peter. We're really, really good friends. During the show they thought we all backstabbed them because the judges liked their entree and we didn't like their entree. They were a bit immature, but we all ended up being friends. They just say it how it is — they come up to you and say, "I don't like you, I just won't talk to you," whereas some people . . . We were living in this huge bubble, and there was a lot of bitchiness; some people said it was like Survivor, which is true because you're going for $250,000. Sometimes we had to be like, "Just get over it! We didn't backstab you. Get over it." That's why he [Peter] always wins a battle, he never thinks he's wrong, he's always right. [Laughs]
What were you hoping to get out of MKR, and did you get it?
All I wanted to do was show people my cooking talent and my passion for food, but I also like styling fashionable food. At the moment I've got an opportunity to do fashion squad on The Morning Show on Friday. I'll see what happens. You don't really know, and I'm still so young.
Who will you miss the most?
It doesn't feel like we've been apart for a long time. It feels like we've been together because I've been watching them on TV. I've seen Nic and Rocco, Carly and Emily, Megan and Andy. I'll miss them all, and we still talk, but at the moment I'm not particularly missing anybody. [Laughs] It doesn't feel like they're gone.
Who do you want to win, and who do you think will win?
I definitely want Megan and Andy to win because they are what the show is all about. They're Australian, they've got that passion for food, and they've developed throughout the show and really grown. Who I think will win: Nic and Rocco, because of their instant restaurant. You could see that they've got huge talent, and they will even get better. I'm hoping they win as well. Anyone but Leigh and Jennifer. [Laughs]
Did you hang out much with Leigh and Jennifer since you were in different groups?
After we all came together, it was really difficult because Leigh and Jennifer, in a way, are a little standoffish. I'm very bubbly, and so was my group, too, so we'd all be like, "How are you?" all that stuff, and they would ignore us in the corridors. It's just not nice. I understand that there's $250,000 up for grabs, but there's no need to be rude.
Photo courtesy of Channel Seven