Interview With My Kitchen Rules 2012 Contestants Angela and Justine From WA
Angela Says She Learnt How to Deal With Stress on My Kitchen Rules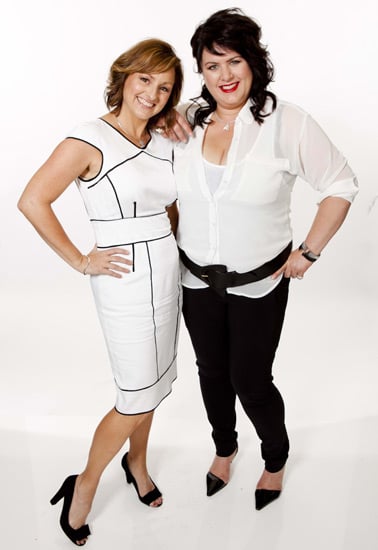 Since Sunday night, My Kitchen Rules has been rapidly eliminating contestants in the lead-up to next week's grand final, and last night WA friends Angela and Justine were knocked out of the competition. They failed to impress judges Pete Evans and Manu Feildel, as well as a jury made up of former contestants, with their spaghetti and meatballs, which saw them go into an elimination round against Tasmania's Megan and Andy. As good as their Vietnamese duck with coconut rice was, it wasn't enough to beat Megan and Andy's near-perfect coral trout with crab and prawn bisque. We spoke to Angela this morning about what she learnt about herself and if there's any behind-the-scenes gossip.
How did you feel about the jury of ex-contestants tasting and scoring your food?
I wasn't very happy about that actually, because I don't necessarily think that they were voting on the food.
Was there anyone out of those contestants you didn't really click with?
Not necessarily. I think the other group — not ours, but the other one — would have had people voting for their friends a bit higher. That's my theory, anyway. [Laughs]
More from Angela when you keep reading.
Do you think only having to cook one dish for the guest judges instead of a whole menu added more pressure, or were you relieved?
We were very relieved to go out only having to cook one dish, because in one day we cooked twice anyway, so that was more than enough. We really didn't want to do those three courses! It would've been an absolute killer.
What was the best thing you got out of MKR?
I think it was travelling around Australia, seeing New Zealand for the first time, and making new friends.
What were the biggest challenges?
The long hours! [Laughs] The very, very long hours I'm not used to. As a teacher I go and do my seven-and-a-half hours a day, and this one was 14 hours, so I was exhausted!
How did MKR test or strengthen your friendship with Justine?
It was exactly the same. Everything came out fine — it was a little bit stressful because you're living together, and there's the stress of the competition, which doesn't make it that easy, but at the end of the day we're still the same.
I liked how you took turns taking charge with the dishes.
We made that decision because we each have quite different styles of cooking. Justine doesn't cook Asian at all and that's one of my strengths, so it actually worked out really well because with our strengths and weaknesses, everything came together in the end.
What did you learn about yourself?
[Laughs] I learnt a lot about stress actually! Learning about how to deal with stress. That was my major issue.
Having cameras in your face 24/7 can't have helped.
It's very unusual. But you kind of forget the cameras are there to be honest, especially at the dinner parties because you're having such a good time. It was a totally different experience.
Were you surprised at how some of it came across on TV?
It was great to watch it on TV because a lot of stuff is edited out, and the way they created characters just through the editing is unbelievable!
How do you feel about the way you were portrayed?
I was scared we were going to be villains because Justine and I are very outspoken. But a lot of stuff was cut out, so we were very happy at the way we were portrayed.
Is there any behind-the-scenes gossip you can share? It's just come out in a magazine that Carly and Rocco are dating.
Yes, that was a bit of a secretive one! I think I learnt more from the magazine. Well, no one would think that Thomas is a really lovely guy. But as he said, with the editing every nice bit he said was taken out. He's a very good friend of mine now.
Who do you think will win?
Some of the young people — they have the stamina. I'm not sure. I do love Nic and Rocco though! [Laughs] They're lovely boys. They don't say anything mean and are genuinely nice guys.
Photo courtesy of Channel Seven