Interview With My Kitchen Rules 2012 Contestants Emma and Andrew From WA
My Kitchen Rules' Emma and Andrew Dish on Strategy, New Friends and Interesting Editing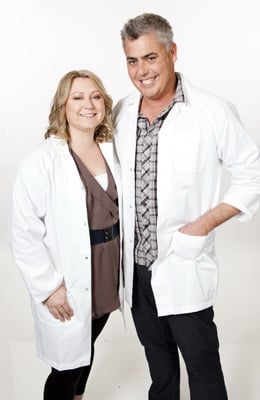 Emma and Andrew, engaged scientists from WA, were the first team eliminated from My Kitchen Rules last night after a third round of instant restaurants. A few things went wrong with their Asian-inspired menu, including a too-salty broth for the main and bland-tasting coconut rice for dessert, which led to a total score of 42. It was also the dinner where Thomas and Carla from Melbourne scored strategically — they gave Emma and Andrew 1. We spoke to Emma and Andrew yesterday to talk about their time on the show.
At what point did you realise you were going home?
Andrew: When we got our score that night, it was pretty obvious.
Emma: To be perfectly honest, I'm like one of those people who has perpetual hope [laughs], and they said the bottom team would leave, but because of that twist in the second round, we thought, 'Maybe they'll add both of our scores together.' We had a pretty good idea that it was gonna be us, but we weren't 100 percent sure. We always had that perpetual glimmer of hope, but it was becoming more and more doomed as time went on [laughs].
Did you ever consider Thomas' advice to score strategically?
Emma: No, not at all. We entered the competition as a competition, and we treat everyone in the whole world fairly, and we weren't going to change our standards for a cooking show. We judged based on the food, what it tasted like and when it arrived, not on who cooked, what they cooked, or anything like that.
Andrew: It was like, you know when someone's talking to you, and you try not to be rude to them?
More from Emma and Andrew after the jump.
You guys also disagreed on scores for the instant restaurants quite often . . .
Emma: [Laughs] I didn't manage to see it, but we did that at Peter and Gary's. I think at nearly every instant restaurant, we had a pretty considerable conversation, and we're both just as stubborn as each other, so neither of us backed down. And he's got a higher threshold for chilli than I do, and that [David and Scott's Thai menu] was bloody hot.
Andrew: We did argue about that. With David and Scotty's one, she basically struggled with eating anything there because of the temperatures, so I could understand her wanting to go low there. I think she just had a different scoring system in her head.
What surprised you most about the competition?
Emma: Probably how people behaved. I knew that people would be quite competitive, but I didn't think they'd get so personal about it. I found that Peter and Gary, especially Peter, would get quite personal about things, and Tom and Carla obviously took it to another level. We were like, 'What's going on? Why are all these people bringing in all this other stuff?' It should just be about the food, where no one's plotting against each other. We don't understand why Peter and Gary got stinky at us after round one. They stopped talking to us all for a few weeks and we didn't know why.
Andrew: Every aspect of the show surprised me, but what surprised me the most, especially in the second round, was how much emphasis there was on personalities and dodgy scoring — stuff like that. You know what? They didn't have to make the show like that, but they made it like that for a reason. I reckon there's a chance they'll ruin the risk of its credibility as a cooking show, but who knows, once it gets to Kitchen Headquarters it all becomes good.
They must be doing something right with all the high ratings.
Andrew: Exactly. It'll work this year, but next year I'm wondering if people will take it as seriously as a cooking show as they have in the past.
What's it like watching yourself on TV?
Emma: Surprisingly, it hasn't been as bizarre as I thought it would be. It's almost like watching a home video — you know more of what's going on behind the scenes and other stuff that's gone on that night. But everyone I've spoken to, all my friends and family, have said, 'That's just you.' I think most people on TV are what they're like normally. Peter and Gary are quite sceptical, Thomas and Carla have taken that sort of route, but they don't always say bad things.
Andrew: In the first few episodes, I thought, 'I can't believe I look and sound like that.' But you kind of get used to it.
You guys come across as a fan favourite.
Andrew: At the end of the day I don't put too much weight on the scoring and the position of people on the ladder, because we know what happened there. We're not worried about that. If you have a look at it, it's all gone a bit silly. Like [you see] Sam and Jillian's raw tuna and glass of pea soup, and see that they made it into Headquarters, and some of the other teams scored a lot lower than them. It's quite ridiculous. I wouldn't put too much weight on that sort of thing. All you can hope for, if you're a decent person, is that that comes through. Though I do think some people have copped it a bit harshly as well.
Is there anything you experienced that came across completely different on TV?
Andrew: Yeah there's heaps of that [laughs]. I can't even begin to describe the funny situations and different looks and different words that have been chopped up in different ways. They invented this whole thing between Peter and me, and half the time I was talking about someone else. It was funny.
Favourite and least favourite instant restaurant?
Emma: My favourite would have to be Nic and Rocco's, because that food was really good, and their instant restaurant was in the first round when everyone was much more relaxed. The second time we came around, everyone was way more serious, and it was more 'competition.' The worst, based on food and timing, would have to be Peter and Gary's first one, because the food wasn't fantastic and it went for such a long time. We didn't leave until 4 a.m.! So it was like a 12-hour dinner party.
What was it like to have dinner with Pete and Manu?
Emma: It was good. We learnt a lot. We spent like two-and-a-half months of filming with them. They're very nice people; Manu is extremely knowledgeable, and he's lots of fun.
Andrew: Pete's always talking to me about fishing and surfing.
Who did you become close to?
Emma: We were lucky because we got to do two rounds with different people. Nic and Rocco, Carly and Emily, Megan and Andy, David and Scott — they're probably our gang. Dave, although he's on TV, he's quite quiet, but once you get to know him, he's an absolute crack-up, he's really mad. He's just as silly as we are, but he's better at hiding it.
Who do you want to win? And who you think will win?
Emma: From a 'want' point of view, I'd like Carly and Emily, or Nic and Rocco to win, because I think they're all quite humble and hard working. Especially Nic and Rocco — they are just gorgeous, they are not arrogant, they treat everyone and their food with respect. We called Rocco 'Zumbo' — he can make macarons and he's a real perfectionist, and the stuff he makes is phenomenal.
Photo courtesy of Channel Seven