Interview With My Kitchen Rules 2012 Contestants Helen and Steve, Siblings From NSW
My Kitchen Rules' Helen Talks Missing Her Family and Bonding With Brother Steve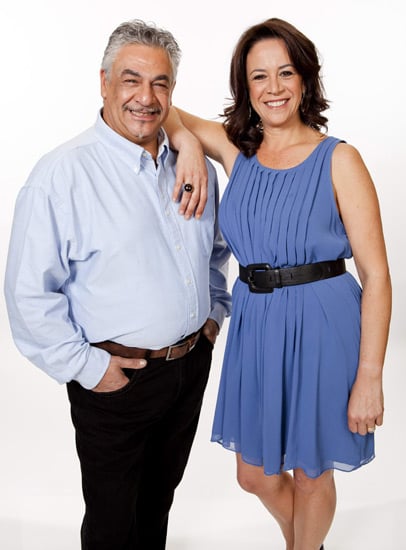 Helen and Steve, siblings from NSW, just missed out on a place in the My Kitchen Rules finals after they were eliminated in a sudden death cook-off against survivors Megan and Andy last night. Their signature dish, rolled chicken with Greek cheese and spinach rice, was cooked with love, but it wasn't enough to beat Megan and Andy's jambalaya. We spoke to Helen this morning to talk about the most challenging part of doing MKR and how she felt about being the mother figure on the show.
What was it like to watch your elimination last night?
It was really bizarre watching it back. You've got so many emotions running on the day that you don't really appreciate the enormity of it. Watching it back last night, we both got teary-eyed.
Were you nervous about cooking against Megan and Andy since they've survived so many eliminations?
Definitely. When you're cooking against anyone in that level of the competition, when you're in a sudden death play-off, it's the most intense cook-off you can be in.
More from Helen when you keep reading.
Why did you choose Steve to be your teammate?
We cook together all the time and know each other's meals. We work together really well — he knows my dishes, I know his dishes. Communication is key. And even when you're not communicating, if one knows what the other needs next, it just works. It's easy.
Were you close growing up?
Very close. We've got another older brother as well, and the three of us are very close.
A lot of people have said you were like their mother on the show. What was it like to be the MKR mother figure?
[Laughs] I don't know whether I was their mother or not, but you go through a whole rollercoaster of emotions, and the only thing I could do with the younger ones was tell them, "Stay focussed and it's not the end of the world. Keep doing what you're doing, and try and enjoy the moment." It was lovely to have a really great bunch of people to work with.
Do you think it's an advantage to be older or younger in a competition like this?
A perfect combination would be both! If you're older you may have a little more in your repertoire because you're cooking a lot more, especially if you have family and kids. But the younger ones bring the whole modern side of things, and they can be more creative and artistic. I don't think we've got an artistic bone in our body! [Laughs]
How did you cope with being away from your family for all those months?
I've got two teenage kids, so it wasn't easy at all. I had a few meltdowns. Thankfully I had Steve there to support me with it. It was very, very hard. I missed my family a lot, and it was hard not being there and not being able to communicate when we wanted to. It was one of the most challenging things of the whole experience. We had very limited contact, and even when you do have the time, you actually don't have the time because they were long filming days and you tend to sleep, or in some cases we wanted to practise. You have to make that sacrifice. But we're making up for it now!
How did your kids feel about having their mum and uncle on TV?
It's funny because at first we both thought these teenagers would be like, "Oh what are you doing? That's so embarrassing!" But they've been so good. They've been so proud. It's been the opposite to a teenage kid who normally says, "Don't kiss me goodbye at school because people are gonna see me." But they were beautiful, and they matured a lot while we were away.
Did you and Steve have a game plan?
No, and that was probably our downfall! [Laughs] Probably the only game plan we had was, 'Let's not be eliminated first.' And you have no control over that. The only game plan we could have was stick to what you know and do it well. Don't second guess yourself, because the minute you second guess yourself is when things go pear-shaped. Those things were the key to us being there. Don't focus on the end goal, just focus on what's in front of you and do it as best as you can.
How do you and Steve plan to use your MKR experience? Do you want to move into the food industry?
Steve and I definitely want to move into the food industry. We're definitely not chefs, we're just good home cooks, so we would love to do small dinner parties where we go into people's homes and cook for them, and entertain them — Steve's a comedian! We'd love to bring that whole My Kitchen Rules experience into people's homes at an affordable price.
Did your cooking change over the series?
Definitely. We had to do it in very short frames! But we're both used to that because we both cook at home for starving teenagers who want food by 7 when you're only home at 6 or 6:30! But we learnt so much. We have such a greater knowledge of food now. That's something we really wanted to achieve on the show — to learn. And we learnt a lot.
As the mother figure on the show, do you have any inside gossip?
Oh no, what you see is what you get! The only thing I could say is that the jury is intensified on TV, but in real life it wasn't like that. We all got along really well and everyone had respect for each other. We had our laughs, we had our cries, but overall if there was any gossip to be said it was just people feeling anxious about the next day's cook-off. [The feelings] were more related to food or being tired.
Did you know Carly and Rocco were dating?
It's a big surprise, but a wonderful surprise because they're both beautiful people. If you speak to them make sure you tell them I'm one of the happiest people on Earth for them. I haven't had a chance to speak with them. If something great like falling in love can come out of this, it was meant to be.
Who do you want to win, and who do you think will win?
Who do we want to win? That would be . . . I think Nic and Rocco. We love those boys. It's a really close call between Nic and Rocco and Carly and Emily. Who do I think will win? No idea. On the day anything can happen. I wish I knew, but I don't!
Photo courtesy of Channel Seven