Interview With My Kitchen Rules 2012 Contestants Megan and Andy From Tasmania on Wedding and Show Stress
My Kitchen Rules' Andy Dishes on His and Megan's Wedding, Show Stress and Being the Seafood King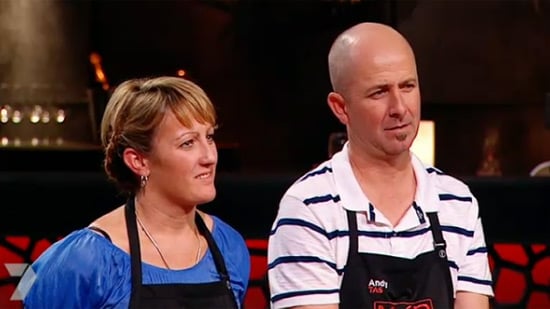 Megan and Andy's run on My Kitchen Rules came to an end last night when they were defeated in the first semi-final by SA friends Leigh and Jennifer. But the couple from Tasmania, who cooked a three-course meal of pork rice paper rolls, seafood chowder and chocolate marquise, moved on from the show to something much more exciting: their wedding last Sunday! We spoke with Andy to get the low-down on their big day, heated on-camera moments and the pressure he felt as the seafood king.
Congratulations on making it to the semis of My Kitchen Rules, but more importantly congrats on getting married! How did you plan your wedding while doing MKR?
We were going to get married in November but it got put off because of the show. So we just moved [the date]. Me and Megan had done most of the planning for that.
What was your wedding day like?
It was awesome! It was very hectic with a bit of media coverage there, but the actual wedding was brilliant, and all of Megan's family was there. We flew to Perth for it. She's from Geraldton — I just brought her back home [laughs].
More from Andy when you keep reading.
Did you invite Pete and Manu?
We did but they were busy with TV commitments. We got on well with Nic and Rocco, and Emma and Andrew, so they were there. It was brilliant having the other MKR people there.
What was it like for you and Megan to watch back all your arguments and heated moments in the kitchen?
[Laughs] We laugh at that. But it was pretty heated. Just the pressure of the show, the clock, the cameras . . . We got so involved in the bubble that we forgot sometimes. It was stressful at the time. When we got that high score of 57 out of 60, we argued a bit in that, and then Manu took us aside and said, "Listen, guys, it's only a game. You're going to spend the rest of your lives together." Then we just laughed it off.
How did you unwind or relax when you had spare time?
It was hard to get spare time because even when the show ended and you went home, you were studying for what might be coming up next. It sounds very Aussie but we just cracked open a couple of beers — that's how we wound down. Simon and Meg were in the same situation, being engaged and about the same age, so we stuck together and talked about it all.
Going into your semi, how did you rate your chances against Leigh and Jennifer?
I rated them very highly. Yeah, they can cook, but so could we, so we weren't phased at all about going up against them.
You guys also survived the most elimination cook-offs, so did that boost or shatter your confidence?
At the time it shattered us, and when we kept getting through them it boosted our confidence, like, 'We can actually do this.'
How much pressure did you feel as MKR's seafood king?
It added a lot of pressure, especially in the episode where it was a seafood challenge. We were just expected to do well and win it, which history shows we did.
A lot of people have said that you represent what MKR is all about, so why did you go on the show?
Honestly, we just really loved the show in the second series, and watching them we knew we could cook as well as them. We went on it to prove to our family and friends that we can actually cook. We found out in the early stages in the instant restaurants to stick to our strength, which was seafood.
Are you surprised at the success of this series? Have you been recognised or anything like that?
We're really surprised how many people watch it! We had a little cooking demo on the weekend, and some people came from three-four hours away just to see us. We can't go the shop or walk down the street with the dogs without people shouting out at us. We find it quite easy because we love talking and being with people. What we've found hard is when we go out to eat, people try to talk to us while we're eating. I mean, just talk to us after we eat, we don't mind, but it's hard.
Who do you think will win?
Going on the judging last night, I don't think Leigh and Jennifer cannot win.