Interview With My Kitchen Rules 2012 Contestants Peter and Gary on Being Show Villains
Peter and Gary on Being My Kitchen Rules' Villains and Copping 'Old-Fashioned' Criticism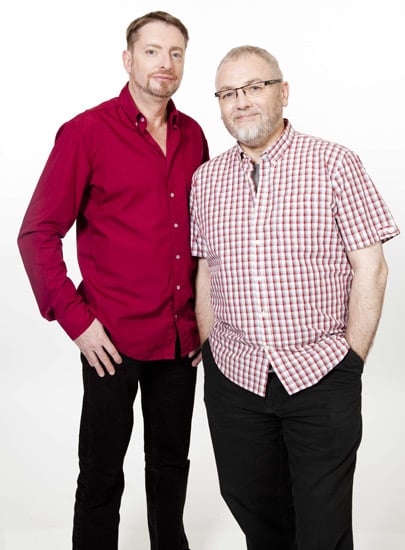 Whether you loved them or hated them, Peter and Gary were eliminated from My Kitchen Rules after a cooking showdown with rivals Carly and Emily. The Queensland couple's biggest challenge was with timing, which saw them serving less-than-perfect meals to the judges and scoring a low 17 out of 60. We spoke to Peter and Gary about the 'villain' tags, what they would've done differently, and which editing moment Gary thought "crossed the line."
Do you think 17/60 was a fair mark for your three-course meal?
Gary: Yes, it was probably was. [Laughs] It was a train-wreck!
Why did you struggle so much with the time constraints?
Gary: It's just the way we cook. If you were at our place, we'd have a nice glass of wine in our hands, there'd be some good conversation, and you wouldn't mind waiting a little while as we got it just right. That's not the way MKR works. The way we cook doesn't work with MKR!
Peter: We are both perfectionists. We like to take our time and get it right.
More from Peter and Gary on what they would've done differently and who their best friends in the competition were when you keep reading.
Did you watch the show before? You would've known the kind of pressure you would've been under.
Gary: We did watch it last year. That's how we decided to take part in the program.
Peter: What we did, and I think it's what a lot of people do, is you watch the show and you see all those very obvious mistakes that people do, and you think to yourself, 'I know that. I could do better than that.' But it's completely different on the show.
What do you make of the 'Dr. Evil' and 'villain' tags?
Peter: I've often said that if honesty and confidence makes you a villain, I'll happily wear the badge. To begin with it did annoy me, because Gary and I have donated our whole working lives to the public good, either through teaching — producing students who are intelligent and show respect to others, and empathy — or through me prosecuting the law to prevent people from challenging the social values that we uphold, or Gary with medicine to make people feel better . . . We are actually far from villains. We are people who have donated our lives to improving the fabric of society. That said, now that it's gone on for a bit, I'm sort of used to the 'Dr. Evil' tag. Most people come up to me and it's all very tongue-in-cheek. I don't mind. In fact I was starting to get a little worried when I thought Thomas may take it from me.
How much was played up for the cameras?
Gary: Certainly a lot of the creation of the characters on the program comes from the editing, there's no doubt about that. There were a couple of occasions where I was made to seem nasty because of the editing.
Peter: When it comes to me, people don't put words in my mouth. Nobody can tell me what to say. I don't have a problem with what I've said. But for every bad comment I gave, I also gave one good comment. Certainly in the first week I never said one good thing about anything . . . I don't have a problem with it, to be honest with you, because I've noticed that the general public have come around, and they appreciate my honesty and can now see what I'm about.
What's it been like for you to watch yourselves on TV?
Gary: We had to make sure we did so we knew what we were saying because it was [filmed] a long time ago and they've edited it very creatively. There was a moment this week where I thought the editing went a little too far. It looked like I was gleeful when the cherry pip thing happened with Carly and Emily, when I said, "Poetry in motion is a very beautiful thing." I was actually talking about Nic and Rocco's cooking, but they made it seem like I was pleased the girls were falling down. That I think crossed the line and went a little too far.
Peter: As far as me on TV, it's a bit freaky and I'm not used to it. The other day I had the TV on in the background, and there was somebody on TV and I said out loud, "Oh, will you shut up!" And I turned around and looked at it, and it was me talking! I was telling myself to shut up! [Laughs] Clearly sometimes I annoy myself.
You were accused of being old-fashioned with your cooking style. Did that bother you?
Peter: People say 'old-fashioned' like it's some sort of insult. I don't consider that an insult. We are old-fashioned, and we believe in old-fashioned values in terms of the way we conduct our lives, but also in relation to our food.
Gary: I learnt to cook in the '70s. It was a fantastic time to be a teenager. If I can re-live a bit of that time through my food I'm very happy, because it was a great time in history.
Peter: To be old-fashioned means to have stood the test of time. They stand the test of time because they are classic and they are good. I don't think we did anything wrong by going down that food path.
In hindsight, is there anything you would've done differently?
Peter: I've thought about that. It's difficult to say. With the first round of instant restaurants I was upset and annoyed with what was going on. Part of me took it far too seriously. In hindsight I should've lightened up a bit. But that said, the fact that I took it seriously made for great TV. I also don't know if I would be able to control myself. I'd like to think I could, but I'm not sure.
Gary: I think you're right — you definitely couldn't.
What did you hope to get out of MKR, and did you get it?
Gary: For us it was always about the experience, the journey. We've been a couple for almost 22 years now, and we've done lots of things [together], so it was another experience for us to have. Has it all been lovely? No it hasn't. [Laughs] A lot of it was very hard and stressful, but I think eventually we'll look back and be fond of it.
Peter: A whole lot of people are going through a very unique experience and you hope you'll form friendships and bonds that will last for the rest of your life. I think we have done that.
Gary: We were also motivated to get involved to be able to show to the world, and in particular to young people, that it's possible for a same-sex couple to be together for a long time and be relatively sane, successful, and I think that image for young people who are just coming out who may be having difficulties, it's important for that to be out there. Hopefully, despite all the editing [laughs] that still comes through.
Who in particular did you get along with?
Gary: Scott and David are both decent, lovely gentlemen. Scott in particular is an absolute delight who has become a really good friend. Megan and Andy we're very close to, and Steve and Helen.
Peter: I'm also very fond of Sam and Jillian. I know the show made us look like we were enemies, but we care a very great deal for each other. The other people I really care about are Thomas and Carla. I think the world of them.
When I spoke to Sam earlier in the week, she also said you guys were really good friends despite the rivalry that came through on TV.
Peter: We were made to believe by some contestants who weren't completely honest with me — in fact, they lied — that Sam and Jillian had given us a 2 for our instant restaurant. When I heard that I wasn't happy — we'd busted our guts, so much that we were three hours late. To get a 2 was really harsh, and I didn't expect it from them. It wasn't until much later that I found out that it wasn't the case and that someone else had lied to me. Sam, Jillian and myself have all talked about it, and we get that other people tried to put a wedge in our friendship, which I actually found quite despicable. We love each other to bits now. I've said that I'd happily adopt Sam — I think she's absolutely gorgeous.
Who do you want to win, and who do you think will win?
Peter: We'd like David and Scott to win. We find them to be men of the highest integrity, they've got a great work ethic, they study hard, they're a true credit to the military. We think the world of them. And also there's that Queensland alliance. If you're asking who I think will win — look, we were at that instant restaurant where Nic and Rocco got that amazing score. That was a truly amazing dinner. We've been able to watch them in the kitchen doing their thing. They're like a well-oiled machine and very impressive cooks.
Photo courtesy of Channel Seven