Interview With My Kitchen Rules 2012 Contestants Simon and Meg From New Zealand
My Kitchen Rules' Meg Talks Aussie/New Zealand Rivalry and Who Deserves to Win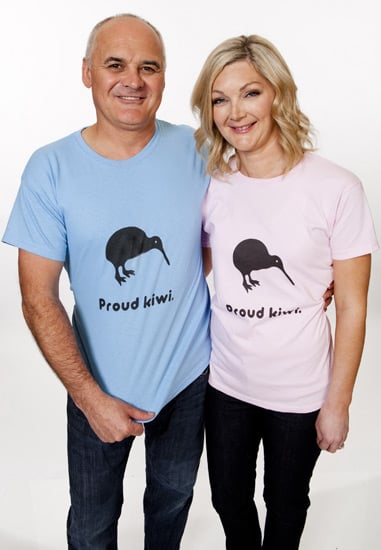 Simon and Meg were the first team from New Zealand to compete on My Kitchen Rules, and their time on the popular cooking show came to an end last night when they lost a sudden death cook-off to NSW siblings Helen and Steve — by one point! We spoke to Meg this morning about how strong the Australia/New Zealand rivalry was, what the weirdest thing about watching herself on TV was, and who she thinks deserves to win.
What was the most stressful thing about cooking your menu last night?
For both of us it was definitely that preparation time — that first hour-and-a-half we didn't get as much done, which put pressure on the other prep times. We knew right from the beginning that we were falling a little bit behind.
And how heartbreaking that you guys only lost by one point.
I know. I couldn't believe it. When they were giving out the scores we knew it was really, really tight. We were just waiting for Pete to give his score, and we realised that we'd lost by one point. It's hugely disappointing.
More from Meg when you keep reading.
How did MKR affect your relationship with Simon?
Going into it you don't give it much thought. You just do it, thinking, 'This will be great.' And then as you get into it you think, 'Oh wow, this is very intensive on our relationship,' especially when it's a partnership relationship. There were definitely stressful times but we've come out of it better at the end. We're a lot closer and I believe it's done wonders for our relationship! Which is hard to believe, really! [Laughs]
How much of a big deal was the Australia/New Zealand rivalry?
I think we were brought on the show as the only Kiwi team to give it that trans-Tasman rivalry, for sure. As far as we're concerned, we didn't look at the Australian teams and think, 'They're Australian teams.' They became our friends. It was just team against team for us, but obviously being the Kiwi team there had to be some sense of that rivalry between Australians and New Zealanders.
What was it like for you to watch yourself on TV?
It's funny watching yourself on TV! For me, I didn't realise how strong my New Zealand accent is! [Laughs] It's really strong.
How did you guys get involved in the first place? Do they show MKR in New Zealand?
That's exactly how it happened. They were airing last season in New Zealand and a little caption came across the bottom saying, 'Would you like to be part of My Kitchen Rules?' And we thought it was for My Kitchen Rules New Zealand! So we applied and went through all the hoops and auditions, and a couple of weeks out from when filming started we realised it was My Kitchen Rules Australia! So it was a pretty big deal.
What did you want to get out of MKR?
When we first started on the show we weren't sure. We were just going to see how we'd go. But it has ignited a passion for cooking for both of us, but I don't know how that's going to look or feel for us now we're out of it — we're both back in our day jobs. We'd both like to pursue something down that track of cooking.
What surprised you most about doing the show?
There were tons of surprises, like coming from New Zealand and realising that it's a massive show, like crew, teams, everything — just the involvement and commitment by everybody to make the show a huge success. We were part of a huge big ride, and coming from New Zealand we don't have that same kind of mega-show that blows everybody away.
What was your MKR highlight?
It would definitely have to be far North Queensland and the challenges we did up there. We met lots of local people and children, so that was really cool.
Who did you become closest to out of the other contestants?
We're definitely very close to Megan and Andy from Tasmania. Very good friends with them. Steve and Helen. David and his wife. We have made some great friendships.
Who do you think deserves to win?
Obviously I'm going to say Megan and Andy because we love them and we'd really like to see them go all the way.
Photo courtesy of Network Seven