Interview With My Kitchen Rules 2012 Contestants Thomas and Carla
Thomas From My Kitchen Rules Says Editing Can Make Anyone a TV Villain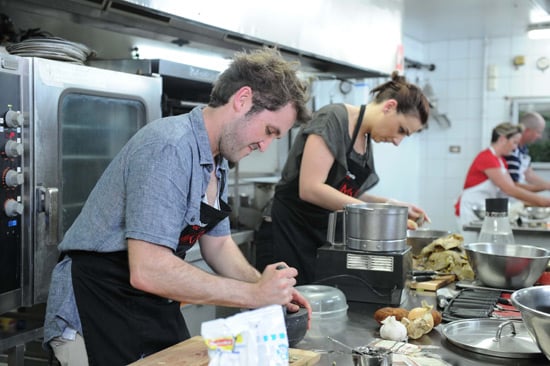 Thomas and Carla from Melbourne cooked for the last time on My Kitchen Rules last night after Tasmania's Megan and Andy beat them in a Tropical North Queensland-themed sudden death cook-off. The "just friends" team served up Moreton Bay bug cakes for entree, paneer and macadamia koftas for main, and a mango cream and coconut tuille for dessert, which didn't impress the judges as much as Megan and Andy's menu. We spoke to Thomas about why they were ready to go, their villain label (which came about after strategic voting in the third instant restaurant round), and who deserves to win.
What were the biggest challenges of cooking in that kitchen?
The biggest challenge of cooking within that kitchen, firstly, was the environment — it was so hot and humid up there, and that greatly impacted the dishes we were preparing. We didn't really take that into consideration [laughs]; I'm not sure we thought it through. On top of that, the kitchen was incredibly small and we had to share these small benches with Megan and Andy. We had to share appliances, we had to wash our own dishes, because at Kitchen HQ there's a never-ending supply of everything. We were very limited on what we had access to.
More from Thomas when you keep reading.
It seemed like you had a feeling you would be going before you started cooking dessert.
Carla and I were both happy with how the entree turned out. With the main, we picked a pretty ambitious main course — and really, we picked an ambitious entree because Carla had never made those [fish cakes] before in her life. She was pulling Moreton Bay bugs apart and making those fish cakes for the very first time on set, and she did a really good job. For Carla and I, we never came into the competition to win. We came for the opportunity to travel around the country, make good friends and just learn about food. We don't profess to be the greatest cooks. In regards to coming into the elimination round, we were in far north Queensland, and we felt as though we had done so much, like, 'If the journey ends here, we'd be satisfied.' We were quite happy with the entree, in the main the koftas didn't cook — at that point, there was no way we were gonna take it home, and when I pulled the dessert out and it hadn't even set I was like, 'Oh well!' [Laughs] But we were OK with that. We weren't upset. We weren't hostile. We were ready to go at that point. And I don't know how it's edited, but Carla and I couldn't wipe the smiles off our faces when we were told we were leaving. We were like, "Yes, we get to stay in Queensland now," and we ended up extending our flights and going diving on the Reef.
Why did you guys attempt to cook such risky, ambitious dishes throughout the competition?
Let's just say, Carla and I really came into the competition to have a lot of fun. We haven't been cooking all our lives, and we came on to have a good time. We just wanted to learn and try new things, so that's what we did.
How do you feel about the way you've been edited with your comments?
The show is about developing key characters, and with every good show there's a villain, there's a hero, there's the neutrals, and the nice people. There has to be a character that people at home can relate to. Carla and I were chosen to play the roles of the villains, alongside Peter and Jennifer. And that's OK. That's fine. The reality is that you could paste together anybody's negative moments over a 40-hour period and make them a villain. The editors have done a fantastic job in putting together a great show. And it's entertaining! If all our negative moments hadn't been pasted together into a great villainous character . . . I know people at home say they'd like us out, but once we go, after Peter, and all the entertaining characters go, you're not left with . . . you know what I'm saying?
What has the reaction from the public been like?
Of course people say negative things about Carla and I online, but we don't go online [to read it]. You wouldn't inflict that upon yourself. As far as the general public, we've had a good, positive response, and I don't know if that's because people may dislike us but they're not game enough to say it to our faces! People seem to be really friendly to us out in the street. To be honest, a majority of people who have come up to us have said — because the first thing we say is, "I'm sorry if we come across as a villain" — they're like, "Oh no, you provide good entertainment! We wouldn't watch it if you weren't on the program with Peter." A lot of people know it's a TV show.
It will be interesting to see how the dynamic changes once all the outspoken characters are gone.
That's the thing. We're all very interested to see who will play those villainous characters. You can't pull the villain out of the series. Someone else will just take on that role. All they need to do now is play the negative moments of someone else and they'll take on the villainous character. It'll be interesting to see, for us, how it'll play out. People have called us, like Angela and Helen, and they were quite surprised that Carla and I ended up as the villains. And we shouldn't be surprised considering the strategic voting — we own all the decisions we made so we're not surprised that's how it panned out.
We also saw lots of scenes of you guys with Peter and Gary, almost in a, 'Look, it's the villains altogether' kind of way.
I know, isn't it great? [Laughs] You only have to watch to go, 'Oh, that's rather interesting.' We are really good friends with Peter and Gary.
What was your MKR highlight?
It really was meeting the people I met and making the friends I've made. I've made some lifelong friends. Sam and I are really good friends and she rang me the other day in tears because she'd spoken to some publication and they'd implied that Sam had slagged Carla and I off. She rang me and was like, "I'm so sorry! It wasn't like that. They twisted my words."
Who do you think deserves to win?
Helen and Steve. Helen was our rock, like our mother. She sends me texts and she always says at the end, 'Love, Mum.' She was our mother figure; she was the first person we'd go to when we were upset, the first person there to help us. They're both incredible people, and all I wanted was for Helen and Steve to win.
Photo courtesy of Channel Seven