Interview With My Kitchen Rules 2012 Winners Leigh Sexton and Jennifer Evans
My Kitchen Rules Winners Leigh and Jennifer on Cooking Stress and Viewer Backlash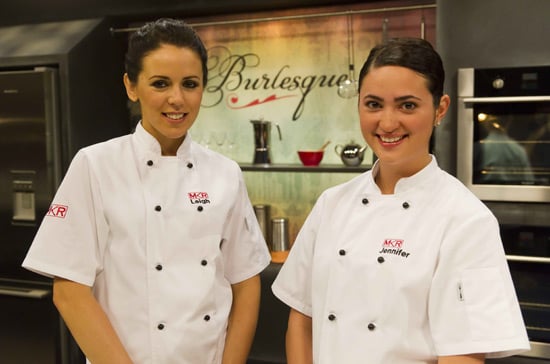 It's been a huge couple of days for Leigh Sexton and Jennifer Evans, the winners of My Kitchen Rules 2012. The friends from South Australia, known to viewers as the florist and 'princess,' are $250,000 richer after beating childhood friends Nic Mazzone and Rocco La Bella in an exciting grand finale showdown that saw more than 2 million Aussies tune in last night. We spoke to Leigh and Jennifer to get their thoughts on the audience's reaction and what surprised them about doing the show.
Congratulations on winning My Kitchen Rules! How did you celebrate?
Leigh: We actually just celebrated over lunch because we were so exhausted from a big day yesterday, and it's been a big day today. We finally sat down and had a gorgeous lunch and a glass of champagne. My family and Jenny's family were altogether so that was nice.
Did you watch the grand finale episode last night with friends and family?
Leigh: I did. I watched it with my mum, my brother, his girlfriend and my partner.
Jennifer: I watched just the last eight minutes of it, and then I watched it again around midnight.
More from Leigh and Jennifer when you keep reading.
What was it like to watch back? Was it as stressful as you remembered it to be?
Jennifer: I don't know. It was different. When you're there, you actually have to get things done, so there was a sense of urgency. Last night, we did look stressed, which was unusual for us because we're usually really calm in the kitchen.
How did you rate your chances against Nic and Rocco?
Leigh: I think what our strategy was all the way through from day one was to concentrate on our own game. We didn't worry about whether we were up against this one or that one. We really wanted to concentrate on our own cooking — that's the only way we could mentally prepare for each cooking episode, whether it was [against] Nic and Rocco or our friends David and Scott.
Jennifer: Or Pete and Manu! [Laughs]
Leigh: We just had to go, 'OK, let's concentrate and do the best we can.'
You may be aware that there's been a bit of a viewer backlash, with lots of people saying the show was rigged and that Nic and Rocco should've won. How do you respond to that criticism of the show?
Leigh: It's quite frustrating to hear things like that but there's nothing we can do. There are obviously a lot of fans of Nic and Rocco out there, but what people need to understand is that it's not a popularity contest — at the end of the day it's about the food. Pete and Manu, as well as all the other judges, there's no way in hell they would pick us if our food was not good. People at home need to understand that they weren't there and didn't taste they food; they can't comment on that aspect. They can comment on who their favourite is, but those judges are not going to put their credibility on the line — why would they do that? They're professional people.
Jennifer, congrats on your pregnancy — what has it been like to have all this extra attention on you during such an important phase in your life?
Jennifer: I think I'm quite tough and nothing affected me from the show, really, apart from people recognising you, and you just have to be careful with what colour you're picking — pink or blue — because we're not telling anyone what we're having. Apart from that, nothing really upset me.
You were portrayed as the 'Princess,' so what did you do before the show?
Jennifer: Before that I was working in restaurants. After leaving the restaurant business, I was working as a sales rep selling food and wine. After that I got married and started working for my husband — we're in the horseracing business so there's a lot of pre-work for him to be able to do the work on the day for the racing.
What are your plans for the prize money?
Leigh: Not quite sure. We haven't had time to hit the ground today — our heads are so scattered and it's been a full-on last couple of days, so we'll think about that quite wisely because it's a fair share of money.
What surprised you most about doing the show?
Leigh: How well me and Jen work together. It could've made or broken us, but it really did make us, and I'm really proud of that fact.
Who will you stay in touch with?
Leigh: Definitely David and Scott, Steve and Helen — they're kind of like our little favourites. Most of the contestants have texted me to say, 'Congratulations,' even people like Emma or Andrew, who are just beautiful people. Unfortunately because they were the first to go we didn't get to know them [that well]. That goes to show the calibre of people they are.
Aside from winning, what's the best thing you got out of doing My Kitchen Rules?
Jennifer: That if you set your mind to anything, you can do it.
Leigh: It's just the biggest accomplishment and it just goes to show you that we're all capable of so many things. No one should ever self-doubt; you should never put yourself down and think you can't do things, because we're all capable of so much if you set your mind to it.
What's the plan now?
Leigh: Some rest. [Laughs]
Jennifer: I can't really think or function at the moment. So sleep, sleep, sleep!
Photo courtesy of Channel Seven