Interview With Puberty Blues Star Charlotte Best on Playing a Mean Girl and Filming Racy Scenes
Puberty Blues Star Charlotte Best on Playing a Mean Girl, '70s Fashion, and Filming Racy Scenes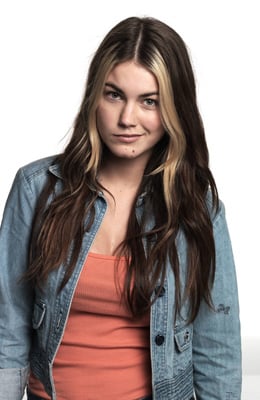 Charlotte Best became a familiar face on our screens thanks to her role as Annie Campbell on Home and Away, and after a hiatus she returned to TV and can currently be seen stirring trouble as Greenhills Gang member Cheryl Hayes on Network Ten's Australian drama Puberty Blues. The TV adaptation of Kathy Lette and Gabrielle Carey's iconic coming-of-age novel features some of our country's finest actors, is a hit with critics, and has brought up feelings of '70s nostalgia. We spoke with Charlotte last week to discuss the casting process, her blonde streaks, and why it's more fun to play the mean girl.
Had you read the book before, or were you familiar with it?
Yeah, I'd seen the movie and read the book, and my parents told me a bit about it because they read it when they were younger. My mum read it on the way to a school camp and it was kind of like the naughty thing to do. So I knew a little bit about it beforehand but I didn't quite know the depth of it, the horrible side, like the drugs and all that kind of stuff.
How did your parents feel about you playing Cheryl?
They didn't actually know which character I was playing until I started shooting because I didn't even really know until I went in for my first day. They were fine with it. They're used to me doing odd things on TV. [Laughs] They're supportive and they know it's all for the sake of telling a story. Some episodes they might not watch. [Laughs]
Did you try out for any of the other characters? What was the casting process like?
I'm not actually sure. Sometimes you know the casting process that you're going through and sometimes you don't. I think they auditioned us all through the same thing. I didn't really know who I was going for. You read for a different character and end up being someone else, which is quite common. It was fun when I went in and they told me all about my character.
More from Charlotte when you keep reading.
People are more familiar with you as Annie from Home and Away, so what's it like to play the mean girl?
[Laughs] I think it's way more fun! It's a lot more fun. It's more of a challenge to be a person who's not the every day friendly person. Someone who has a bit more of an internal battle going on as well as this face she puts on for the gang is quite interesting most times. It was a lot of fun and I think a lot of the fighting scenes were highlights. [Laughs]
There seem to be lots of layers to Cheryl so what else can you reveal about her without spoiling too much?
All I can really reveal is that Cheryl isn't as tough as she thinks she is, or would like to be, or would like everyone else to think she is. When you start seeing a bit of her home life with her mum and brother, you start to see why she's like that, which is nice. Kind of having a redeemable character is good sometimes! It's very interesting the way she deals with things, and the way she puts on a face to fit in and be that person again after things happen. Which I think is something everyone does — most teenagers have that ability to put aside things that are going on at home and get on with it, and be cool.
You're all so young — what's it like to shoot the intimate scenes?
[Laughs] I guess it's kind of funny. Everyone mucks around in that kind of situation. Of course it's all fake, and when you're good friends with everybody it's really not that bad. As long as you're able to be serious enough to portray it right, you just have to get on with it and laugh about it later. We all had a ball through everything, even the icky bits.
It may have been fun and silly when you filmed it, but what's it like to watch those things back on TV?
Definitely the best part about the after process is seeing what you think it's going to look like, and seeing what it actually turns out like. It's 100 times better than I thought it would be. It blew my mind away. And also, you don't see everything that's filmed, you only see your parts, really. All the stuff with the parents I've absolutely enjoyed watching. I think the whole show has come together perfectly.
How much did you have to change physically for the role? You've got the blonde streaks and wear very little clothing in some scenes, so did you work out?
I didn't have to do anything that drastic apart from the hair. You get hired as yourself most of the time. It was good to be strong, big-boned Cheryl and not worrying about what I looked like. I'm meant to look a bit tough and harsh and a little bit ugly. [Laughs]
When we started seeing the promos I didn't even recognise you until I saw your name.
A lot of people didn't. I don't even think I recognised myself when I had that hair! I actually ran into a girl on the side of the road — she pulled me over and said, "Oh my gosh, you're the girl off Puberty Blues. Can I have a photo?" And it took me a couple of seconds, and then I realised, that's what it is — she'd actually bleached the front pieces of her hair and copied me. She couldn't stop telling me about how the hairdresser thought she was stupid when she took in a photo of me.
On the day that I walked in to meet the director to have a look at what my character was going to be like, they showed me this '70s photography book and flipped to this page where there was a Cheryl-esque chick with fake nails and cigarettes, really gross with the whole bleached thing. And that was my first idea of my character so it was quite scary! But I'm glad I did it. It makes me kind of authentic and stand out a bit.
What was it like for you and the younger cast to shoot a '70s-based show?
We were so lucky. I feel especially lucky to be a part of it. It's really rare that you get to be involved in a period piece that's dressing up, morphing into these characters in the scene where the set and atmosphere around you completely changes. That's an awesome thing to be able to do as an actor.
How do you like the '70s fashion?
[Laughs] Some of us actually really got into it! I remember op-shopping with Isabelle [Cornish, who plays Vickie] and she bought these high-waisted flare jeans. I don't know if she's worn them. Cheryl wasn't as fashionable as the other girls. I wore some pretty hilarious things in some of the episodes.
What did you guys get up to when you weren't filming?
There was a lot of time when we were in the trailers together, mucking around. We were always at beautiful locations by the beach, by water and parks, so we had so much fun in between shooting. Even on the weekends we became really good friends and saw a lot of each other outside of work.
Who do you still keep in touch with from Home and Away? I was at The Bourne Legacy premiere and saw you there with Lincoln Lewis.
Yeah, we catch up when he's in Sydney or when I go to Queensland, which is really nice. He's all over the place at the moment, as is everyone else. It's good when we can catch up and get together in Sydney.
What's next for you? I read that you're studying at UTS?
I've deferred recently. I was studying there before I started Puberty Blues but it was a bit of a hard work load to deal with both so I've deferred for a little while. I was doing Global Studies there and it's a really good course.
I'm just working on a project at the moment with Sean Keenan [who plays Gary], a short film, at the moment, and I've got a couple of other things coming up after that. So for this year at least I'll defer uni.
Puberty Blues airs on Wednesdays, 8:30 p.m. on Network Ten.
Photo courtesy of Network Ten.