Interview: Reality TV Producer MasterChef's Margie Bashfield
What Does a Reality TV Producer Do? We Asked MasterChef's Margie Bashfield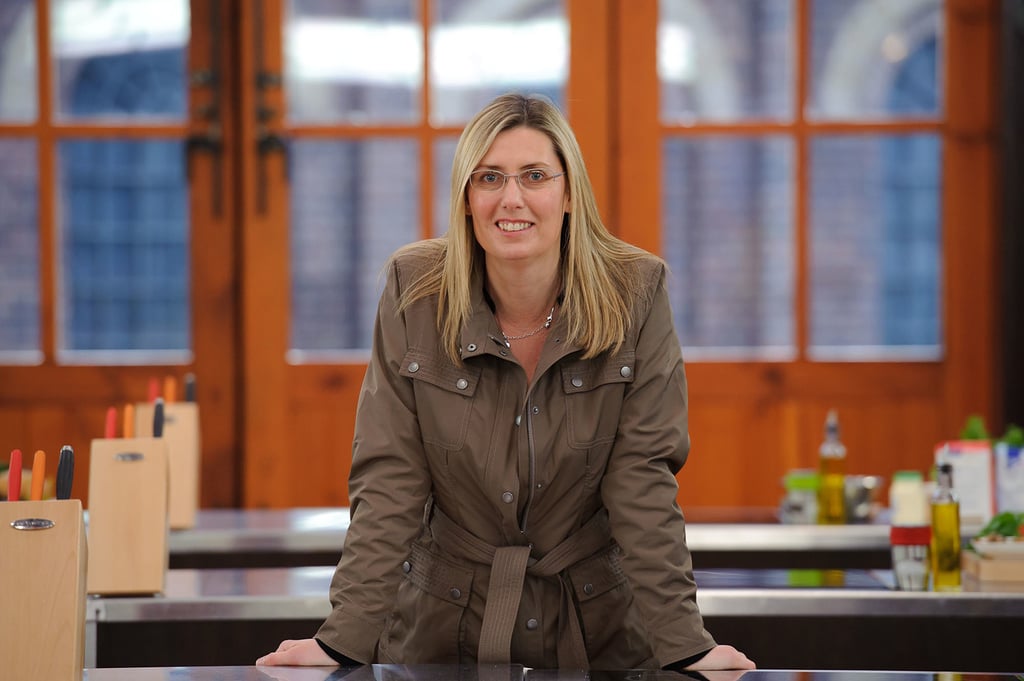 When you think of a reality television show, the first people who come to mind are usually the superstar judges and contestants — the onscreen talent. But there are so many people who work behind the scenes to ensure the show is a slick production when it airs, and they usually only get shout outs during grand finals. The person with massive responsibility behind the scenes is the executive producer, but what is it exactly that a reality show producer does? Turns out it's a lot. In the lead-up to the series six premiere of MasterChef next week, we asked executive producer Margie Bashfield to break down her job for us.
POPSUGAR Australia: What does your job as a producer of a reality television show entail?
Margie Bashfield: The role of Executive producer on MasterChef is multi-faceted. I'm responsible for overseeing all aspects of the field production and post-production of the program. It's ensuring the editorial content of the program, plus all that is connected to the show (Marketing, Publicity, Digital and Commercial) is true to the MasterChef values.
PS: Can you describe an average day?
MB: The average day on MasterChef changes depending on what production phase we are in with the show. At the moment we are still filming and editing the show as we ramp up for launch.
Ordinarily, crew call is 7:30 a.m. at the MasterChef Kitchen in Melbourne, so I check in with the crew, judges and contestants to make sure everyone's traveling well. I'll stay for the start of filming before heading to our screening room where I watch the edited episodes via videoconferencing with the post-production team in Sydney.
MasterChef has a team of almost 200 staff who look after the many varied aspects of actually making the show. On top of that are the teams that work alongside the show including Network Ten, Shine Digital who look after the social media around the show, Shine 360 the commercial arm of Shine and the in-program integration team. A large portion of my job is ensuring all parties have the correct information and resources to do their jobs.
PS: What do you enjoy most about being a producer?
MB: I think one of the best things about being a producer is coming up with a basic idea of a challenge and then watching it develop until it makes sense, is filmed and edited, and works in the show.
PS: What are the biggest challenges of your job?
MB: Inevitability it's not having enough hours in the day!
There are a lot of moving parts in a show as big as MasterChef — we have over 100 staff filming the show in Melbourne and more than 60 in Sydney editing the program. So the biggest challenge is ensuring that all of the team is supported to excel in their jobs.
PS: How did you get to where you are today? Have you always been drawn to the reality format?
MB: I've worked in television now since 1986 and have been fortunate to work across a number of genres. My first 10 years were spent in the world of current affairs working on Good Morning Australia, The Today Show and then A Current Affair. Over the next 10 years I worked in Channel Nine's special events department which meant I worked on everything from the Logies to Carols by Candlelight, The National IQ Test to Micallef Tonight, as well as "clip shows" like Before They Were Stars and What a Year.
In 2007 I decided to enter the freelance world and for the next three years worked on a variety of programs including Big Brother, Animal Emergency, Are you Smarter Than a 5th Grader and The Project.
Since 2009 I have worked full time on MasterChef as Executive Producer on Series 2 to 6, as well as Junior MasterChef Series 1, All Stars and MasterChef: The Professionals.
PS: How do you feel about being behind-the-scenes and seeing lots of people give credit to the onscreen talent?
MB: I love seeing our onscreen talent being congratulated as it's the best accolade I can receive as a producer. It's a producer's job to make sure the on screen talent look good — if they look good then I've done my job.
PS: What is the proudest moment of your career so far?
MB: Over the years I've been extremely proud of a number of a number of the programs I've worked on. But I'm most proud of seeing people who I've given a start to in the industry do well. I've had wonderful mentors throughout my career and I hope I'm able to do the same for others.
PS: What's the biggest misconception about reality TV?
MB: Unfortunately over the years reality TV has been accused of being "cheap TV" without quality production values. I'd love those critics to come and watch our incredible team in the field and in post-production who push themselves to make the program of such a high standard that it's broadcast in over 90 countries around the world.
PS: MasterChef is onto its sixth series. What are the challenges of keeping a reality format fresh for a new year?
MB: The biggest challenge for reality formats is avoiding the temptation to change for the sake of "keeping things fresh." By changing too much, programs face the danger of alienating their audience from what drew them to the show in the first place.
Going into Series 6 we are remaining true to the core values of MasterChef, we have the best group of home cooks we've ever had and we are celebrating our classic challenges like the Mystery Box and Invention Test.
PS: How much reality TV do you watch? What else do you watch?
MB: I am a fan of reality TV, I like seeing Australians on screen striving to achieve a better life or overcoming obstacles. I tend to scan all the various reality shows to get a feel for what they are doing.
Apart from reality TV, I love watching the large scale dramas like Boardwalk Empire or Game of Thrones, as well the smaller scale dramas like Broadchurch and Agatha Christie's Poirot. I'm also a big fan of home shows like Location, Location, Location, Selling Houses Australia and Grand Designs.
PS: How do you unwind at the end of a work day?
MB: I come home to a Golden Retriever who doesn't care what's happened in my day. He just wants to play and be cuddled. . . It's a great reality check!
MasterChef returns on Monday, May 5 at 7:30 p.m. on Network Ten.
Source: Network Ten