Interview With Sandra Bullock About Her Oscar Nomination for The Blind Side
Sandra Bullock Really Didn't See That Oscar Nom Coming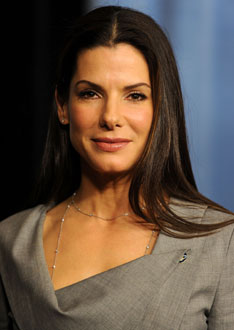 Yesterday I was lucky enough to chat with some of this year's Oscar nominees at the annual luncheon in their honour. After Gabby Sidibe professed her love for Steve Martin, Sandra Bullock got serious about her career, football and why she truly didn't expect a best actress Oscar nod for her role in The Blind Side. Here's what she had to say:
On her personal motto: I don't really have a mantra. I've learned to just go with the flow. I was very much a control freak where every minute of my life was planned out and nothing ever went according to plan. So the day that I sort of said, "You know what? If I get up and I'm breathing, and I'm happy, then I know it's gonna be a good day." I had a little Post-It by my bed for many years that said, "Expect as good as you give." And that's been really helpful, because if you really expect as good as you give, you either step up your game or expect others to match your level, so that's a good one.
On whether she believes that she deserves a nomination: That's such a hard question because you are setting us up to fail with that question. I know I work really hard. Just because I work hard doesn't mean the elements come together to make a good performance or to make a good film. So when that happens, when all those elements come together, I'm always shocked and so happy and amazed. It's always unexpected to me. I expect to fail, so that's why I work even harder. Does anybody expect a nomination? I certainly didn't. I literally was asleep when the phone rang. I don't think that anyone expects it, but if they do—how great must that feel when they get it? I am really very amazed and thankful to be here. Because I'd like to work hard for another 10-15 years. If this is what that means, then bring it.
On loving football after The Blind Side: I was a football fan, but not for the right reasons before. It was usually who was playing football who I was interested in. And I married a football player and my brother-in-law was a ball player. And I knew very little, and I'm a huge football fan now. Just, athletically, I love athletes. I always wanted to be a professional athlete on some level. So now I have a really good idea of what they do, football players, and I love the game. I love it.
Keep reading
On if her success has given her confidence: It scares me more than anything, because you think, "What do I do now?" And I think I was in that place before this came, and it happened several years ago, "What do I do now that I don't step backwards, that I step forwards?" I've been thinking a lot about that. "What do I do next?" I don't know what could possibly compare to this moment, or this energy, so I've decided not to look at work until this is all over, so I can make a real judgment and judge the way I always have, which is produce interesting films and produce some really special ones. I don't want to stop that because I really feel like there's some things I'd still like to do. But now I feel like, because of this honour, and what I've been given these last couple of months, I really have an obligation not to step back, even the smallest bit. I really have an obligation to better my work, and keep at it. Keep saying no and expecting as good as you give.
On changing her film choices: Everyone says "Oh, I don't care about money," but look: I've been blessed with crazy money, but a lot of times it was attached to films that weren't great. And then I decided to stop several years ago, and start from scratch, and that started with a little film called Crash. I feel more comfortable now, saying, "Why don't we just take it on the back end?" If the film is successful, you don't have to pay me the money upfront, we'll just sort of divide it up in the back end. So everyone who put faith in the project gets rewarded for it, and if it doesn't work, we don't get the crazy money. Which, to me, makes more sense—it's an investment to work. But I can say that, having made pretty good money. But then that pretty good money allows me to do other things like help other people who don't have the help. It's crazy money so it should be used in wonderful, crazy ways. As long as I'm happy, that's what matters to me.