Interview With Scott Tweedie on Channel Eleven Music Show Hunt For a Host
A Chat With Scott Tweedie, Host of Eleven's New Music Show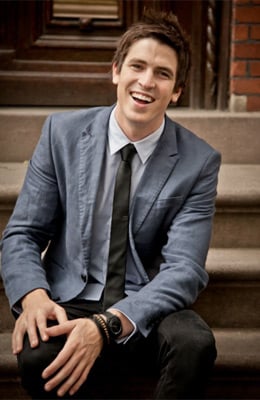 In case you haven't heard, a new music show is coming to Eleven next year to fill the Video Hits void on Saturday mornings, and it will be fronted by Prank Patrol host Scott Tweedie. But he's not going to do it alone, and he needs a female co-host, which is why Eleven is calling on all future TV stars to apply for the gig! The competition to be Scott's co-host closes next Thursday, so we had a chat with him to see what kind of girl they're after, as well as what we can expect from the program. And as Scott, 23, also got his big break on TV through a nationwide search, he's got some great advice for potential applicants.
On the new show: "I can't tell you too much! It's basically a really contemporary take on the traditional music show. We've all seen lots and lots of music shows over time. But we're also trying to channel how people consume music nowadays, which is very different to the way it used to be. People have more avenues to take in music, and people also get distracted a lot easier these days. With that in mind, the show's going to be fast-paced. We're going to cover not just music, but popular culture in general — what's happening online, the movies, what people are talking about on Twitter — so lots of little bite-sized bits of pop culture. Essentially the show is going to be a music show, but with that something extra."
On what he'll bring to the mix: "I classify myself as a typical Australian guy; I'm very up-to-date and current with what's happening in all those fields, like music, online, movies. So what I think I'm going to bring to the mix is just a very fresh face. I don't want to take away from what the show has to offer; I'm more like a messenger, but doing it in a fun way where people can easily watch me. I'm excited to see who my partner in crime is gonna be as well."
More from Scott and what they're looking for in a co-host after the jump.
On what he's looking for in a co-host: "The grounds are they've got to be over 18, they've got to have a firm grasp of the music world, and pretty much gotta be up to date on everything pop culture. Your readers and viewers would be fantastic for this kind of gig, because you guys are constantly pumping out the goods. Also they've just gotta bring their personality and that edge. We're not looking for the trophy girl — we're looking for someone with a personality that's gonna be fun, good at interviews, and who can just show who they really are on screen without trying."
His advice for potential applicants: "When I entered the competition, which was another nationwide search, it was all about being yourself. In your audition tape — we've got two options: you can 90-second video or a script — no matter which one you choose, just be yourself, and relax, and try to not be thrown by having a camera in your face. At the end of the day, you can't fake who you are. It's either, you're gonna get the gig because you fit into what we're looking for, but if you don't you can't be disappointed, it's just that you don't fit in. And that happens a lot in TV. I've been to a fair share of interviews where I don't get the gig, but that's fine because I wasn't right for it."
On where he'd like to be in 10 years' time: "The dream is to still be presenting, but you never know with telly what's going to happen. I've done commerce and economics at university, so maybe one day that might come in handy [laughs], but I don't think I'm ever gonna be a banker. I would love to be in a position where I could be surrounded by people who are very creative, and who have great ideas for TV, but might not have the contacts or financial means, or the right information to get it off the ground. To be in a position to assist that and make it happen would be great."
Applications to be Scott's co-host close on Thursday, Dec. 15. Head to Eleven's website to enter!
Photo courtesy of Network Ten