Interview With Taylor Henderson After The X Factor
What's Life Been Like For Taylor Henderson After The X Factor? Find Out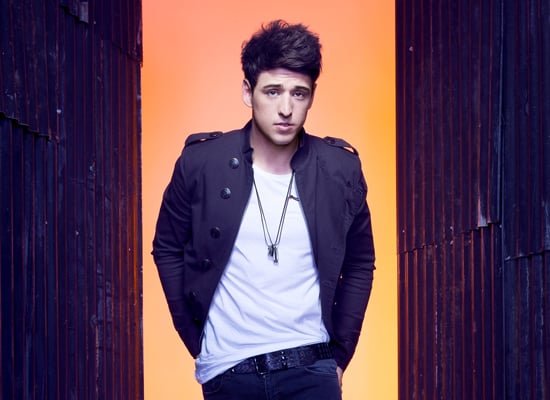 Taylor Henderson may have come second to Dami Im on this year's series of The X Factor, but you only need to look at his recent achievements to know that it hasn't been detrimental to his music career at all. Since finishing the show, he has released his winner's single "Borrow My Heart," which topped the ARIA charts, gone on tour with the top five, and recorded his self-titled debut album, which drops today and features full-length versions of his most memorable performances from the series. We got on the phone with Taylor on Wednesday in the middle of The X Factor Live tour to get the scoop on the most interesting fan experiences he's had (hint: he said "raunchy messages"), his admiration for Ed Sheeran, and how he plans to spend his Christmas and Summer break.
POPSUGAR Australia: How is The X Factor tour going?
Taylor Henderson: It's going good so far! So we've done our third show and doing our fourth tomorrow. It's going quick, but man, the crowd especially, and everyone who's been coming . . . The people can come and watch, but there's nothing better than when we can interact with them. That's the great thing about the tour: we're performing our hearts out, and we want people to get to know us. On The X Factor, we got very nervous, and after you finished a song you had to sit there, and you either get praised or grilled. So it's good to finish a song and just have people cheering you on.
PS: How do you like the touring experience?
TH: I know some of the songs might be similar, but at the end of the day every show is always different — there's something that changes, or we might chuck something in, or bring in a surprise singer; Omar [Dean] was there last night. We're doing what we love, and I've been really enjoying it. I'm really excited.
More from Taylor when you keep reading.
PS: It's good that you can have a taste of tour life in this way.
TH: Yeah! Totally. I think the tour was pretty close to not happening at the start, and then they thought, 'We'll go ahead with it.' Last night, for example, over 3,000 people rocked up to the gig. There are people out there who are genuinely interested. I get that some people come up to me and go, "Oh, you're from that show, I don't watch that," and that's fine! It might not be everyone's cup of tea. But it's great that there are people who watch it, and they are genuinely there to support us. At The X Factor, it was a free crowd. With this one, people are reaching into their pockets because they want to see us. We want to make it lots of fun, and if there are a couple of muck-ups, people don't mind, like if there are some imperfections.
PS: Congratulations on reaching no. 1 with "Borrow My Heart" — how did you celebrate when you found out?
TH: When I found out, I was in Melbourne. Dad actually took me out to dinner because I found out that night. I was almost asleep and my manager calls me and goes, "You're number one on the charts." I was like, "What!" We were hoping it would scrape into the top 50, but it went number one! I was happy. So me and Dad had some food, and I had interviews the next morning. So we had to keep it on the lower side of excitement.
PS: So with the tour and your single's success, it doesn't seem like there's a downside to you coming second.
TH: Oh, no! I went on the show not thinking about winning for a second. I just wanted to go on and sing my best, and do what I thought I was capable, and from that outcome I've had a good ride. I'm still going but I know there's plenty more to come — I can't just sit back and relax. I'm working my butt off. I just want to learn the industry and just have fun with it, and make some killer music.
PS: What was it like recording your album?
TH: It comes out on Friday, which is really cool. It's a little different because on The X Factor, we had to adapt to the fact that there was an audience there. Even though it was a little nerve-wracking, the audience lifts you — not just your spirits, but also your vocal. You tend to push a bit harder, or you can reach a note where you thought, 'I couldn't reach that before!' When you go into a studio and record your album, I'm literally in this little box room performing to a wall. It can change the dynamic, but after a couple of practice runs I got the hang of it, and now the album's all ready to go.
PS: Has the whole ride been what you thought it would be like?
TH: If anything, I like to think of myself, like . . . I'm like anyone. And I am. That's the truth, we're all equal, so with what I'm doing, I never thought it would be like this. I'm taking each day as it comes, and I don't want to waste a minute, but I need time to rest, obviously. I guess it's been so different. I never thought it would be like this. The single is doing so well. It's been an absolute dream come true.
PS: What's been the craziest fan experience you've had so far?
TH: There are so many [laughs]. Social media, for one, gives people that ability to send across what they're thinking through Facebook, or a comment on Instagram, or Twitter. People have that freedom of speech.
PS: Has that been good or bad for you?
TH: It's been a combination of both. You have to learn to take criticism in this game. But at the same time, man, there's a lot of nice things. A little too nice [laughs]. Sometimes you think, 'OK . . .' There are some very raunchy messages sometimes that make you go, 'Ooh! That's a little bit inappropriate.' Sometimes people say things and I wonder if they're going to regret saying that [laughs].
PS: Can you remember a time when you could relate to the kinds of fans you now have?
TH: I think the great thing about The X Factor is that people saw me as quite a genuine person. I just wanted to be myself, because the moment you try to be something you're not, people aren't going to relate to you. So that's why I love Ed Sheeran — I think he's the man. If I saw him I could possibly have a little panic attack, a slight one. I think he's so true to himself in everything he does, and I think his artistry is incredible, and he sticks to the roots of what he does. I know I've got those desires to meet him, and I would love to see him play live — I've always missed out every time he's been here.
PS: What is your ultimate music or career goal?
TH: I want to do a combination of things. X Factor was incredible with its approach, and I wouldn't take back a second of it. But it was hard because some weeks Ronan [Keating] would give me a song and I'd think, 'You beauty, I love this song.' But then there were other weeks where you get the song and think, 'Ooh, I've never heard this song in my life.' With the show, I've got this exposure, but sometimes I'd have to get up on stage and be a little uncomfortable because the song isn't who I am.
I want to make some great music because I've got heaps of songs I've written in the past. I'm signed with Sony now, and they're loving it. They're already planning the next album that's after the one that isn't even released! The goal in the future is to sell some number one hits; I want a great album that is a real reflection of me; I want to grow in my art and perfect that.
PS: How will you stay grounded as you get more popular?
TH: When people ask me about my 'fans,' I don't even like calling them that. They are just people who are interested in my music, and I really respect that, because without that I wouldn't be here. Why would I ruin that by getting too ahead of myself? I think you've just got to have good people — I've got my family. And my girlfriend, she's not just my girlfriend, she's actually a great friend. She really keeps me down-to-earth, which is great.
PS: What are your plans for Christmas and Summer?
TH: I'd love a bit of a break. People don't sometimes understand how much I've been working; my big ugly head might not be on TV anymore, but since the show I've been in the recording studio, album's out, interviews nearly every day . . . With the Summer holiday coming up I do want a bit of time out, but with the album I will be doing signings, promoting . . . Maybe when I fly to a different state I can have a bit of a break, but do a signing as well [laughs].