Interview With Taylor Swift in the Grammys Press Room
Grammy Press Room: Taylor Swift Talks About Her Big Night!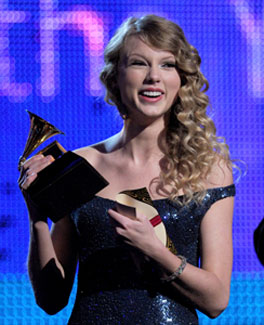 There's no afterparty for Taylor Swift! The evening's Best Album winner quickly stopped by the press room on the way to catch a plane Down Under. With all four of her golden trophies in tow, Swift was gracious as always and shared her excitement about her big night.
On how she's going to hold all four heavy Grammy trophies: I'm going to carry them as long as they'll let me have them!"
On how she felt about winning her first Grammy: "This is the dream come true. I've never been presumptuous about dreams, and when you have crazy dreams, like I wonder what it would be like to win a Grammy someday, I never actually fathomed that it might happen until I was walking up there."
Keep reading
On her next big dream: "Making my next record and hopefully it'll be something I'm just as proud of."
On her friendship with Beyonce: "I'm just a huge fan. She makes amazing music."
On when she's going to celebrate: "I'm going to celebrate for the rest of my life!"