Interview With The Voice Australia Grand Finalist Sarah De Bono on Joel Madden and Red Hair
5 Minutes With The Voice Grand Finalist Sarah De Bono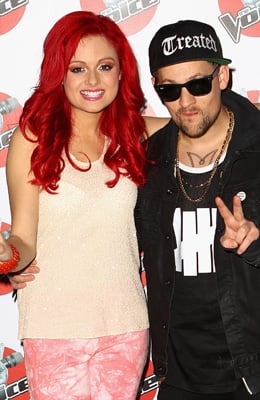 Before The Voice, Sarah De Bono would have been a standout in any crowd thanks to her recognisable bright red hair, but now she has the whole nation talking because of her spectacular singing voice. Coach Joel Madden picked her as his best chance of winning the competition show, which culminates with two grand final episodes kicking off on Sunday night (with Joel's father-in-law Lionel Richie performing!). We caught a few minutes with Sarah at the media conference on Tuesday — here's what she had to say:
How confident did you feel that Joel would pick you as his finalist?
I really wasn't sure. As Team Joel, we're all really, really close, I think a lot closer than the other teams. We're all very different but all equally talented in all our eyes, so it could've been anybody. We went out there with total faith and love in all of us, and I've gotta do it for Team Joel now.
Who do you think your biggest threat is?
I kind of look at as I'm for myself. I know it's a competition and I'm up against the other teams, but you know what? It's up to the public. There's nothing I can do about it. I'm just me, I'm gonna do my best, and hopefully if the public want me to win that'll be what's meant to be.
More from Sarah when you keep reading.
You've had very colourful looks on the show. How much say do you have with your style?
That was a working development but I am all about colour, in everyday life and off-camera. I love colour, printed jeans, lots of accessories — that's totally me. Even today what they've dressed me in is totally me. I'm very happy with patterns and glitter.
How often do you have to colour your hair to maintain it?
I have been dyeing my hair a lot lately just because there has been so much focus on hair and makeup. In general, before The Voice, I did it every three or four weeks. I love my hair and it doesn't take that long to dye. I do it all myself — I cut and dye my own hair. You can't blame anyone else but you always get the result you want.
What's the best piece of advice Joel has given you?
Joel is awesome. [He said] just to be me. To be proud of who I am and just enhance that by a thousand.