Interviews With Katheryn Bigelow, Carey Mulligan, Christopher Waltz and Colin Firth from the 2010 Oscar Nominees Luncheon
Oscar Nominees Share the Love at Their Luncheon
I've been sharing some tidbits from the press room at this year's Oscar nominees luncheon, and comradeship was definitely a common theme among the honourees. Sure, they've been going head to head all awards season long, but the actors seem to have nothin' but love and admiration for each other—or at least that's what they want us to believe. Here are a few highlights: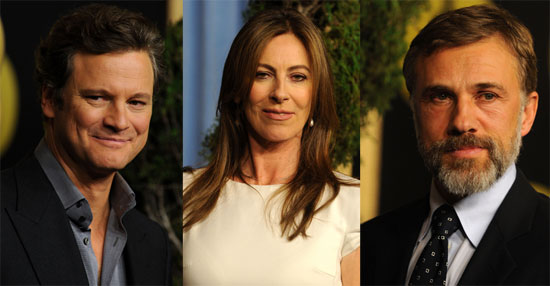 Carey Mulligan on being starstruck: I'm not great at the mingling side of things, I tend to stick in the corner. I've kinda followed Kathryn Bigelow around a lot, I don't know if she's noticed. Gabby and I switched numbers and we've been texting each other about clothes and things. It's been lovely, you know, meeting Meryl Streep—it's complete madness. And Helen Mirren and Sandra Bullock. And they've all been so unbelievably kind and not intimidating, because you have them on such a pedestal, and they could be a nightmare if they wanted to, because they're so good.
Kathryn Bigelow on Mulligan: I've been following her around. She's so talented.
Christoph Waltz on the friendships he's made: This is one of the fantastic things about this whole thing that's been going on from September until now. It was never about winning. It's not a competition. It's not a sports event. There's no pistol going off. We do this together, and it's a beautiful, really beautiful camaraderie that I have never experienced. In a way, it's lovely to see these people who turn into friends. The outcome, we'll see. Nobody will begrudge anything.
Colin Firth on advice to younger nominees: Advice? I have no wisdom on this. I've spoken to other people who have been nominated several times, and they all say you never get used to it. It's the first time every time. And it's all good. You're in a professional daze.