Isabelle Cornish Interview For Puberty Blues Season 2
Isabelle Cornish on What It's Like to Get Married — on Puberty Blues!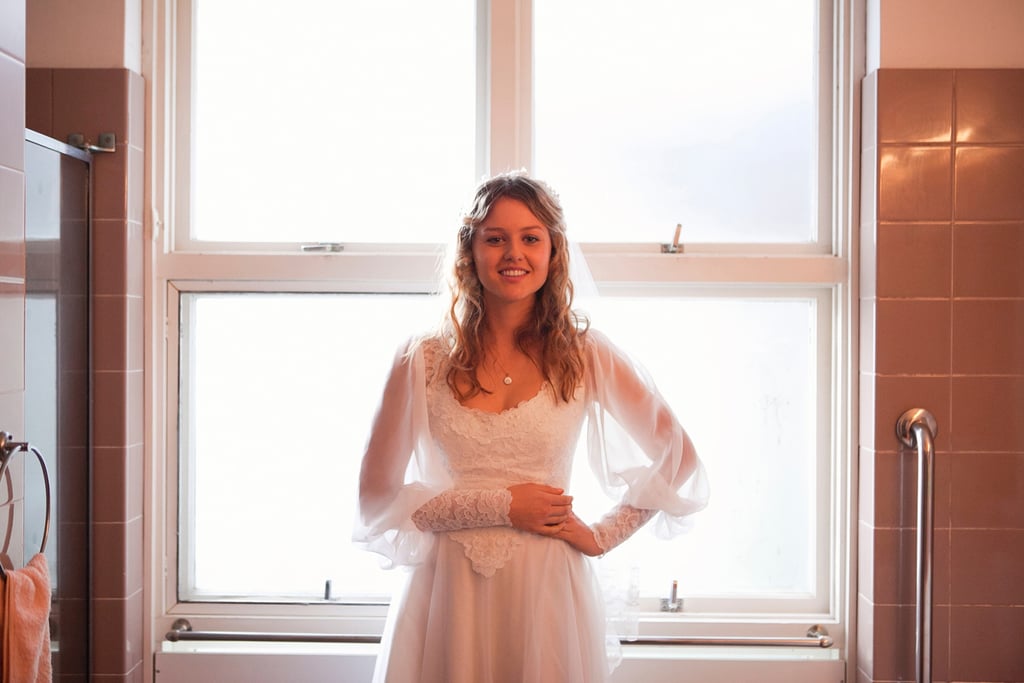 Vicki is getting married on Puberty Blues tonight! In the previous episode, the troubled teen found out she was pregnant, and she believes the baby belongs to her science teacher, Mr. Candy, so she's making sure he makes an honest woman of her. The wedding also marks Debbie's return from boarding school, giving her a chance to confront Cheryl, who has been living with her family after she was sent away.
We caught up with Isabelle during production of Puberty Blues season two, when she was about to film her wedding scenes — keep reading for what she had to say about the development of her character, and why filming her wedding scenes put her off getting hitched herself!
POPSUGAR Australia: With your character Vicki, what did you hope would happen to her in the second season?
Isabelle Cornish: I was open to what was going to happen. I was really excited to find out. I found out pretty early what was going to happen to me after the first series, so I didn't have time to have that whole thought pattern of, 'Oh, I hope this happens.' I'd known for ages what I was going to be doing. She's gone on a very big journey, which is great to play.
PS: There's a big storyline with Vicki this season. How did you react when you found out what was going to happen to her?
IC: I think I laughed. It was quite funny. I think it's hilarious; it's awesome. It's really great to put that in there. There needs to be something that's, like, wrong, but it was right back then, and for people to realise that the show is set in the '70s, and this is the stuff that went on. I think it was a really cool way of playing it.
PS: How is the filming of the wedding scene?
IC: I've filmed some of the wedding stuff. I've tried on the dress and all of that.
PS: How's that whole process been? You're still so young and probably still far from that in your real life.
IC: It's really funny, it's made me not want to get married — I can say that!
PS: Why?
IC: It's just made me not want to get married in the sense of Vicki — not myself. I think it's because I know what she's in right now, and I know that she's stuck after she gets married to her school teacher, and I feel bad for her. So I've got this whole thing where I'm like, 'I'm not getting married,' but it's just because I'm stuck in the Vicki world. She's got a baby now, and she's going to have nothing to do with her life.
PS: What about wearing a fake baby belly, how was that?
IC: Well it's quite subtle, so it's pretty small. It feels weird. It's a little bit itchy. It's funny to wear, because you'll catch a glimpse of yourself in the mirror, and you'll be like, 'Is that my belly?' And then you remember you have a fake belly on [laughs]. It's funny.
PS: Is there anyone you didn't get to share many scenes with in the first season who you wanted to work with more this time?
IC: I think it's really great to be working more with Sue [Brenna Harding] this time, because Debbie goes away to boarding school and Sue sort of comes into our group. So it was good to be able to work on our relationship with her.
PS: Describe your ideal day?
IC: I would say my ideal day would probably be — I'm just going to say a day off, because a day off is always ideal — a nice, hot, sunny day, near the beach. With a clean bedroom, so when I wake up my bedroom's all clean. I'd love a nice picnic lunch or breakfast, a swim in the ocean, going for a surf, going for dinner with friends, and then laying down and reading a book in the afternoon, and going on my computer. That's probably a pretty awesome day.
Puberty Blues airs on Wednesday nights at 8:30 p.m. on Network Ten.
Source: Network Ten