James Arthur Interview on The X Factor and New Album
James Arthur on Hanging With Hollywood Stars and Recording His Diverse Album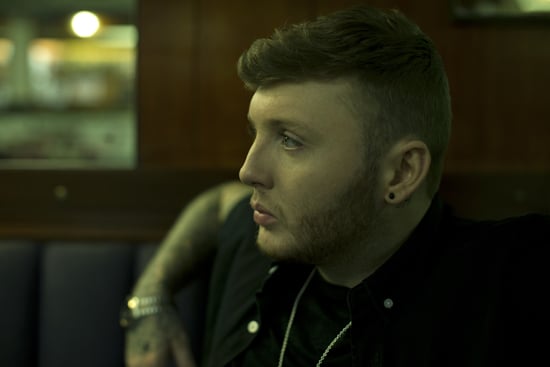 The X Factor has a reputation for generating international stars, particularly the UK version — you just have to look at One Direction and Little Mix as examples. Last year's winner James Arthur is another artist on his way to worldwide domination thanks to his winner's single "Impossible" soaring up charts and going 4x Platinum here; he followed that up with his catchy original song "You're Nobody 'Til Somebody Loves You," the first track to be released from his self-titled debut studio album, which is out tomorrow. When James was in Australia, we caught up with the musician to talk about what his X Factor experience was like, what shaped his album, and what it's like to rub shoulders with Hollywood A-listers.
POPSUGAR Australia: How have you found Australia?
James Arthur: I love it here. I draw comparisons between Australia and my home in the UK — I'm from the north of England — and we all just have this family, maternal vibe where we all just want to look after everyone, and it seems like that here. I do feel at home. And it helps that you speak English as well. I've been to a few countries where people ask me questions and I've got a translator there. It's a bit weird.
PS: So I was watching a clip the other day of Sandra Bullock rapping on The Jonathan Ross Show, and it showed you sitting on the couch next to Tom Hanks. What goes through your mind during moments like this?
JA: If you saw me on the sofa that night and you thought I seemed cool, or collected, well I was freaking out. I was having an internal panic attack at that time. I even told Sandra Bullock when she sat next to me, "You're Sandra Bullock," being a proper fangirl, and she just calming me down, and telling me how she calms down. It was like, 'Yeah, I'm calm, but you're Sandra Bullock' — it was making me more anxious. It was a weird thing. And Tom Hanks, I think I asked him a stupid question like, "Do you still see Wilson from Castaway?" The ball.
PS: Are they the most famous people you've met?
JA: A million percent. And Jonathan Ross too, he's like an institution in the UK. Cilla Black, as well. That whole show was just a crazy thing for me. I didn't feel worthy of being on that show at all [laughs].
More from James Arthur when you keep reading.
PS: What was your experience on The X Factor UK like?
JA: It was the best and worst experience of my life, because I experienced a lot of stress. It was really stressful — I like to think I'm a very polite man, that I'm a friendly guy, but when I've got a million opinions thrown at me, I'll try to take every last one of them on board, and it wasn't healthy for me. But at the same time, I achieved things I didn't think I was capable of. So it was like having the ultimate sense of achievement, and then feeling suffocated, all at once. It was a very strange, whirlwind experience, but it's absolutely changed my life, and I thank it every day.
PS: What's the culture of reality shows like in the UK?
JA: They're the most-watched things on TV in the UK, but they're hated on a lot, too, by the general media and some sections of the public — there are people who hate on people who get success, and were quite judgemental.
PS: But the UK one has produced massive stars who seem to have been received quite well. Even here in Australia, our big music awards, the ARIA Awards, have only just started to recognise artists who came through reality shows in peer-voted categories.
JA: It should be that way. It's a shame, because I can understand how people can hate on me because I came from a talent show, but at the same time, I think it's the hardest way to do it. You see so many acts out there right now who are out there because the record labels pushed the button on them, and threw a sh*tload of money at them, and almost imposed them on people. Even though we might not necessarily like it, we're almost conned into thinking it's cool. Do you know what I mean? That's how I feel sometimes. Some bands are really for merchandising, and not about music, and you see them getting the awards, and it's kind of annoying at times.
PS: Tell me about your album — is there a theme?
JA: Not necessarily, other than just life and love. It's an introduction to me. It's about the songs, really. I've just written very honest music. It's quite raw. It's cinematic. I guess the only theme is that it's soulful, with a slight hip-hop influence. There's a nod to a lot of different genres: blues, soul, hip-hop, R&B, rock and pop.
PS: It's been about a year since you won. Do you think a year was a good amount of time to find your sound and record this album?
JA: Thanks to "Impossible" I was allowed the time to work on it properly. The momentum of that song just travelled.
PS: Is there a reason why you released a cover as your winner's single?
JA: That's just the way it goes. Also, the year I won was about charity, and that song tied in. All the winner's songs that were chosen for each artist were intended to tie in with what the charity was about. And it related to me too, so it helped.
PS: "You're Nobody 'til Somebody Loves You" is the first original single you've released. What is it about this song that made it the right single to put out first?
JA: Like I said before, the album's pretty diverse and has a lot of different elements. They all have a different intention. The thing about "You're Nobody" is it's a nod to blues and soul, and just how we can set up in any dusty old street and play a great show live. "You're Nobody 'til Somebody Loves You," to me, means until you accept who you are, and know who you are, nobody's going to warm to you, or you're not going to be able to fully enjoy your life, or love somebody else, maybe. And I've certainly been guilty of that, in my past. It's slightly autobiographical.
PS: What were the easiest and hardest things about recording the album?
JA: The hardest parts were time constraints. Some of those producers I worked with, I absolutely adored them and connected so well with them, but I worked with a lot of producers on the record, so maybe I'd have two days with a producer I was really enjoying working with, and beginning to be vulnerable, and then it was like, session's over, next producer. I had to restart the rapport and relationship with the next guy. That was kind of irritating. So with my next album, I just want to choose one or two [producers] and keep it minimal.
PS: Can you tell me about your tattoos — when you got them and what they symbolise?
JA: OK, so the ones on my left arm, well they're almost covered up on the lower part of the arm, but they were covered up in sh*tty tattoos that my friend did when we were young, like practising on each other. It was really weird. And the right arm, I've had actual artists working on it, and I'm still working on it. The left arm is definitely a f**king mess.
PS: There are heaps of great new acts coming out of the UK at the moment — which ones are you most excited about?
JA: I'm very excited about Naughty Boy. Naughty Boy's just put an album out and I love him. In the UK there's a real hip-hop scene developing; in the north of England, a guy from Manchester called Shotty Horroh, Lunar C, Mic Righteous — those are guys I'm really championing this year. Whether they break through or not, I'm going to work with them and get them out there.