James Moore Leaves The Biggest Loser 2012 With $30,000
James Gets $30,000 and Leaves The Biggest Loser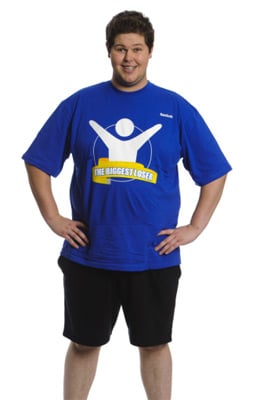 James Moore is the latest contestant to suddenly leave The Biggest Loser after choosing between continued weight loss and $30,000. The 22-year-old from South Australia played Temptation, where he was given the chance to either resist delicious, high-calorie foods and stay in the competition, or eat for the chance of winning $30,000. He consumed nearly 1,000 calories to receive the gold bullion, but didn't know that his decision to keep the money would result in his immediate elimination from the show.
James, a struggling musician, has since spoken out about why he took the money — after losing both his parents at a young age, he wanted to ensure he had some financial security. In the post-elimination release James said, "I really do appreciate my position here at The Biggest Loser, it really is a once in a lifetime opportunity and it's something that I do cherish, but at the same time I needed to think about my life outside of here when it's over. I can't just think about my physical life, but I have to consider my financial life outside of Camp Biggest Loser." He started the show weighing in at 136kg and has since lost 34kg, and has also landed an administration job at Fitness First.
Do you think James made the right decision in taking the money?
Photo courtesy of Network Ten