Jarrod Woodgate The Bachelorette 2017 Finale Interview
Jarrod Says He Was Devastated That He Didn't Win Sophie's Heart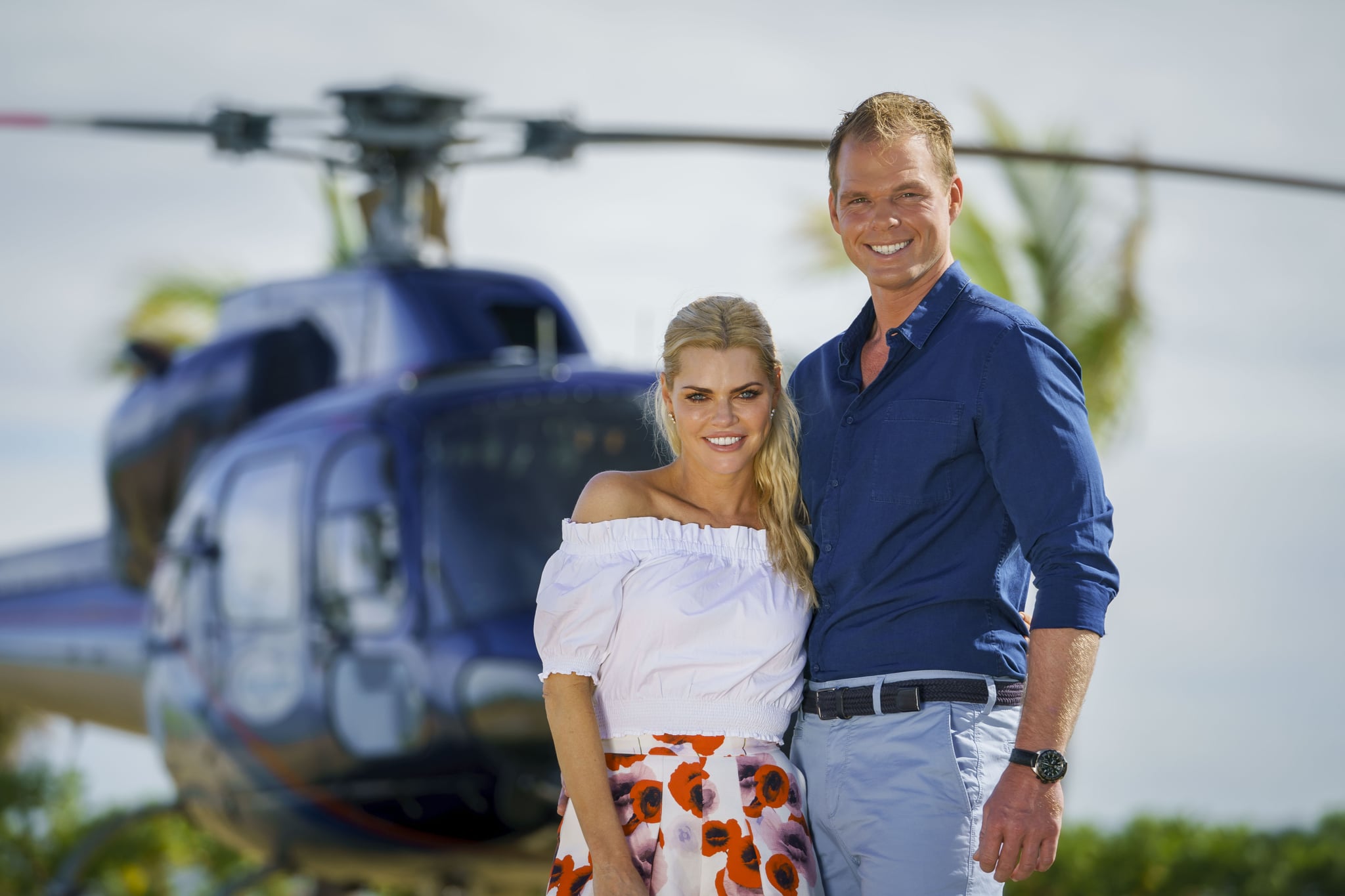 Vineyard owner and manager Jarrod Woodgate was a consistent front runner in this season of The Bachelorette. The 31-year-old impressed Sophie Monk on the first night with a quirky entry tactic — he brought a bucket of grapes so they could stomp them together — and scored the first date and first kiss as a result. On said date, Jarrod's protectiveness and kindness really won Soph over, and his potential to win was stable ever since.
Jarrod admitted on TV that he was in love with Soph, so we knew he was incredibly invested in the finale's outcome. Still, it was heartbreaking to watch him get let down as she told him she wasn't the one for him. We spoke to Jarrod ahead of the finale to find out how he felt.
POPSUGAR Australia: How did you feel about the finale night?

Jarrod: I felt great. To be in the top two is awesome, but with what I know and what I saw with Sophie and I, I felt pretty confident going into it.
PS: Did it surprise you to get this far? Did anything give you an inkling that you would get along with Sophie?
Jarrod: I knew some things about Sophie, but going into it, I was my only concern. I wanted to make sure I could open up to Sophie, and I was concerned I wouldn't be able to do that when I got there. That always crosses your mind. It's a massive deal.
PS: It's quite a scary thing to do, so I'm always fascinated by what makes people go on the show. What got you to the point where you wanted to do it?
Jarrod: Basically my dad telling me that I don't have time in my life to go out and meet people, and this is probably the only way I'm ever going to be able to find love! [Laughs] He put it in a nice way, but he was like, "Son, you've got to sort your love life out. This is what you should do!" I was like, alright, I'll give it a go . . . [Laughs]
PS: You started out strong and kind of stayed there. Did you feel like you had a smooth ride in there?

Jarrod: I never had a smooth ride at all, because I was experiencing a lot of diferent emotions I've never had before. Trying to find a balance between the right and the wrong way, or if it's too much or too little, it was really confronting, especially seeing the guys in the house that would mellow out a little bit more. They may have had enough time to figure out who they are, but myself as a person, I had no idea. I was blindsided going into the house.
PS: I feel like it'd be very hard to control how you feel and to hide that from cameras.

Jarrod: That's the thing, I'd completely forget about the cameras and you're focused on the moment you have with Sophie, because you don't get much of it. When you do, you want to make everything count and everything that I bring to the table for Sophie to remember.
PS: You were very focused on Sophie, and you didn't get too caught up in other stuff.

Jarrod: Yeah, my main thing was Sophie and that's why I was there. I did make some good friends in the house, but I wanted to walk out of there in a relationship with Sophie. That was my plan, and I was 110 percent dedicated to being there for the right reasons.
PS: How serious were you about Sophie going into the finale?

Jarrod: I was very serious about Sophie. I told Sophie I love her and want to spend my life with her. We'd spoken about kids and movements and the possibility of where we were going to go down the track after the finale, and I think the first thing we'd have done was have some normality in our lives. Not have cameras, not have publicists, people around us pulling us away from each other — they're all beautiful people, but it would have been nice to have some time to Sophie and I.
PS: Were you positive going into the finale?

Jarrod: This was the first time I could say that I was 100 percent positive in the outcome. I felt that good, because we'd achieved so much together, and Sophie's such an incredible person. That's exactly what I was looking for in my life, it was what I needed. The connection we had was very strong, so going up there, I was ready for it.
PS: How did you feel in Fiji in the moments before? Was it stressful?
Jarrod: It was very stressful, I think it was mainly because of the waiting time until we got to see Sophie. Apart from that, it was still stressful, even though I'd felt more confident than I had the whole entire time. It's still a hard moment, because it could be the last time you ever see Sophie or the first part of your new journey.
PS: Can you tell us how you felt when you realised you'd lost?
Jarrod: To not end up with Sophie's heart at the end, I was actually devastated. I gave myself to this and I haven't felt this way, ever. The chemistry, the connection we've picked up from the get-go, I was very committed to it and very committed to Sophie. I knew I'd hate to have to say goodbye.
PS: Was any part of you angry about getting to this late stage and having to lose?

Jarrod: No, nothing would ever make me angry, because I have no regrets. Whichever way it panned out, there are no regrets, because I've achieved a lot of goals. Just becoming a better person, being able to open myself up to a beautiful girl. At least I know what I can and can't do and what my strengths are.
PS: Does it make it worse that Stu was an intruder?

Jarrod: Look, he had only been there half the time, so yes. Losing to anybody is quite upsetting, but to have an intruder go that far is upsetting. I'd still have walked away liking Stu either way.
PS: I was wondering the other night, if Stu was never there, would it have worked out in your favour? Or is it just that the connection wasn't there?

Jarrod: You can't stop a connection, and as I said to the boys, I had that spark with Sophie from the get-go. It's me that had the whole time and it's him that had half the time, and he had the same feelings. So, we were both in this! [Laughs] It was very interesting.
PS: How have you coped with the media attention? You were dealt a pretty unfair hand sometimes.

Jarrod: Really, with that stuff, I just don't read it — or I ignore it. My friends and sisters tell me, and I just say it doesn't bother me. At the end of the day, you can't change that, and people will slowly realise who I am as a person. If they hadn't realised now what kind of guy I actually am, then that's their problem. Not mine, because I know what I was doing was everything that Sophie wanted.
PS: It doesn't get to you at all?

Jarrod: No, it doesn't get to me, I just laugh it off. What else can you do about it? Just go with it, go with the flow and it just makes you stronger.
PS: What do you have to say about Sophie Monk? What can you tell us about her that we don't know?

Jarrod: Well, I mean from what I know in the house, Sophie just wants to be a normal person. She just wants to live a normal life, none of this Hollywood stuff, she just wants to be a civilian in a way. Just someone that can sit back and decide whether or not to go for a walk with the dog, or go to the beach. Not be told when you can and can't do it or be chased by paps — she wants a normal life, just like everybody else. I think that's another reason why we seemed right together.
PS: What are her best qualities?

Jarrod: She's a loving, caring girl, she really is, and she struggles to show her emotions at times, which is why she laughs. But then she's like a little kid again, when something excites her but she doesn't know how to show it. Just the fact that she can show all this around myself and just be herself around the other guys, that's what you need in somebody. You need somebody who can control the room and be themselves.