Jay Ryan Interview on Beauty and the Beast Show
Catching Up With Beauty and the Beast Star Jay Ryan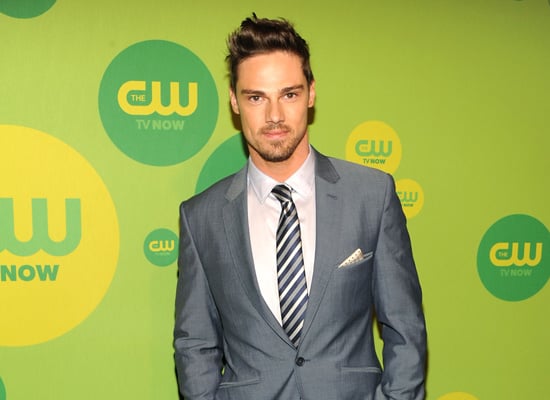 While plenty of young Australian actors have recently been picked up in leading roles on US shows, former Neighbours and Offspring star Jay Ryan had a head start when he was cast in The CW's dark, modern take on Beauty and the Beast, as Vincent Keller, in early 2012. The drama is debuting on Eleven tonight at 8:30 p.m., giving Aussie audiences an opportunity to see Jay in his big US break, while American fans can look forward to more of Beauty and the Beast after The CW recently confirmed it had been renewed for a second season. We caught up with Jay a couple of months ago when he was still filming in Toronto — read on to find out how he got the role, what it's about, and how he deals with hours spent in a makeup chair to get his prosthetics on.
Are you filming in Toronto?
Yeah, the show is filmed in Toronto and coloured in as New York City, where the show is based.
Is it your first time in Toronto? What is it like to shoot there?
The first time in the Toronto was to shoot the pilot and I was here for two weeks, but I was mostly filming in the underground of Toronto, so I didn't really get to see very much. But it's been great. I got here to shoot this series in the peak of their Summer. So I got to go to lots of musical festivals and a lot of the cultural things that were going on here. Certainly that's now coming to an end and it's starting to get quite cold here and I am bracing myself for the first full on Ontario Winter, which is crazy.
More from Jay when you keep reading.
Can you tell me about how you landed the role of Vincent?
It was strange because this was sort of the first year in a while that I decided I wasn't going to go and do pilots in Los Angeles and just look at Australasia and work there. I was shooting a mini-series with Jane Campion and I just thought, 'I'm going to focus on that,' and also for the sort of character that I was shooting they shaved half of my hair off and I had this sort of Mohawk haircut. I thought, 'There is no way that anyone in the States is going to cast me looking like this.'
So I got a spontaneous call one day from the US asking me to put a tape down for Beauty and the Beast. They'd seen me audition for a film a couple of years ago, so they said let's see what you've for Vincent. So I read the script and had no idea what the take was, sort of being re-worked, because there are so many versions of Beauty and the Beast. I was definitely surprised to see that it was such a contemporary take on it and quite a fresh take too, which is good for a younger audience. So they flew me over and I put down a couple of auditions and they flew me back home and I thought that I had stuffed it up and not got the role. But then as soon as I got off the plane in Melbourne there was a message on my phone, and it basically said, 'Can you get back on the plane and come back again to do a chemistry read with Kristin Kreuk?' So it all happened really fast, in the short space of a week.
It's funny how when you say you're not going to do anything and that's when everything sort of happens . . .
I know, it's strange when you sort of redirect your focus and don't sort of put all of your eggs in one basket, I guess, and the universe opens back up for you.
What can you tell us about the character?
Well this version of Vincent is a lot different — people who know the older version of Beauty and the Beast will be a little bit confused by this take on it, because it's nothing like the old one. But our Vincent was studying to be a doctor in New York City when his brothers were killed in 9/11. So he enlisted into the military and due to his medical experience he was captured to be part of this, I guess a groundbreaking military experiment. So he became part of this experiment that went crazily awry — they created these monsters that they couldn't control. The agency that created them was then ordered to shut them down and to basically eradicate them, and Vincent escaped back to New York to try and regain his humanity, and find a cure, and uncover the truth of this crime against humanity. So we find Vincent to be in hiding for 10 years, and then there is his brother from another mother, J.T. Forbes [played by Austin Basis], and those two are sort of like a chalk and cheese duo, and add a little comedy to the flavour of the tone, and they both kind of help each other to get through being on the run from this secret agency that are trying to track them down and experiment on them.
What is the tone of the show? It looks quite dark.
Yeah, it is quite a dark sort of take. I guess when we made the pilot the director of that, Gary Fleder, wanted to go for a graphic novel feel, and the grim fairytale kind of darkness as well. But because the show and its structure had a huge residual element, trying to solve a case each week, which is led by the character of Catherine, Kristin Kreuk, so it had a strong residual element tied in with the dark mythology of Vincent's back story, and his longing for Catherine, and his longing to become part of society again as a normal human being. So yes it's quite a mix of different tones, but it is quite dark. A good way to describe it is a dark romance, basically.
Fairytales seem to be having quite a moment on TV, with shows like Once Upon a Time and Grimm, and so did that affect your decision with taking the role?
No, not really. I mean it intrigued me as an actor because of the mythology of the story, and the character is almost like playing two different characters, because I get to play Vincent and then this kind of demonic beast which comes out of him, which he can't control. So that's really exciting for me to have that sort of stuff to play, as opposed to playing a cop, or a doctor, or a fire fighter. You get to actually dress up and play, which is kind of why I got in to the industry in the first place as a kid [laughs]. So that's what drew me to it in the first instance. And then the creators, they had done Brothers and Sisters and Without a Trace, which I thought were both two really great and popular shows, so I was also very interested in seeing what their take on something like this would be. And I was also really excited to work for The CW which is US network creating it. They've been watching over me for the past few years and seeing when they could place me in something, which is a relationship that had already been built in the past which I wanted to secure.
And so does that mean that you have a lot of hours that you have to sit in a makeup chair to get made up as the demonic part?
The prosthetics part originally took up to five hours in makeup when we shot the pilot. It was quite cold. I basically have to sit there half-naked and have surgical glue and bits of rubber, paint and spray paint and all sorts of stuff put on me for five hours, so you really need to go in to a state of calmness when you have that happen otherwise it can make you feel quite claustrophobic. But now we've got it down to about two-and-a-half hours. But the prosthetic is quite large — it goes from under my mid-torso and comes right up to cover my full face and neck, so basically it's just my nostrils that are exposed so I can breathe [laughs].
That would be interesting to watch, seeing you completely transformed.
In a nutshell as well, the beast, because it's graphic novelish, a lot of the beast is seen through Catherine's point of view. We don't show the beast in full daylight, we kind of keep it as this mysterious kind of creature, and go along with 'less is more' and let the audiences' imaginations run wild as to what that beast is doing.
Yeah, it's better not to reveal too much.
Yeah but it does get quite dark. It's full on but what is so shocking about this character Vincent is that he is a true human being who has good intentions, but he has this uncontrollable disease or desire to do these [bad] things, which he really can't stop, and I guess that is where Catherine comes in and tries to tame our beast and give him some calm and clarity.
What's it been like working with Kristin?
Just horrible, she's a real pain in the arse [sarcastically].
And she's really unattractive, right?
[Laughs] Yeah. She is completely stunning, gorgeous and extremely professional, having worked on Smallville for eight or so years and her other work as well. So as a leader of a cast — it's a great ensemble cast we have — she is fantastic and she works extremely long hours. And it's so physical her role as well because Catherine is a NYPD cop that kicks ass in glorious ways. She is one of the easiest people to work and get along with.