Jennifer Aniston Interview on Rumours About Engagement to Justin Theroux and Being Pregnant
Jennifer Aniston Sets the Record Straight on Rumours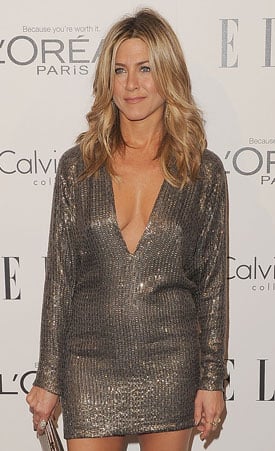 Jennifer Aniston seems blissfully happy in her relationship with Justin Theroux, but don't believe the rumours that they're headed down the aisle or planning a baby already. In a recent interview to promote her directorial project Five, Jennifer cleared the air on a number of stories circulating and revealed that recently kicking a bad habit — smoking cigarettes — could be the reason behind the pregnancy rumours. Jennifer spent the past month promoting Five and while she had Justin by her side the whole time, there are no marriage plans just yet.
Jennifer spoke about not being engaged to Justin, saying, "Rumour number one. I am not planning to get married any time soon . . . I've been married once, and I don't know if I'll get married again, but I can tell you that as of this very moment, I have no plan to get married. Got that?"
The actress continued on and commented about stories of weight gain, saying she is not pregnant, "Okay. And rumour number two, no, we're not pregnant, It's just I quit smoking, so I've gained a couple of pounds." For now, Jennifer and Justin are happy to split time living together in LA and NYC, and who knows what the future will hold!