Jenny Lam MasterChef 2018 Elimination Interview
Jenny's Advice For Finding Your Feet on MasterChef? Cook What You Know!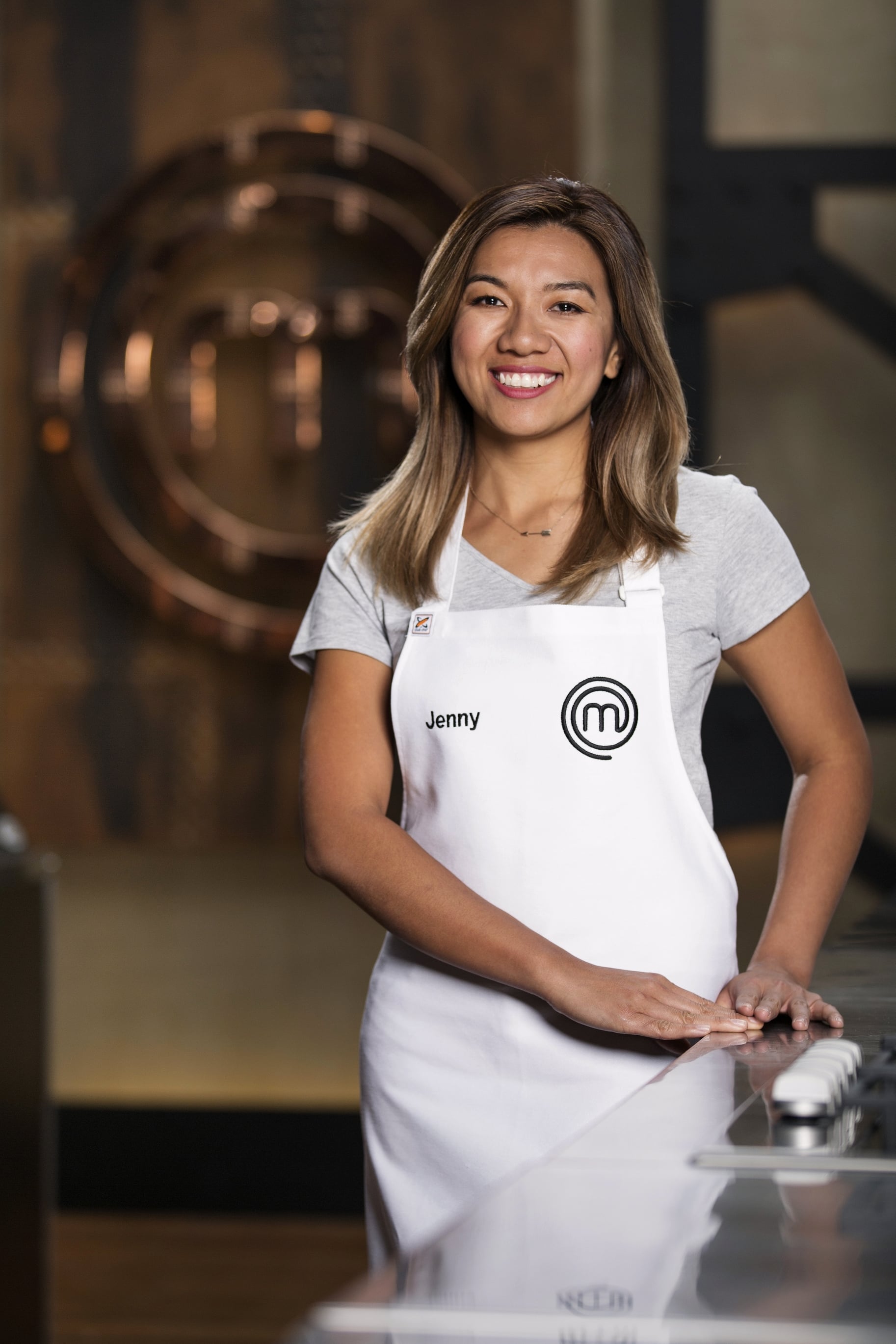 In a three-round chicken challenge at Maggie Beer's (who else?) Barossa Valley eatery, six contestants battled it out to fight for their place in the MasterChef competition. Jess, Jenny and Hoda found themselves in the final cook-off, having just 20 minutes to recreate a tasty dish featuring the remaining parts of their respective chickens.
Unfortunately, with a grilled chicken salad that missed the mark, it was Jenny's time to bid adieu to the MasterChef kitchen. The experience has been as much a learning curve as it has one of personal development for the 28-year-old, and she's already got exciting cookbook plans well in the works. Below, she shares her future plans, finding herself on the show and more.
POPSUGAR Australia: How did you find that elimination challenge?
Jenny: You know what? Even though I went home, I felt like it was my best day in the kitchen. By the time it got to the third round, it was pretty stressful, but I was really happy with my first round cook and at that point in the competition, you can definitely start to see the improvement. I could feel it, anyway, from the team challenge to my first immunity, it was off the back of Gordon week and having the dish of the day with my dumplings as well.
So yeah, it was a shame that it took me a while to get used to the kitchen and feeling comfortable making food that I like, rather than food to impress. And no one knows this, by Huda, Jess and myself all roomed together in the house, so for that reason as well, it was nice. I wouldn't have wanted to be in an elimination with anybody else. We had some really nice moments in between that weren't shown on TV, too.
PS: That must've also been hard, knowing that you were losing someone from the group?
Jenny: It was, we were actually the longest standing room without an elimination! That was 10 weeks in, and we were the only room that hadn't had anybody go home. But it was a great day, and I got to cook three times, which is what we're there for at the end of the day.
PS: You mentioned that it took you a while to find you feet. What was holding you back?
Jenny: You go into this mode of wanting to impress and go beyond your ability. It's where your ability doesn't quite match your imagination just yet, and rather than cooking food that you know and you love, you start thinking that that's too simple for the competition and don't cook it. That's what happened to me anyway. If I looked around at all the people who did really well, it was dishes that they'd make at home or had done a million times before, or they just loved it. So rather than doing things I'd only made once or twice before, like that sponge cake for example, I thought of that memory and went, let's make a cake, but how many cakes had I made in comparison to Vietnamese home meals? I should've just done what I'd done for years cooking for the family. My mum was watching and went, why did you do that?
PS: Were you surprised to leave?
Jenny: Yes and no. I completely understand the judges' feedback. Was it my best dish? No. The chicken was cooked really well, but I just didn't think about things like how long the dish would be sitting there, the salad being under-seasoned . . . When I tasted the separate components of the dish, they were alright, but I hadn't tasted it altogether. It's a competition and the slightest things can send you home.
PS: You've been in a few eliminations and immunity challenges. Did that help you along the way?
Jenny: 100 percent. Every single time you're in the kitchen, irrespective of what you're there for, it's a learning curve. You pick up new skills, techniques, you learn things about yourself. I remember with Darren Purchese's Peach Melba, it was my first time making a sugar cake, the first time making tuille. I had even been practicing ice creams in the house, so it was so nice to know that my ice cream was the best ice cream. You even learn through that kind of validation that you are getting better and picking up new skills.
PS: What did you set out to achieve in MasterChef and do you think you got there?
Jenny: I did, and I think that's why for me, with the elimination, even though I was sad to go home, I felt like my purpose in the MasterChef kitchen was achieved. It would have been a bonus and lovely to stay longer, but I had achieved what I'd set out to do, which was to get inspired by food, be surrounded by an environment that would help me see what my next 10-20 years would be about. Being there just made it really apparent to me that I want to open up a cooking school, I want to write a cookbook and make sure that all the Vietnamese home cooking I've learnt over the years hasn't been lost and will live on. I'm excited to share all I know about food, because it brings me so much joy. And if it brings me that much joy, I'm sure I can share it with other people and bring the same to them.
PS: How has being an entrepreneur helped you on the show?
Jenny: Lots! In between a lot of our car rides, I would always utilise that time. I remember doing a finance budget with Jess, I did focus groups with the group, like what things do you like about cookbooks and what don't you like? I was bringing in all my marketing skills and sometimes on the bus, the guys would be like, I don't even know where to start, I'd tell them what I would do with drawing up a business plan. If I had an idea, this was how I'd make it come to fruition. We'd exchange food ideas, as well as business and marketing too.
PS: Who's been your favourite celebrity chef and why?
Jenny: I feel guilty saying this, because Gordon Ramsay is like my all time favourite, he's my idol, and I was so happy when he was yelling at me! [Laughs] But Nigella Lawson was everything and beyond. She was so warm and everything and more that you see on TV. She took the time out to actually speak to us in between takes, and shared her experiences with us as well as her food knowledge. She's an incredible human being, not just a cook.
PS: What did you find the easiest and hardest about being on the show?
Jenny: I think the easiest part was the friendships that were formed and making friends in the house. We all got along really well. The hardest thing was the decision making around what dishes to make. There were just so many choices and such a short period of time to make a decision about what you were going to cook. There were a lot of moments where I'd go home and be like, why didn't you make this or that, it would've been a much better outcome.
PS: How have you grown as a person on the show?
Jenny: When I went on the show, I was in a bit of a sad place. I just ended a seven-year relationship and needed to find myself again and remind myself of what made Jenny happy, the essence of Jenny. When you're with someone for so long, you become such a paired identity. Being on the show and not having any responsibilities, contact with the outside world or the day to day things to think about — mortgage, the company, the business — it just freed my mind to be more creative and do things for me. I think the biggest self-development I had was that when you're at your happiest, you function at your best, and that's when everything works out. When you're happy, you're more productive. Don't impress anybody, just be happy and be yourself.
PS: Tell us about your plans now post-MasterChef!
Jenny: My cookbook is coming out in March next year. We already started writing and doing photography for the front cover, which is exciting! The book is called Eat Like a Viet and it's very lighthearted, and being Vietnamese-Australian, there are so many cultural things that a lot of my friends and relatives my age don't know, because they grew up in Australia. So the introduction to the book is going to be kind of funny and share things like, for example, if you get invited to dinner, you never tap chopsticks at the table because the superstition is you're going to become poor, or eat before the elders give you permission . . . Just cute things like that, as well as what you'll need cooking as a Vietnamese chef, like a cleaver, all these cool nuances that you wouldn't know unless you're Vietnamese.
There will be 90 recipes and it'll be all about easy, authentic, Vietnamese home cooking. In the meantime, Brendan and I are also going to be at the Good Food and Wine Show with a dumpling stall in Perth. For now, those are my two main projects, and the long-term goal is to open up a cooking school and restaurant in Swan Valley.