Jess Berney Blind Audition on The Voice Australia 2014
Jess Berney's Blind Audition Is What The Voice Is All About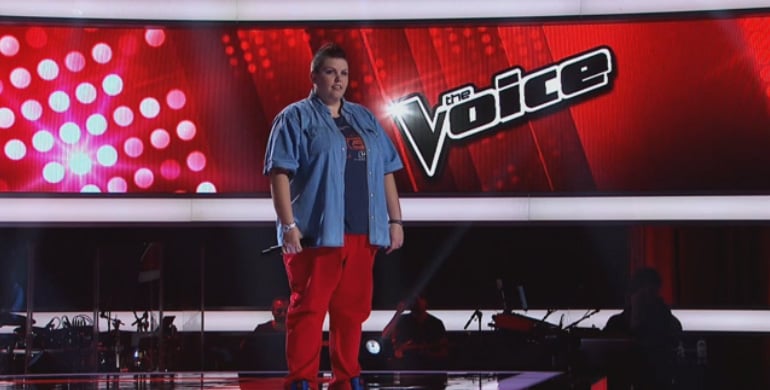 Before Sunday night's episode of The Voice Australia aired on TV, Channel Nine kept promoting one Blind Audition that promised to blow everyone away. It's happened before, with Karise Eden, Rachael Leahcar and Harrison Craig — talented vocalists with strong back stories that make for great television fairy tales. In the case of Karise and Harrison, they ended up winning their respective series. For 2014, the show touted 24-year-old Jess Berney as the can't-miss audition of the series. Keep reading for why it had all the hallmarks of a classic Voice fairy tale.
She Has a Strong Back Story
Jess Berney's story is that she grew up as the daughter of a church minister and had to come out to her religious parents; she called it "the bravest thing I've done." Her mother and fiancée supported her at The Voice, with her mother saying happiness was the most important thing.
Her Voice Didn't Match Her Appearance
Jess admitted that based on appearance, people would assume she sang rock. So the last thing the audience expected was her angelic voice singing "Pie Jesu." Kylie Minogue even said she had her jaw on the ground the whole time, and that she found Jess "fascinating." Jess followed that up by saying she also liked to sing Jordin Sparks and Mariah Carey in a "different voice to my opera voice."
She Turned All Four of the Coaches' Chairs
Interestingly, it took a while for the coaches to warm to Jess' voice. At first Joel Madden asked Kylie, "Is that a girl or a boy?" to which Kylie responded, "It's a girl." The first to turn was will.i.am, and the others followed suit in time, which meant they all had a chance to pitch to Jess about why they would be the best mentor for her. When will.i.am asked if she had any questions, Jess said, "Tell me a bit about what you would see for me." will.i.am said, "I have the ability to get you through any obstacle." Joel said, "I want to help you become a star. I want to pull out all the best parts of you and put them on display for everyone in Australia to see, so they see the very best of you." Ricky Martin said, "Next time I see you onstage, I want to see you do something completely different. You look like Team Ricky! It's like, you're Team Ricky!" The sell worked for Ricky as Jess ended up going with him.
If you missed Jess' Blind Audition, watch it below.