Jess Liemantara MasterChef 2018 Elimination Interview
Jess' Favourite Moment of MasterChef Has Nothing to Do With Food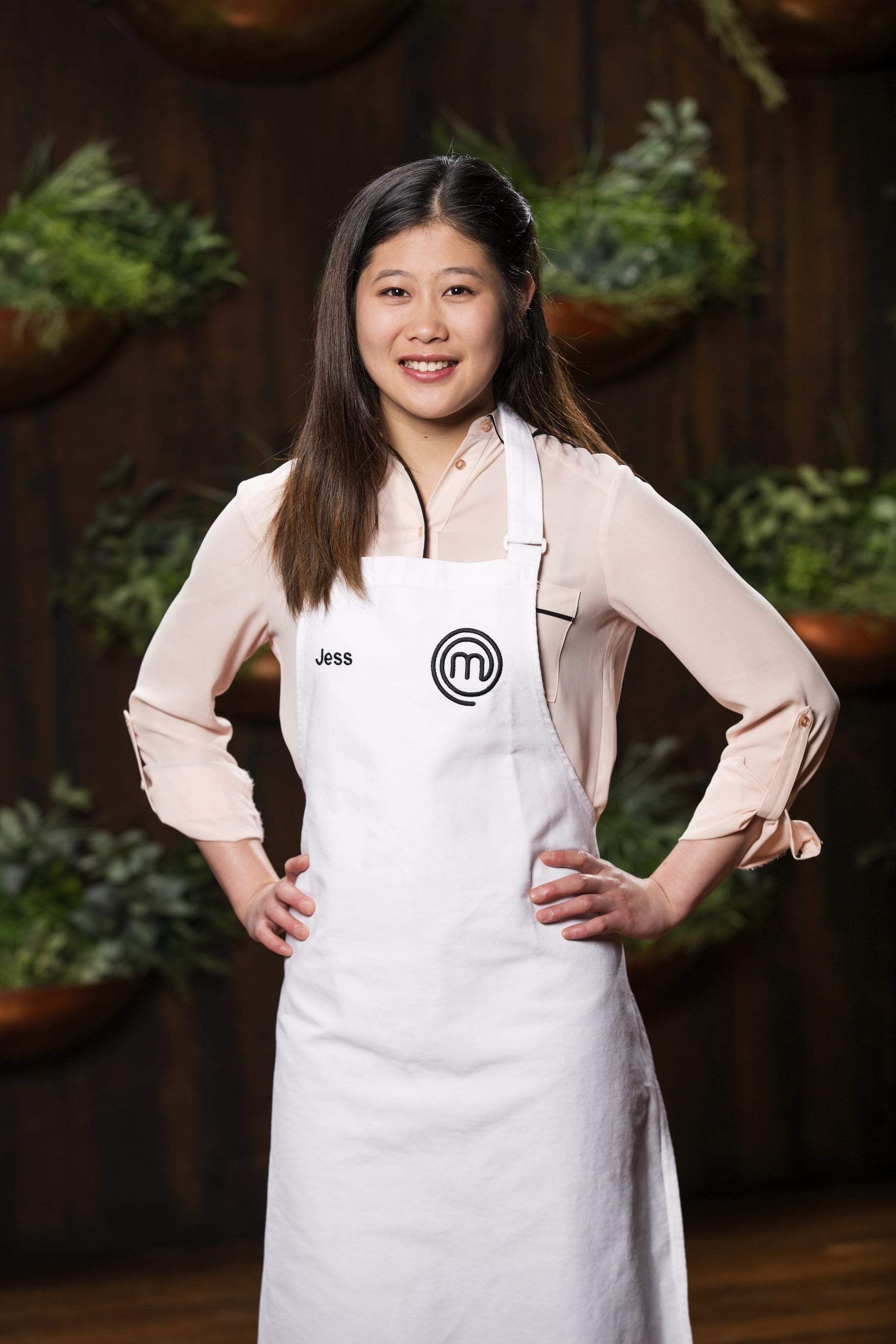 It's MasterChef finals crunch time, and after two challenges that saw Sashi, Khanh, Ben and Jess battle it out in Sydney, it was Jess who bowed out. The 19-year-old is the youngest in this year's crop of contestants, and although she may have narrowly missed out on the semi-final, she's proven that she can hold her own (and then some), lesser life experience aside.
Having competed in 12 eliminations, five of them being Pressure Tests, it's also fair to say Jess' learning curve has been steeper than most over the course of the competition. We chatted to her about her MasterChef run below.
POPSUGAR Australia: Sorry to see you go! How did you find that challenge?
Jess: Oh man, it was crazy! It's so beautiful that we got to cook on the boat, but it was so challenging having to get everything right and the ratios . . . Nothing balanced, my scales didn't work either, but I'm so, so grateful to have cooked that day.
PS: What do you think went wrong?
Jess: Everything went wrong for me that day. I put on too many elements and had this picture that I wanted to plate it a certain way, and I think I just put too many things together and didn't think it through properly.
PS: Are you disappointed to have missed out on the semi-final?
Jess: I am a bit sad, but overall, I'm really grateful and so proud that I made it that far in the competition. I didn't expect to make it that far, but oh gosh, it was such a good run for me.
PS: You've been in a fair few eliminations now. Did that shake your confidence?
Jess: Yeah, I was in 12 eliminations! [Laughs] It's crazy, and ever since I came on the show, I wanted to do at least one Pressure Test, and then I ended up doing five! I'm so grateful, I really learnt a lot. I got to learn so much about savoury and desserts and it really put into perspective what I wanted to do in the food industry.
PS: Did you have a favourite Pressure Test?
Jess: It would have to be Peter Gilmore's snow egg and the sherry marron by Ashley Palmer-Watts. I think those two were probably the best for me. Ashley's really scared me to bits at the start, but as I got going, I started to understand the process. It was great to learn different things and experiment with marron. With Peter Gilmore's snow egg, it's just such an iconic dish. When I was nine, I remember watching him make that snow egg, and it was such a marvel to be able to make it for him that day.
PS: What did you learn from being in all those eliminations?
Jess: I learnt that it's better to be in eliminations that up in the gantry, because when you're down there, you get to learn, you get to cook. I've cooked so many times in the competition, I can't believe it, it's really helped me to mature and get an understanding about food. The more I was in eliminations, the more I could cope with the stress and upcoming challenges. You looked forward going into eliminations because you got to cook something new.
PS: I love how much you fangirled over Reynold when he came in for one of the immunities. Was he everything you imagined he would be?
Jess: [Laughs] Oh gosh, I was so star-struck to meet Reynold because he's such an idol. I've always wanted to do what he's been doing. Matt and him both came up to us afterwards and chatted to us about their journey, they're both so genuine and absolutely amazing people.
PS: You were the youngest in this year's cohort. Did you feel any pressure in that regard or that you had more to prove?
Jess: I've always felt a lot of pressure in the competition, especially being the youngest. And I was also in the first elimination just coming off the second-chance cook, so that broke me a little bit. It made me feel like, I'm the youngest on the show and I'm nearly going out on the first cook, so it did put a lot of pressure on me.
PS: Personally, what's your favourite dessert to eat?
Jess: It's funny, I'm not really a dessert fan! I love eating ice-cream, but when it comes to desserts, I'm not that much of a fan, I just love making them! It's very odd, but ice-cream cakes would have to be my favourite.
PS: What was the hardest and easiest thing you found about being on MasterChef?
Jess: The hardest thing was having to come into challenges not knowing what to do. Every day was such a challenge for me because I didn't know much about savoury, but they really made me stronger. The easiest part is that you're around a lot of supportive people and the friendships you make.
PS: Did anything surprise you going from a viewer to a contestant?
Jess: Being a viewer is so different to actually being there. I can understand how much stress, hard work and passion these people put into the competition. I think I cried every day about how badly I wanted to win and how it can really change someone's life. I'm so glad to have experienced it.
PS: You cried every day?!
Jess: [Laughs] It was good and bad. The good was when you never expect to make it far, and the bad side is when you have a bad cook, you come home being regretful and thinking, how embarrassing.
PS: Do you have a favourite moment from the show?
Jess: There were so many great moments. My favourite was finding my great friendships in Reece, Brendan and Jenny. When they left the competition, I felt like a part of me broke off, it was all great, but that was just a lovely part of it.
PS: Who do you think has what it takes to win?
Jess: All three have the potential to win and plenty of strengths, but I'm really rooting for Ben. Ben was there for the second-chance cook too and has grown and learnt so much. If I had to pick someone, I'd love to see him win.