Jessica Alba, Sarah Jessica Parker, Diane Kruger, Halle Berry at 2010 Fashion's Night Out
The Stars Party and Shop at Huge Fashion's Night Out in NYC!
The second annual Fashion's Night Out in the US was an amazing success as stylish shoppers, designers and stars took over Manhattan stores last Friday evening. Sarah Jessica Parker has played a big part in the charitable event since its inception last year and stopped by Fred Leighton as well as joining Victoria Beckham, Nicole Richie and Brian Atwood at Bergdorf Goodman. Leighton Meester posed pretty at Roger Vivier while her Gossip Girl co-star Blake Lively was off at the Toronto Film Festival for The Town. Charlize Theron joined the woman behind it all, Anna Wintour, at the Dior boutique while Rachel Bilson showed off her legs at the Sunglasses Hut. SJP and Anna both made multiple stops checking out the parties and fantastic memorable moments, like Michael Kors singing "Defying Gravity" and men in full body makeup, throughout the night.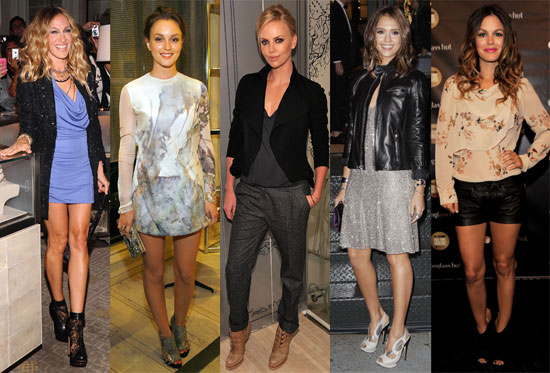 Mary-Kate and Ashley Olsen took a turn behind the cash register at their Elizabeth and James pop up shop in the West Villiage. Nicole Richie sang karaoke to the Spice Girls at the Bergdorf bash and Halle Berry signed copies of her gorgeous Vogue September issue at Ralph Lauren. Bar Refaeli snapped silly pictures at Armani, Fergie was the guest of honour at Nordstrom and Christina Hendricks had a puppy along for her time at Carolina Herrera. Gwen Stefani debuted her new scent at Sephora. Diane Kruger looked dashing in red as one of the big names at Saks, along with Ed Westwick and Claire Danes. Jennifer Lopez represented at Macys as did Kimora and Neil Patrick Harris. Victoria's Secret hosted its Angels, Heidi Klum and Nina Garcia were at Destination Maternity, Kerry Washington stopped by Tory Burch, and Prada was the spot for Jessica Szohr, Dakota Fanning and Seth Meyers.
Keep reading . . .
Images include: Fergie, Nicole Richie, Sarah Jessica Parker, Brian Atwood, Gwen Stefani, Charlize Theron, Anna Wintour, Kim Kardashian, Kourtney Kardashian, Kris Jenner, Mary J Blige, Audrina Lima, Chanel Iman, Doutzen Kroes, Mary-Kate Olsen, Ashley Olsen, Diane Kruger, Ed Westwick, Claire Danes, Rachel Bilson, Heidi Klum, Nina Garcia, Christina Hendricks, Tory Burch, Kerry Washington, Dakota Fanning, Seth Meyers, Grace Coddington, Bar Refaeli, Jennifer Lopez, Diddy, Neil Patrick Harris, Kimora Lee Simmons, Leighton Meester, Kelly Osbourne, Mena Suvari, Rachel Zoe, Jessica Alba, Halle Berry