Jessica Mauboy Interview on New Album Beautiful
Jessica Mauboy's Big Year: From The Sapphires' Domination to Making Music Again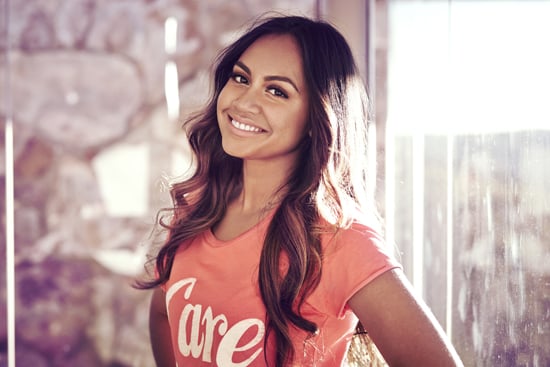 What a ride the past couple of years have been like for Jessica Mauboy. The Australian star has been on the go since landing the role of Julie in The Sapphires, the little Aussie comedy musical that took the world by storm. She spent the better part of last year taking the movie all around the globe, from film festival to film festival, and caught the attention of A-listers including Ellen DeGeneres, who enlisted Jessica to perform on her two Australian shows. Jessica performed at possibly her most star-studded audience yet at the end of September, when she hit the stage at the Governors Ball after the Emmy Awards.
But even though the 24-year-old loved being immersed in the cinematic world, she was itching to get back to her music roots. A couple of months in the studio resulted in her latest album Beautiful, which is out now. We spoke with Jess to talk about working with her favourite songwriters, her love of Euro-pop, and the best advice she's received through the years.
The past year for you has been so exciting. How did you unwind when you got a chance?
I don't think there was any [laughs]. I was pretty much straight into recording the next album, which I was thinking about slowly while I was on promo for the film. It just wasn't dying — for I moment I thought it was going to slow down, but it just kept going. Ellen ended up seeing it [The Sapphires] and loved it, and had me go on her show. It just picked up. Certain people were finding out about it and wanted me to perform The Sapphires songs. It opened that whole film world more.
Right now it's all about music, which I'm so excited about because I went away from it for about two years. The first of those two years was all about auditioning and reading the story of The Sapphires, and the second year was touring. It's been hectic but I love the challenge of it. I'd never had an acting lesson, so it was something I had to jump into.
More from Jessica when you keep reading.
Do you need to get into two different mindsets for the acting and singing?
Yeah. It's a totally different personality. [With acting] you have to get into character, you're doing your homework, and all of a sudden you have to become that other person, you have to become what that character is. For me that was quite difficult because I felt like with playing Julie, I didn't really have to act, because I felt very close to her personality and journey — having her come from a small town, she was one of four girls in her family . . . The acting method really spun me out because there were certain moments where we just had to be silly and not feel embarrassed. That was really hard for me to get around. I found the director [Wayne Blair] was very strong and firm when it came to getting it right. He wanted the best for me and could see the potential, and really believed I could play Julie, so it was cool that the director saw that in me.
It was originally meant to be a small budget film. Then it got picked up by the Weinstein Company, who loved it and wanted to share it with the rest of the world. We were like, 'What is going on?' But I missed the studio and being able to go in and write. It was hard to step away from music and do something I wasn't very comfortable in.
Can you pick one highlight of the past year?
Probably having the opportunity to write with Jimmy Tam and Terry Lewis — incredible songwriters. I think the whole process of going back to LA and finishing half of the album there, and getting to work with some really cool people, like some upcoming songwriters who are working with some of my idols, like Rick Ross. Becky Boom, who's an 18 year old songwriter, just spun me out in terms of her writing. She just wrote it how it was and however she felt, and I love that she had that upper hand; she didn't care what anyone else thought, if it sounded good, that's how it was going to be. I learnt a lot of that technique when I was in LA this time 'round, and felt a natural flow rather than having someone else do all the work for me. I felt I could press the keys or hit certain buttons, which I'd never done before. I felt like I really took over with this album, which is really cool. I made it more of me than that second-hand kind of feel. I really enjoyed that I could to use the word "no" [laughs], which was really different for me.
How did your first single off this album, "To the Ends of the Earth," come together in terms of inspiration, writing, production?
To make it really short and simple, I wrote this song about my hometown, about Darwin. I think a lot of people will relate it to a relationship, but I wanted it to be about what my hometown has given to me, what it's made me become. I guess I was missing home; I spent almost two months in LA. I felt really rushed but was excited that I had new material and that it was getting done, because I felt like it was dragging a bit last year. And then I got it all done in two months — normally it takes so long to get right, and artists can be quite specific, but I think from those two years I had so many stories already, that they were all there but I just needed to be in the studio and get that time for myself to put it altogether.
So you got the whole album done in two months?
Pretty much. It was so stressful because there were moments where I thought, 'Do I have enough?' But I had more than 30 tracks that I recorded and did the vocals for. It was about going back and forth, listening to it on my own in a little room. I was really surprised with how much work I got done, when I am just left alone.
What can you say about the sound and music direction of this album?
In terms of music, it was cool that I got to sit down and really think about . . . It was hard, because I didn't really have a theme, or an idea, but I was just going by my experience — everything I'd been through, from the filming, to my relationship with my boyfriend, the relationship with my team and how they made me feel, and how work in general made me feel. But all that really came from that experience. Again, I just experimented, I didn't walk in with an idea. I had to sit there and just play — the studio was my playground, and I got to go with the flow and not put pressure on myself.
In terms of sound, it's a bit of everything. Vocally, I wanted it to have a really deep tone. I didn't want to show off my voice or that I had a certain vocal range, I just wanted the present-ness of the vocal. I wanted the general person to be able to listen to the song and hear a clear melody, a clear vocal, and something not too over-produced. I wanted to give them my creation of the song. You can really hear in "To the End of the Earth" a specific sound — it's quite Euro-pop and I'm a big fan of Euro-pop. I'm a massive fan of Culture Beat "Mr. Vain." [Sings "This Is the Rhythm of the Night."] Corona. A lot of people don't know that I love those songs, and I wanted to take myself to that world, and just have a beautiful melody, and a track that allowed the vocal to breathe. I didn't want loads of effects swimming everywhere. And magically we came out with "To the End of the Earth."
What's the best advice you've received since finishing Australian Idol and doing all this on your own?
I personally feel that it's been about staying true and being honest with myself. And building a great team that will be committed and believe in what you have. I started off with one person — and I still have him to this day, he's my mentor and manager — who nurtured me and protected me, and I wanted to give that back, and I think working together we have a really good bond. It's generally the people who surround you who help you, and give you a reality check, because at the end of the day . . . I just built a good team and have the right people around me who I know can take me in the right direction. I see that visually, and feel that spiritually.
When you don't have your mum and dad, or your sisters, around, things can get quite crazy. Things can not seem like a real world anymore. But when you have that other family that supports you in your work, you can't go wrong.