Jessica Simpson Confirms She's Pregnant With Second Child
Confirmed — Jessica Simpson Is Pregnant Again!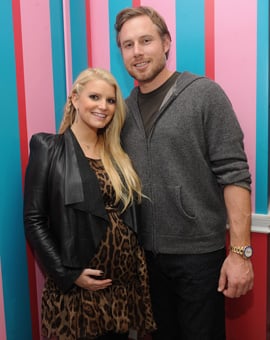 Jessica Simpson confirmed yesterday that she's pregnant with her second child. Jessica and fiancé Eric Johnson are expanding their family in 2013 and she shared the news via Twitter. Jessica tweeted a photo from vacation of daughter Maxwell with the words "big sis" drawn next to her in the sand. Twitter is becoming Jessica's go-to platform for exciting updates — in 2011 she shared a photo of her baby bump right before Halloween while famously dressed as a mummy.
Jessica, who's been slimming down with Weight Watchers, didn't deny or confirm rumours of her pregnancy until yesterday. Weight Watchers was reportedly upset by unexpected news of her second pregnancy, though they were quick to send her best wishes yesterday morning following her announcement. Congrats to Jessica, Eric and Maxwell!