Johnny Depp, Kim Kardashian, Justin Timberlake, Selena Gomez and More at 2011 Nickelodeon Kids' Choice Awards
Stars Have a Slimey Good Time at the Kids' Choice Awards!
The 24th annual Kids' Choice Awards brought out tons of stars to the Galen Center on the campus of USC in downtown LA on Saturday. Nickelodeon flew an enormous orange blimp over the event and rolled out the neon carpet for the arrival of young celebrities like Willow and Jaden Smith, Miley Cyrus and Selena Gomez. The night kicked off with an energetic performance from the Black Eyed Peas who were joined on stage during dance routine by the show's host, Jack Black. Johnny Depp made a surprise appearance and was the first winner of the evening. He's a veteran of dealing with slime and celebrated his win for Best Male Actor by dispensing a shower of green rain over the audience, and himself. Heidi Klum got in on the fun as well when she opened an envelope that splashed the goo all over her dress, while her presenting partner Nick Cannon managed to avoid the mess. Will Smith kept dry throughout the evening and watched from the front row during Willow's adorable mashup of "21st Century Girl" and "Whip My Hair."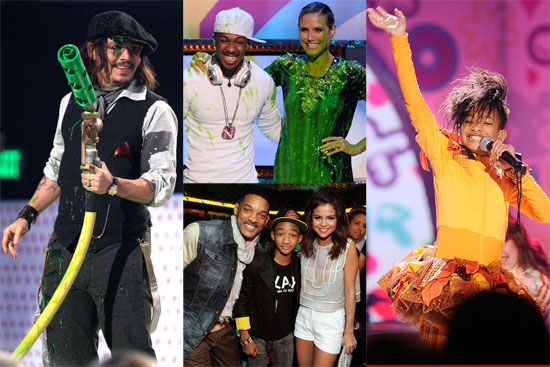 Justin Timberlake was on hand to receive the Big Help Award which celebrates stars who give back to the community. Russell Brand took a break from promoting Hop and Arthur to team up with Modern Family's Rico Rodriguez, though Katy Perry couldn't be there to accept her award for Favourite Female Singer as she's currently on tour. Miley Cyrus took home the coveted blimp for Best Female Actress in a floral floor length gown and Kim Kardashian wore a short and flirty mini dress to present the last award of the night.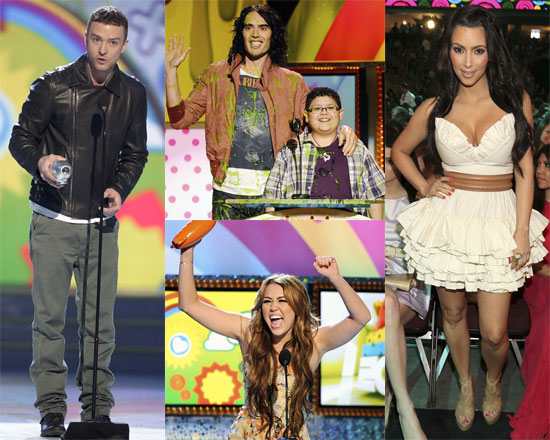 Keep reading to see all the photos from the show!