Johnny Depp talks Pirates of the Caribbean On Stranger Tides deets including zombies and Penelope Cruz
Jack Is Back in a New Pirates of the Caribbean 4 Clip!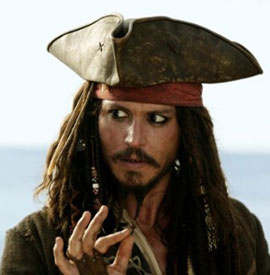 Disney's Comic-Con panel wasn't just about Tron: Legacy. We also got a taste of what's to come in the next installment of Pirates of the Caribbean. In a cute teaser, Johnny Depp gives us a little pep talk in his full Jack Sparrow glory, promising "zombies, cutthroats, mermaids, and Penelope Cruz." It turns into a rant about Bloody Marys, but it's cute enough to give me hope that Pirates of the Caribbean: On Stranger Tides could help me forget about At World's End. Watch it after the jump!
Keep reading . . .