Will Jon Snow Die Again on Game of Thrones?
Did Sansa and Arya's Game of Thrones Reunion Hint at Jon Snow's Eventual Death?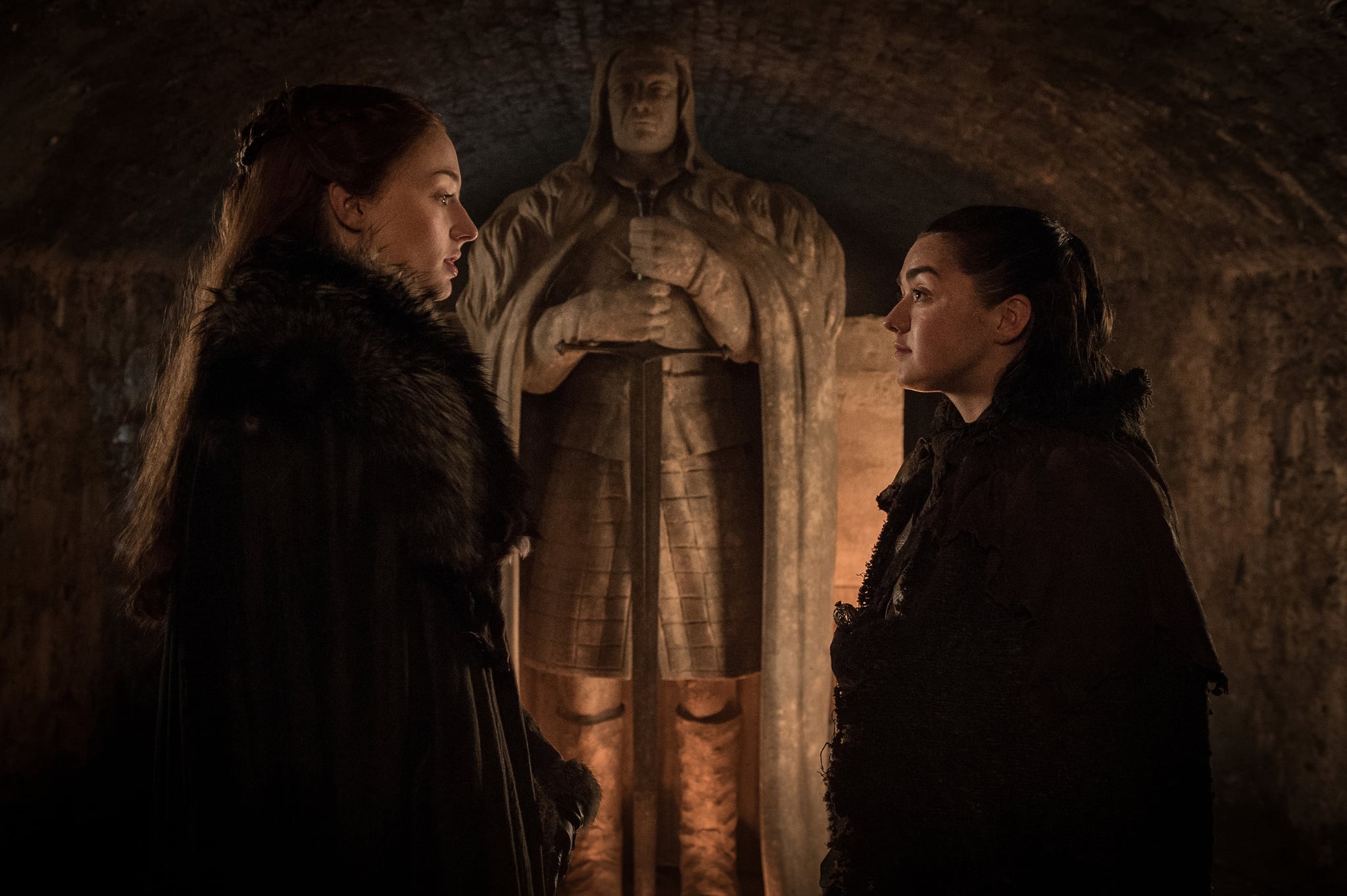 As the battle for the Iron Throne continues and the White Walker threat gets closer to the people of Westeros, there's a Game of Thrones question I'm kind of afraid to ask: is Jon Snow going to die — again? Like, for real this time? As one half of the ice-and-fire equation, he obviously has a large role to play, and theories suggest that he'll lead the fight against the White Walkers. But I'm starting to worry that he won't survive the fight.
A single line in the latest episode might hint at Jon Snow's fate. The moment comes during Sansa and Arya Stark's Winterfell reunion as Sansa talks about their siblings' whereabouts. She mentions her reunion with Jon Snow, acknowledging that he'll probably be more excited to see Arya than he'd been to see her. Here's what she says:
"I hope he comes back soon. I remember how happy he was to see me, and when he sees you, his heart will probably stop."
Heart will stop? HEART will STOP? I know I'm taking her line literally, but crazier things have happened on this show (understatement) and it wouldn't be the first time that words carried more meaning than you might think at first.
What if he, I don't know, first sees Arya on the battlefield and throws himself in front of a White Walker to save her, sacrificing himself? What if Arya goes after Littlefinger and Jon shows up, sees what's happening, intervenes, and dies? Meanwhile, if he dies again, will Melisandre bring him back to life again? Can my OWN heart handle seeing him die again?
When people are brought back to life by the Lord of Light, it's because they still have a role to play. Jon Snow's role could be to bring his family back together, or spread the message of the White Walkers, or team up with Daenerys Targaryen to defeat them. But once his destiny is fulfilled, then what? He's . . . free to die again?
Listen, I honestly hope I'm wrong and I'm reading into that moment too closely. I hope none of the above takes place and he'll be among the last characters standing. Or, even better, sitting. On the Iron Throne. Fingers crossed.